Posted on October 24, 2014 at 3:43 pm | No Comments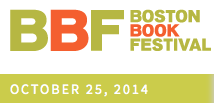 With last night's Herbie Hancock Keynote kickoff, the annual Boston Book Festival is officially underway in and around Copley Square. As much as I appreciate (and mutilate) the written word, my favorite parts of the fest always end up being those that throw music in the mix. The BBF never fails to incorporate at least one music-related event into their programming, and this year is no different: Saturday evening's grand finale is "Words and Music: A Literary Jam Session" at the Old South Church. The details, from their website:
Between now and then we've got tonight's second keynote speech by Susan Minot and a ton of interesting sessions on Saturday, so be sure to check the full schedule.
This year's fest gives me an opportunity to flashback to my favorite-ever BBF event, "The Book Revue: Words & Music", which capped off the 2010 edition. It was an ideal marriage of words & music, with a killer lineup and one hell of a host in Steve Almond ("Rock and Roll Will Save Your Life", "Against Football", etc).
After Almond's introduction, author/songwriter Joe Pernice (Pernice Bros., Scud Mountain Boys) read from his novel "It Feels So Good When I Stop" and performed the Pernice Bros. songs "The Loving Kind" and "Amazing Glow". Dean Wareham (Galaxie 500, Luna, Dean & Britta) read "Letter From A Concerned Luna Fan" from his novel "Black Postcards" and played G500's "Blue Thunder" along with the Dean & Britta track "The Sun Is Still Sunny". Author Nick Flynn delivered his intoxicating mediation on drinking, "Same Again" before an excerpt from his novel "The Ticking Is The Bomb". Kristin Hersh (Throwing Muses, 50 Foot Wave) followed with a couple excerts from her resurrected teenage diary "Rat Girl" and performed both "Flooding" and "Your Dirty Answer". Lastly, Nick Zinner (of the Yeah Yeah Yeahs) joined Zachary Lipez and Stacy Wakefield to present pieces of their collaboration "Please Take Me Off The Guest List". The centerpiece of the whole thing was Almond's hilarious lyrical dissection of Toto's "Africa". That bit is worth the price of admission alone.
The BBF shared, and still archives, the entire event in (one giant) MP3 form, so I've excised a few bits below alongside the original file. Enjoy…
[MP3] Boston Book Festival 2010 – "The Book Revue: Words & Music"
[MP3] Joe Pernice – "Amazing Glow" (live)
[MP3] Dean Wareham – "Letter From A Concerned Luna Fan" (reading)
[MP3] Dean Wareham – "Blue Thunder" (live)
[MP3] Kristin Hersh – "Flooding" (live)
Much gratitude to Mr. Tom Johnston for pulling that lineup together, and to the Boston Book Festival's continued inclusion of music-related programming every year. Have a look at Saturday's complete BBF 2014 lineup, and hit up the Dig for some recommendations
Posted on August 4, 2014 at 3:29 pm | 1 Comment
WMBR's venerable live local music show Pipeline! is marking their 25th year on the airwaves by throwing a 5-weekend party at 5 Boston-area venues this fall, and the lineups have just been let loose. It's crammed with legends, also-rans, familiar names, and obscure oldsters – reuniting a ridiculous number of bands from throughout, and I quote, "50 Years of Boston Rock!". If scanning through this stacked list of several dozen area bands doesn't get you excited, then you either haven't lived here very long, or you've grown too old and jaded to care. Either way, your loss. Me? I'm practically giddy. I gasped more than once after this sucker hit my inbox.
Full press release and nightly lineups (not in performing order) below, with my personal standouts following. Read on, snag your tickets (update: all tickets are now on sale, links next to each lineup), and get ready…
Ok, first off: The "Grambuilders" has gotta be a modified version of the Dambuilders, yeah? I'm digging for details. I've known about the Green Magnet School reunion for a little, and I'm still internally freaking out about that one. Can't wait to see my old friends in Mistle Thrush, plus old labelmates Crazy Alice & Fuzzy, and chimp rock progenitors Kudgel (and while we're at it, let's hope one of those TBA spots give us a little Swirlies action, eh?). Then there's Orbit, Anastasia Screamed, Honeybunch, Dumptruck, Mary Lou Lord… hell, if I don't stop now I'll just end up re-typing the full lineup. I'll share more lineup updates on the 'Nac Facebook page as they come.
Here's a look at the original schedule image sent out to press (click to embiggen)…
Posted on May 23, 2014 at 9:01 pm | No Comments
At last, the long weekend is here, and it's crammed with too many things to do and too many bands to see around Boston. There's not enough time to write about it all, much less do and see everything, but there are a couple stand-outs that deserve some special attention…
I'm sure I've said it before, and I'll say it again, but we're a lucky town thanks to Rachael McNally and Chris O'Rourke's years-ago decision to relocate from NYC to Boston, and the fact that they've kept their scrappy indie/rock/punk/etc trio Sleepyhead a going musical concern. Their live shows may be a rare thing, but when they do happen, they're all ours. There's long been the promise of a fresh batch of recorded material, as more new songs kept popping up in their sets each year. We're fortunate that while they may have slowed things down, they've never felt the need to put the brakes on after almost 25 (!) years as a band.
Well, 2014 sees them positively flooring it. They've released their first full-length in 15 years, the excellent "Wild Sometimes", on illustrious Chicago label Carrot Top Records, last month they played their first string of out-of-town shows in ages, and tomorrow night they make it local with a special record release show in the friendly confines of Cuisine En Locale in Somerville…
It's an all ages show, with openers the 'Mericans kicking the music off around 9pm, but if you really want the full experience, arrive early: Starting at 6pm you can order up a truly spectacular locally-sourced meal courtesy of the top-notch cooks of CoL. Hit their website to see what they'll be dishing, and to learn more about their meal shares and unique culinary events. The address: 156 Highland Ave., Somerville.
Stream Sleepyhead's long-awaited "Wild Sometimes" below, check out their brand new Jeannie Donohoe-directed video for the title track at Wifey.tv, and grab advance tickets for Saturday night's show here. Oh, and remember to eat light tomorrow – save your appetite for the pre-show chow-down.
File under: "A dream I once had". There are 15 bands playing on Saturday in three venues that are all within shouting distance of my own home. Yes, tomorrow is AWESOME DAY here in Allston, and there's an AWESOME DAY FEST to prove it.
O'Brien's, Regina Pizzeria, and Store 54 – all at the intersection of Cambridge St. and Harvard Ave. – are playing host to this multi-stage event, and the lineup includes some personal faves, among them Soccer Mom, Eldridge Rodriguez, Thalia Zedek Band, Earthquake Party!, and M.G. Lederman. Here's the full where and when…
AWESOME DAY FEST
Saturday, May 24th, 2014
at the intersection of Harvard Ave.
and & Cambridge Street in Allston, MA
At O'Brien's (doors at 3PM / $10 cover)
6pm-6:30pm: Quarterly
6:40pm-7:15pm: Jim Healey
7:30pm-8:05pm: Tired Old Bones
8:20pm-8:55pm: Civil Warblers
9:10pm-9:45: Soccer Mom
10:05pm-10:45pm: The Proselyte
11pm-11:45pm: Hey Zeus
12 midnight: Gondoliers
At Store 54 (donations encouraged)
9pm: M.G. Lederman
10pm: The Thalia Zedek Band
11pm: The Televibes
12pm: Beware The Dangers of a Ghost Scorpion
At Regina Pizzeria (donations encouraged)
9pm: Earthquake Party!
10pm: Eldridge Rodriguez
11pm: Lifestyle
(in between) DJ Ken Cmar
While there's a pretty good chance your own tomorrow will be awesome, those chances increase dramatically if you're actually at Awesome Day Fest….
Posted on April 23, 2014 at 2:28 pm | No Comments
As warmer temps finally take hold in the Northeast, and the last of those nasty, dirt-colored snow piles fade from our streets, there's only one thing that will get me to spend many springtime hours inside a darkened movie theatre: The annual return of the Independent Film Festival Boston.
Now in its 12th year, the esteemed 8-day, non-profit, all-volunteer film fest kicks off tonight at the Somerville Theatre with a screening of "Beneath The Harvest Sky". That's one of many movies I'm looking forward to this year (and not just because star Aiden Gillen – from the Wire & Game of Thrones – will be in attendance, along with the drama's co-directors). Tickets for that are still on sale, but I can almost guarantee that won't be the case at the door tonight. Each year, many films sell out in advance, so have a look at the lineup and make a plan, or better yet, grab a full festival badge and save yourself a little stress. Update: Full fest badges are sold out! All the more reason to pick up single tickets in advance, or at least arrive early for the stand-by lines.
As usual, the IFFBoston schedule has a strong musical component to it, both in subject matter and soundtracking, so I've pulled together my yearly guide to those particular flicks. Here are a dozen films showing between now and next Wednesday that either directly, or tangentially, involve makers of music…
If you're looking for more viewing tips beyond my music-centric ones above, surf on over to read Ty Burr and Peter Keough's recommendations at the Boston Globe, Norm Schrager's choices at Meet Me In The Lobby, and Erin Trahan's piece on this year's short films over at WBUR.
As you fest, make sure to keep tabs on IFFBoston's Facebook page and Twitter feed for the latest updates, like this list of filmmakers who will be appearing at certain screenings, which is always one of my favorite aspects of festival. Tonight: Carcetti in the house! See you there.
Posted on February 15, 2014 at 8:18 pm | No Comments
While the exact born-on-date of the Almanac is a nebulous one – Is it when I first started sharing songs? Or using an actual blogging platform? Or writing mostly about music? – I decided long ago to settle on the most solid one of record: February 15th, 2000 – the day I registered this URL and began uploading content. Whatever this place was back then is a distant cry from whatever it is today, and even from what it was in 2003, when I began frequent music-centric updates. Lately, it's the "frequent" part that's changed the most.
But I'm still around, still sharing songs and news from bands I love, still plugging away. Sure, it's become more quick-shots on Facebook and Twitter than longer posts here, but I've resisted the occasional temptation to shutter this place completely. "The blog is dead, long live the blog", they say. This post-Chromewaves world is a lonely place, but I'm hanging on.
For kicks, here's the 'Nac by the numbers…
Number of years gone by: 14
Number of published posts: 1,117
Number of current draft posts in progress: 42
Number of stale, out-of-date draft posts I've deleted: &infin
Number of live sets I've shared: ~ 300
Number of live sets I've recorded but not had time to share: 312
Number of Tweets: 5,225
Number of Twitter followers: 3,149
Number of Twitter followers that are probably bots: 50%
Number of Facebook followers: 1,046
Number of the Almanac on the Hype Machine's blog tracker: 31
Number of those 31 original blogs the Hype Machine is still tracking: 7
Number of band/promo emails I get every day on average: over 60
Number of those emails that include the word "remix": at least 50%
Number of daily promo emails that are relevant or of interest to me: maybe 5?
It's those last three stats that have been slowly draining the life outta me. More than a decade of doing this means the Almanac has ended up on every music-related mailing in existence – it's a constant deluge that has worn me down and drawn me ever closer to closing up shop. They come faster than I can send unsubscribe requests, and more importantly, I can't possibly listen to all the songs that come my way. I've had to master a jaded zen-like state when going through my inbox, and keep my fingers crossed that I don't miss something truly great.
But I'm not here to whine, I'm here to celebrate. Or at least acknowledge this slightly notable passage of time. So I've thrown together 14 covers from live sets I haven't had time to share over the past few years, along with a photo from each show, and a few words. Dig in, there are some special songs below…
From an acoustic set for Record Store Day, April 21st, 2012 at Newbury Comics in Norwood, MA. He was joined by his wife Emily Roberts on backing vocals and (her uncle?) Sippy Roberts on slide guitar.
Stinson's reunited Replacements have announced a few more festival appearances this year, but I've still got my hopes up for an eventual Boston show. ICYMI, grab my recording of their first reunion appearance at last year's Riot Fest Toronto.
It's been awhile since Death Cab For Cutie hit the road, in fact I think this series of special shows backed by the Magik*Magik Orchestra in Spring 2012 was the last proper tour (they played the Wang in Boston with Low on 4/21/12). This cover was a nice surprise during the stripped down part of their set, and was well before Lou Reed passed and sparked a rash of VU covers.
The DCFC machine is gearing back up after helping Barsuk Records celebrate their 15th birthday a few months back, and they'll return to town for the Boston Calling fest in May. I'm assuming we'll get some new album news before too long.
During that Death Cab break, but before the Postal Service reunited in 2013, Ben Gibbard did some solo shows in support of his "Former Lives" LP, including a stop at the Somerville Theatre on Sunday, November 4th, 2012. Not sure if he pulled out a geographically-specific cover at every show, but this classic Lemonheads cut was a nice nod to Boston.
Another high point of the Barsuk celebration in Seattle last November was John Roderick and his Long Winters reuniting to perform the "When I Pretend To Fall" album in its entirety. It was glorious, and made me even more hungry for a proper new LW record, as if that was possible. Roderick's been performing solo sporadically since their previous LP (in 2006!), and this Neutral Milk Hotel cover was played at the Paradise in Boston on Friday, June 1st, 2012.
This show was something really special – a small room full of friends and fans gathered together for Chris Toppin's (Fuzzy) birthday party at the Midway in Jamaica Plain on Nov. 9th, 2012. So many great moments on the stage that night, including this team up of Tanya Donelly (Throwing Muses/Belly) and Buffalo Tom to serve up some Heartbreaking.
Tanya has been releasing a string of excellent digital EPs called the Swan Song Series, and she'll be hitting the stage opening for her old band Throwing Muses for a few shows next month. Buffalo Tom is hibernating, but Bill Janovitz has been offering up some great new solo songs since the year started. Here's hoping they keep coming.
This show was a ridiculous amount of fun. Just after Boston cops started cracking down hard on local house shows, Ted Leo played this one in a Brighton living room on Monday, November 26, 2012. It was crammed, and incident free (unless you count overly-drunk-local-band-guy or overly-intrusive-photographer), and an absolute blast. Ted pulled out a few covers, as he is wont to do, including a song by his then-tourmate/now-bandmate (in The Both) Aimee Mann. The kids didn't know what hit 'em, but I ate it up. He whipped out a Misfits cut to rile us up (it did – singalong!), segueing straight into TL/Rx classic "Me & Mia", when the show hit a crushing crescendo. Bent Shapes opened up. It ruled.
Ted & Aimee will release their self-titled debut album as The Both in mid-April, and will hit the road in support, including a stop at the Paradise in Boston on April 25th.
Well, this was an odd one. J Mascis of Dinosaur Jr. in a shoe store on Boston's Newbury Street. With (bad) free beer and chips. He probably got paid in purple Doc Martens. This strange scene was on 12/6/2012.
This was a bittersweet moment, but mostly sweet, during Sleepyhead's set at the Sinclair in Cambridge on May 10th, 2013, just a few weeks after Game Theory's Scott Miller passed away. Not sure how many in the crowd got the gesture, but I damn well did. This cover was actually the b-side of one of the great indie singles of all time, Sleepyhead's 1992 (!) "Punk Rock City USA" 7-inch.
Sleepyhead's long-in-the-making next LP will be out in April on Carrot Top Records. Can't wait.
After seeing that Sleepyhead set, and most of Buffalo Tom's, at the Sinclair, I raced across the river to try and catch some of Telekinesis at Brighton Music Hall in Allston. Made it in time to see a handful of songs, including this ace cover of one of my favorite INXS tracks. Wish I'd been able to see the whole show, but even a little Telekinesis goes a long way.
Oh, Quasi, how I love thee. Two people who project more joyful noise and energy from the stage than most quintets ever could. This Elvis Costello cover came near the end of their fantastic set at Great Scott in Allston on Thursday, October 17th of last year. Their latest LP is last year's "Mole City", and you should own it.
Not only did we get a Heart cover during Neko Case's set at the Orpheum on November 1st, but we got two, back to back. First Kelly Hogan handled lead vocals on an amazing "Barracuda" (that riff!), then Neko stepped up to tackle this one. The crowd was rightly, happily surprised when the second song started up, but the band may have been smiling more than we were. And that's saying a lot.
When I was out at that Barsuk anniversary bash in Seattle back in November, new duo Minor Alps (Matthew Caws of Nada Surf and Juliana Hatfield) remarked that their set was the first time they'd ever played in front of people. It kicked off a cross-country trip that brought them to the Sinclair in Cambridge two weeks later (11/23/13) for the final show of their inaugural tour. Grateful I was able to see the first and last stops, especially glad that they learned and played one of my favorite Robyn Hitchcock tracks, the gorgeous "Airscape".
As much as I love Chris Brokaw's original songs, and as many times as I've seen him, I will never tire of hearing him run through Wussy's wonderful "Crooked". This particular rendition was by request, played at an uber-intimate house show in Watertown, MA last month (1/4/14). If you're wondering why we were so quiet in our appreciation at the end, well, there was a baby asleep upstairs. There's no better reason for repressed enthusiasm.
As always, thanks for following along, especially those of you who have been stopping by for years. Without getting too sentimental or self-deprecating, I'll admit that it still surprises me that anyone still reads my ramblings, and every lingering eye and ear is appreciated. Cheers.
keep looking »