Posted on August 22, 2016 at 2:31 pm | No Comments
New Music Night, the free monthly DJ event we host at the ONCE Lounge in Somerville, returns this evening with an extra something added: Along with the usual tacos, ticket giveaways, and playlist of new songs will be a special live performance from Anar Badalov, aka New Dog. It's a send-off of sorts, as the former Travels/Metal Hearts member starts a European tour in a couple of weeks. I've featured a few New Dog songs during past NMN sets (off his two most recent, and most excellent, full-lengths), so it's only fitting that Anar is the first live act to share one of the evenings.
My DJ set, and the accompanying ticket giveaways, start around 8pm, with New Dog around 9, and more new music after he finishes up. The giveaways? Only good stuff, including pairs of passes for upcoming shows by Jason Loewenstein (Sebadoh), Sam Coomes (Quasi/Heatmiser), & Saqqara Mastabas (Matthew Friedberger from Fiery Furnaces & Bob D'Amico from Sebadoh), the Thalia Zedek Band (album release show!), Minibeast, Black Helicopter, & Positive Negative Man, Rocky Votolato & Chris Staples, The Album Leaf & Sister Crayon, The Allah-Las & Tops, and LVL UP. Like I said, only good stuff.
The latest edition of the Daykamp-designed poster, followed by last night's New Music Night playlist. See you tonight?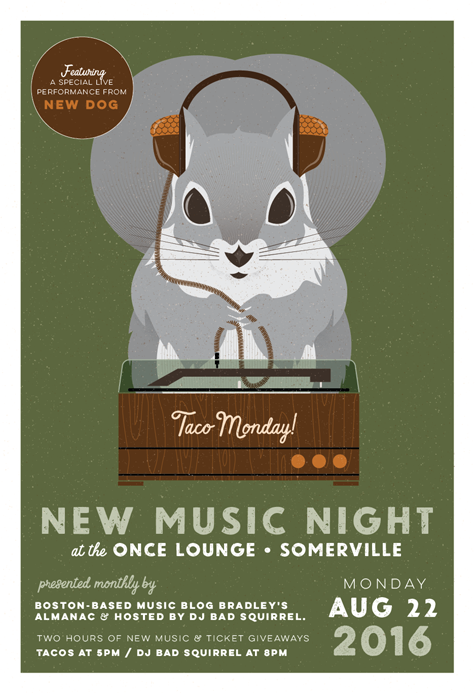 NEW MUSIC NIGHT VIII playlist
@ ONCE Somerville
from Monday, July 18th, 2016
01. Eric Bachmann & Jon Rauhouse – "Lilliwaup"
02. Adam Remnant – "When I Was A Boy"
03. New Dog – "Boy's Own"
04. Hiss Golden Messenger – "Biloxi"
05. Mill Pond Falls – "Four Roses"
06. The Handsome Family – "Gold"
07. Owen – "A Burning Soul"
08. PJ Harvey – "Guilty"
09. Morgan Delt – "I Don't Wanna See What's Happening Outside"
10. Wilco – "Locator"
11. The Sandwich Police (TSP) – "Love Yourself"
12. Flock Of Dimes – "Semaphore"
13. Thee Oh Sees – "The Axis"
14. Allah-Las – "Famous Phone Figure"
15. Stargazer Lilies – "When With You"
16. LVL UP – "Pain"
17. Amy Klein – "American City"
18. Weakened Friends – "Crushed"
19. Drowners – "Human Remains"
20. PowerSlut – "Girl Crush"
21. Year Of Glad – "Keeping The Peace"
22. Helms Alee – "Tit to Toe"
23. Less Win – "Rituals"
24. Fireworks – "Bury Me"
25. The Julie Ruin – "I Decide"
26. Joanna Gruesome – "Pretty Fucking Sick (Of It All)"
27. Pixies – "Um Chagga Lagga"
28. Beach Slang – "Punks In A Disco Bar"
29. Descendents – "Without Love"
30. Dinosaur Jr. – "Tiny"
31. Brendan Canning – "Book It To Fresno"
32. Doe – "Sincere"
33. Dumb Numbers – "Girl On The Screen"
34. Sharon Van Etten – "Do You Realize?" (Flaming Lips cover)
Stream many of the tracks found above, some I'll be playing tonight, and many other share-worthy songs, by checking out the 'Nac Tracks monthly playlists on Soundcloud.
Posted on July 18, 2016 at 8:58 am | No Comments
Another month, another Monday, another New Music Night at ONCE Somerville this evening. By now you may know the deal: A couple hours of new songs interspersed with ticket giveaways and taco-eating. Tonight's a bit different for me, though, as I'll be remembering the many hours spent up in the roost at beloved Cambridge bar River Gods, where Chris generously had me along for so many Tourfilter DJ Nights, and where Jay and I started the original editions of NMN. Hosted a bunch of new release listening-parties there, too. Not to mention all the non-DJ nights I ended up sitting at the bar while others spun sounds. When the sudden word of its closing hit, it hit pretty hard.
So many memories. So many people met, friends made, drinks downed, and fries dipped in that extra-awesome aioli.
In the absence of an official wake for our old home, and since I couldn't make the Chris Ewen-hosted RGs tribute at Zuzu last Thursday, maybe come hang out with us tonight at Once. Perhaps my old partners Chris & Jay will select a few songs? Wonder if I can convince JJ & company to do up a little aioli & fries combo, or maybe name a temporary menu item in RGs honor? Still can't believe it's gone. Just like that.

Here's the latest edition of the poster from Daykamp, followed by the playlist from last month's NMN. And keep an eye out for details on the upcoming August installment, 'cuz we've got something pretty special planned…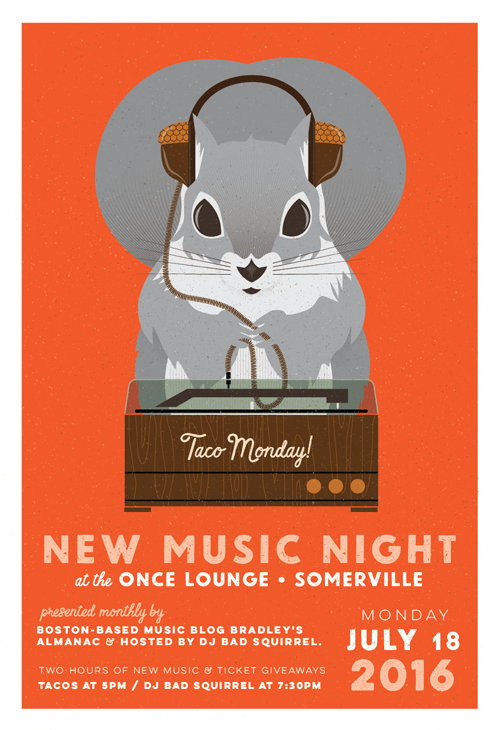 NEW MUSIC NIGHT
@ ONCE Somerville
Monday, June 13th, 2016
01. The Album Leaf – "Back To The Start"
02. Owen – "Lost"
03. Marissa Nadler – "All The Colors Of The Dark"
04. Secretary – "Words"
05. Steve Kilbey + Frank Kearns – "Black River"
06. Quilt – "Passersby"
07. Rob Sutherland – "Weep Willow"
08. Walter Schreifels – "Overjoyed"
09. Pale Monsters – "Fine"
10. Speedy Ortiz – "Emma O"
11. Wye Oak – "If You Should See"
12. Night School – "Last Disaster"
13. School 94 – "Common Sense"
14. Spook The Herd – "Slurpee Surf"
15. Spook School – "Gone Home"
16. Lady Pills – "Irrelevant"
17. Lost Cosmonauts – "Happy"
18. Field Mouse – "The Mirror"
19. Modern Baseball – "Apple Cider, I Don't Mind"
20. David Bazan – "Oblivion"
21. Laura Gibson – "Not Harmless"
22. Tall Tales & The Silver Lining – "Boulder To Birmingham" (Emmylou Harris)
23. Lydia Loveless – "Longer"
24. Factory Edge – "Lack Of"
25. Teenage Fanclub – "I'm In Love"
26. Gold Muse – "Trick of Time"
27. Bug Jar – "Space Visitor"
28. Cities and States – "Ambulance Racer"
29. Bruvs – "New Digs"
30. Black Helicopter – "Deadlines for Deadbeats"
31. Descendents – "Victim Of Me"
32. Diarrhea Planet – "Bob Dylan's Grandma"
33. Hallelujah The Hills – "Are We Failing?"
34. Stone Roses – "Beautiful Thing"
35. Mogwai – "Tzar"
Listen to many of the songs above on the oft-updated 'Nac Tracks streaming Soundcloud playlists.
Posted on June 13, 2016 at 1:28 pm | No Comments
One Monday each month I host an evening of new music at the magical ONCE Lounge in Somerville, Massachusetts, and today happens to be one of those Mondays. So at 7:30pm I'll kick off another New Music Night while the Once staff serves up a selection of killer tacos. Given the weekend's lingering sadness & anger, I'm looking forward to this one more than usual.
Bonus: Ticket giveaways throughout the night to a bunch of much-recommended Boston-area shows. I'm particularly psyched about this month's freebies, which include upcoming local appearances by Pale Monsters, Sidewalk Driver, Guillermo Sexo, Pale Hands, Black Helicopter, Shatner, Vic Firecracker, Eldridge Rodriguez, Wye Oak, Modern Baseball, Joyce Manor, Thin Lips, Quilt, Widowspeak, David Bazan, Laura Gibson, Hallelujah the Hills, The Barbazons, the Thalia Zedek Band, Black Beach, and Marissa Nadler. Whew.
So come by, hang out, and test your ticket-winning luck while you fill your ears and heart with new songs. And your belly with fresh tacos.
Here's the latest iteration of the NMN poster from the wonderful Daykamp Creative, this time in soothing fountain blue…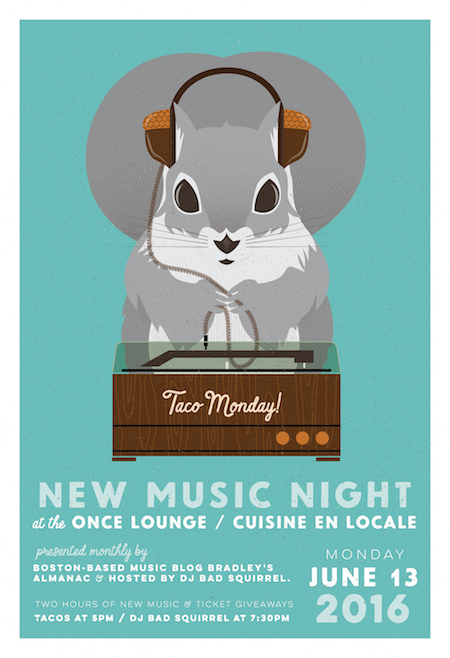 ---
And while I'm at it, here's the playlist from the previous installment of NMN in May, with a few embedded for your listening pleasure. You can hear more over on my monthly "Nac Tracks" streaming playlists. Dig in…
NEW MUSIC NIGHT
Monday, May 16th, 2016
@ The ONCE Lounge
in Somerville, MA
01. Andy Shauf – "The Worst In You"
02. New Dog – "Our Whole Life"
03. Marissa Nadler – "Katie I Know"
04. Chris Page – "Bakelite In The Moonlight"
05. Andy Sadoway – "Having Trouble Again"
06. Trashcan Sinatras – "Autumn"
07. David Bazan – "With You"
08. Womanizer – "Lie No 5"
09. Blessed Isles – "Round and Round"
10. Hotelier – "Doing the Unstuck" (Cure cover)
11. Idle Pilot – "Questionable Status"
12. Dowsing – "Red Legs Kicking"
13. Great Hare – "A Second Chance"
14. Modern Baseball – "Everyday"
15. Grave School – "Eugene OR"
16. A Giant Dog – "Not a Miracle"
17. Hurricane #1 – "I Wanna Kill You"
18. Jackal Onasis – "Runty Little Puppy"
19. The Rutabega – "Nosy Neighbors"
20. Yuck – "Bled White" (Elliott Smith cover)
21. Mo Troper – "Happy Birthday"
22. Nothing – "Vertigo Flowers"
23. Pink Milk – "Detroit"
24. Major Leagues – "Leave"
25. Augustines – "When Things Fall Apart"
26. Ghost Box Orchestra – "Days are Forever"
27. Tancred – "Bed Case"
28. Speedy Ortiz – "Death Note"
29. White Hot Moon – "A Satisfactory World For Reasonable People"
30. Black Helicopter – "Under The Gun"
31. Savak – "Alive In Shadows"
32. Psychic Teens – "Winter Grey"
33. Radiohead – "Ful Stop"
34. Low – "Not a Word" (with S Carey)
Mark your calendar for the next NMN on Monday, July 18th. Summahtime. At last.
Posted on May 16, 2016 at 4:16 pm | 1 Comment
This evening brings this month's installment of New Music Night back to the Once Lounge in Somerville, MA, kicking off promptly at 7:30pm. For the uninitiated: A couple hours of nuthin' but carefully sequenced new songs spun for your listening pleasure as you inhale tasty tacos and/or get your drink on. Getting to hang there and provide your Monday evening soundtrack is one of the highlights of my month, so come take advantage of my music-nerd obsessiveness and the Once crew's first-rate cooking skills.
Plus: Ticket giveways! I'll be drawing winners for pairs of tix to see upcoming shows including Nothing at the Sinclair, A Giant Dog at O'Brien's, & Black Helicopter's EP release show next month at Great Scott.
The latest iteration of the NMN poster from Daykamp, in princely purple…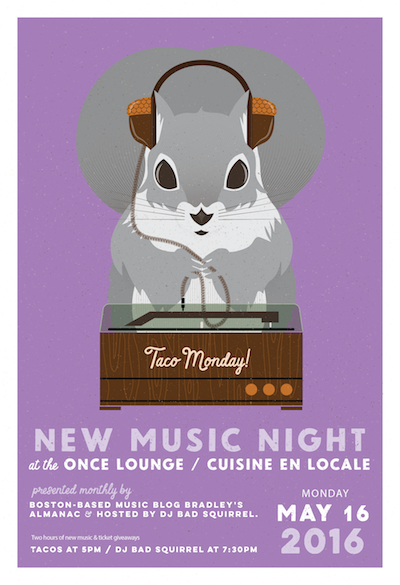 ---
And belatedly, here's the playlist from last month's edition. It went a little somethin' like this…
NEW MUSIC NIGHT
Monday, April 11th, 2016
@ The ONCE Lounge
in Somerville, MA
01. PJ Harvey – "The Orange Monkey"
02. Britta Phillips – "One Fine Summer Morning"
03. Andy Sadoway – "IOU"
04. Tangible Excitement – "Northland Food Court"
05. Lush – "Lost Boy"
06. Chris Cohen – "Torrey Pine"
07. Nada Surf – "Rushing"
08. David Bazan – "Trouble With Boys"
09. Systems Officer – "Xon"
10. Rob Crow's Gloomy Place – "Quit Being Dicks"
11. Sunflower Bean – "Easier Said"
12. Guillermo Sexo – "Eclipse"
13. Wussy – "Ceremony" (New Order cover)
14. Wire – "Nocturnal Koreans"
15. Young Elk – "Debts"
16. Undersea – "Winter Lungs"
17. Bleached – "Sour Candy"
18. Bent Shapes – "86'd In '03"
19. Matt Tong – "Christopher"
20. The James Rocket – "We Are Here For You"
21. Beverly – "Contact"
22. Ship Thieves – "Born Into This"
23. Christopher Leaf – "I'll Try For You"
24. Bob Mould – "The End of Things"
25. Robert Pollard – "I Can Illustrate"
26. Hallelujah The Hills – "The Girl With Electronics Inside"
27. So So Glos – "Missionary"
28. Savak – "Reaction"
29. A Giant Dog – "Sleep When Dead"
30. Pinkshinyultrablastv – "Molkky"
31. The Gotobeds – "New Dress (Debutante)"
32. Summer Cannibals – "Go Home"
33. Metz and John Reis – "Caught Up"
34. Into It Over It – "Vis Major"
35. White Lung – "Hungry"
36. Witching Waves – "Twister"
37. Eagulls – "Skipping"
38. Eric Bachmann – "Belong to You"
39. Mogwai – "Bitterness Centrifuge"
Many of the songs can be streamed through my monthly 'Nac Tracks playlists on Soundcloud. Keep an eye/ear on the in-progress May edition, and if you can't join us this evening, pencil the next NMN for Monday, June 13th.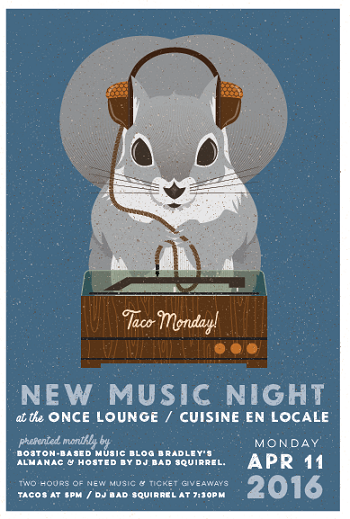 Posted on April 27, 2016 at 9:57 am | No Comments
It's April in Boston, which means the tulips have taken root in the Public Garden, the Sox have finally taken the field at Fenway, and now the renowned Independent Film Festival Boston takes to our best area theaters for a solid week of carefully-curated cinematic offerings. Now in its 14th year, the all-volunteer IFFBoston kicks off tonight at the Somerville Theatre with an opening selection of "The Hollars", directed by and starring Newton-native (and former-Jim Halpert) John Krasinski along with Anna Kendrick and (the always-excellent) Margo Martindale. It'll wrap up a week from today at the Coolidge in Brookline with a screening of "The Intervention", directed by (and also starring) Clea Duvall with a solid cast that includes Melanie Lynskey (most recently in HBO's criminally-cancelled "Togetherness"), Natasha Lyonne, Cobie Smulders, Alia Shawkat, and Ben Schwartz.
Those two features bookend a jam-packed, diverse lineup that, as usual, includes a healthy dose of music-related films. I've made a habit of spotlighting those particular selections each year, so here's a quick rundown for the 2016 edition. It should be noted: This time, it's personal. Because Pants.
---
"Colin Hay: Waiting for My Real Life"
directed by Nate Gowtham & Aaron Faulls
co-director Gowtham will be at the screening

A documentary on singer-songwriter Colin Hay, the former front-man of Australia's Men at Work.
Screening at the Somerville Theatre
on Monday, May 2nd at 9:45 PM
Tickets & more info
---
"Hazzard's Cure"
documentary short directed by C.S. Ward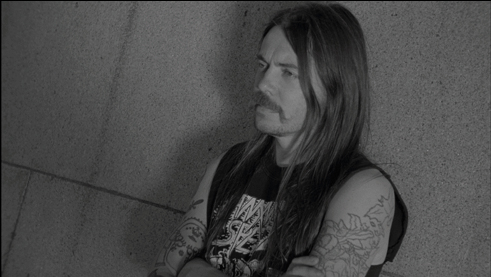 From the website: "Heavy-metal drummer & longtime Oakland resident Clint Baechle makes art and music while living comfortably outside of society."
Playing as part of "Shorts B = Bravo: Documentary"
Screening at the Somerville Theatre
on Friday, Apr 29th at 7:15 PM
and Sunday, May 1st at 5:30 PM
Tickets & more info
---
"High Water Mark: The Rise & Fall Of The Pants"
directed by Bill Simmon
director Simmon will be at the screening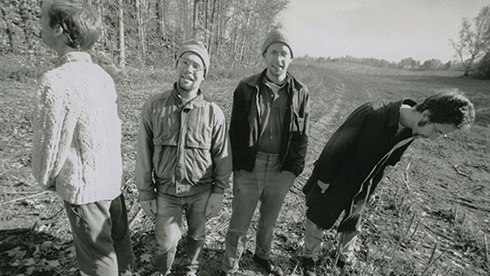 Well, here's where I throw any and all objectivity out the window. I've seen this one, I'm in this one, hell, I lived this one. This is the story of a 90s-era Burlington, Vermont quartet called the Pants and the scene that birthed them. It's both a universal musical story of a band trying to quote-unquote 'make it', and part celebration of a particular time & place (including a bonus Bernie Sanders tie-in). What helps it stand out is the personalities and talent of the gents involved, and the obvious passion of director Simmon, who spent 10 years working on this sucker. He'll be at the screening for a post-film Q & A on Friday night.
Showing at the Somerville Theatre
this Friday, Apr 29th at 10:00 PM
Tickets & more info
---
"Presenting Princess Shaw"
directed by Ido Haar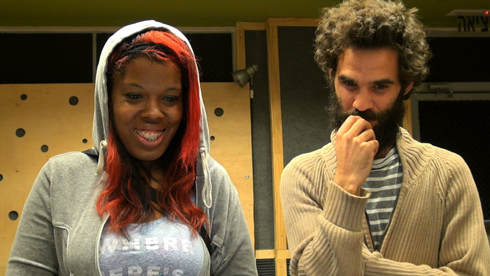 From the website: "Princess Shaw struggles to be heard by posting her songs on YouTube. Then, someone living 7000 miles away discovers her."
Screening at the Somerville Theatre
on Friday, April 29th at 9:30 PM
Tickets & more info
---
"Los Punks: We Are All We Have"
directed by Angela Boatwright
From the website: "Explores the Latino punk rock scene of South Central and East Los Angeles."
Playing at the Somerville Theatre
on Saturday, April 30th at 10:00pm
Tickets & more info
---
"Who Is Lydia Loveless?"
directed by Gorman Bechard
director Bechard & subject Loveless will be at the screening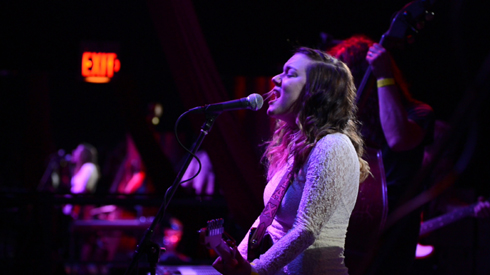 This one is a highlight, a deep dive into the in-progress career of rocker Lydia Loveless from director Gorman Bechard, who was responsible for past IFFBoston docs on Grant Hart & the Replacements. I was fortunate to get an early look at this one to write the synopsis for this year's festival program guide, so I'll save myself some typing by having you go read that. Then grab your tickets and leave time for a sure-to-be-lively post-film Q&A with Gorman & Lydia herself. Don't think she's bringing a guitar with her, but one can hope.
Showing at the Brattle Theatre
this Friday, April 29th at 7:00pm
Tickets & more info
---
Keep an eye on the IFFBoston Twitter feed and Facebook page for up-to-date fest info, hit their comprehensive website for info on planned parties & panels, and check out write-ups on some of the other IFFB selections from The Artery, the Boston Globe, Cambridge Day, and Boston Common.
keep looking »