Posted on December 5, 2016 at 11:11 am | No Comments
The November edition of New Music Night is in the books, so here's a rundown of what was spun last Monday (JJ's birthday!) at Somerville's indispensable ONCE Lounge…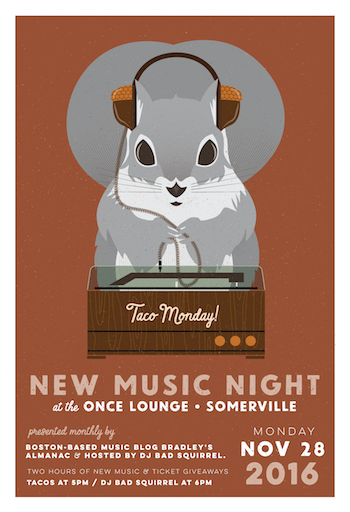 NEW MUSIC NIGHT playlist
at the ONCE Lounge, Somerville, MA
on Monday, November 28th, 2016
01. Jonathan Richman – "People Are Disgusting"
02. Harmony Tividad – "Penny Ghost"
03. New Dog – "Blue Eyed Baby" (Ed Askew cover)
04. Will Johnson – "Nervousness Fangs"
05. Kristin Hersh – "Bubble Net" (ticket giveaway!)
06. Slowdim – "Take Your Only Heart That's Solely Free"
07. The Shins – "Dead Alive"
08. Hands and Knees – "Banish Your Dance"
09. Happyness – "Falling Down"
10. Sad13 – "The Sting" (ticket giveaway!)
11. Braid – "Next of Kin" (Alvvays cover)
12. The Douglas Fir – "Daylight"
13. Nada Surf – "Rushing" (live/orchestral version)
14. The xx – "On Hold"
15. Matt Pond PA – "The Glow" (ticket giveaway!)
16. Stove – "Blank"
17. Suggested Friends – "Chicken"
18. Tobin Sprout – "Future Boy Today/Man Of Tomorrow"
19. Surfer Blood – "Six Flags In F Or G"
20. Mint Mile – "Bellflower"
21. Peyton Pinkerton – "Letter to Kelly Clarkson"
22. Canshaker Pi – "Bonox"
23. Cloud Nothings – "Modern Act"
24. King Gizzard & the Lizard Wizard – "Rattlesnake"
25. Geometers – "L'appel Du Vide"
26. Split Single – "Blank Ribbons"
27. Bash & Pop – "On the Rocks"
28. Los Campesinos! – "I Broke Up in Amarante"
29. Shepherds – "Moment"
30. Sleepy Monks – "This Is Why We Broke Up"
31. Pissed Jeans – "The Bar Is Low"
32. Nocturnal Habits – "Good Grief"
33. Hard Left – "Western Rifles"
34. Vanishing Life – "Painter"
35. No Hope No Harm – "This Living Wage"
36. Afghan Whigs – "Regret" (New Order cover)
New Music Night is taking a holiday break and will return in January 2017. Keep an eye out here or on the Almanac Facebook page for date and details.
Posted on November 28, 2016 at 10:01 am | No Comments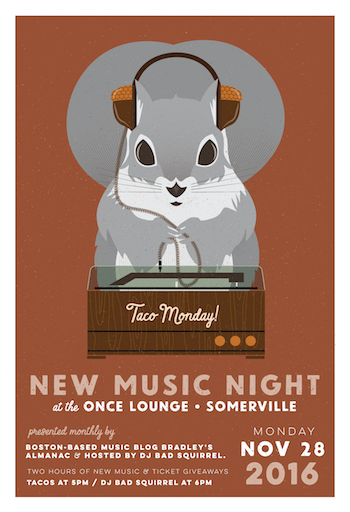 The November edition of New Music Night goes down this evening at the ONCE Lounge in Somerville, and I'm deep into prepping the 2-hour playlist of nothing but new tracks. While you're absorbing the carefully-selected songs (and savoring tacos from the ONCE kitchen), I'll be picking winners' names for tickets to some ace upcoming local shows, including Boston-area appearances from Kristin Hersh, Matt Pond PA, Sad13 (Sadie from Speedy Ortiz), and Kurt Vile. Admission is free, taco time starts at 5pm, and I'll be behind the DJ table promptly at 6 o'clock. Come hang, chow down, listen up, and say hello if you get a chance.
Bonus: As New Music Night wraps up at 8pm, another excellent Bob Colby-presented show kicks off with sets from Só Sol and Cold Expectations. Admission is also free, though donations are encouraged, so toss some dollars in the hat if you're so inclined. Find more details over on the FB event page.
Want an idea of what you're in for during tonight's DJ set? Have a look at the playlists from the previous two NMN installments…

New Music Night playlist
from Monday, October 24th, 2016
@ ONCE Somerville
01. Minor Victories – "Cog" (Orchestral version)
02. Lou Barlow – "Anniversary Song"
03. Tony Molina – "See Me Fall"
04. Kristin Hersh – "Hemingway's Tell"
05. Hope Sandoval & The Warm Inventions – "Let Me Get There"
06. Really Big Pinecone – "Big Plans"
07. Squirrel Flower – "Not Your Prey"
08. Thee Oh Sees – "The Poem"
09. Soft Pyramids – "Planes"
10. Plastic Flowers – "Falling Off"
11. Suburban Living – "If It's Real"
12. Allison Crutchfield – "Dean's Room"
13. Cleo Tucker (of Girlpool) – "Call It Tie"
14. Nice Try – "Glow"
15. Loney Dear – "Humbug"
16. Flock of Dimes – "Potential"
17. Mary Onettes – "Juna"
18. The Hermit Crabs – "Wonderful" (Rose Melberg cover)
19. American Football – "Desire Gets in the Way"
20. Sleepy Monks – "Bodiddly"
21. Crying – "Wool in the Wash"
22. Dead Cats Dead Rats – "Radio Face"
23. The Magic Es – "Colour Up My World"
24. Exit Verse – "Sleeping In Graceland"
25. Ted Leo – "More Hard Times"
26. Sad13 – "Devil In U"
27. Vanishing Life – "Realist"
28. Affordable Hybrid – "Bat"
29. The Wedding Present – "Bells"
30. Elephants – "In Place Of"
31. Peyton Pinkerton – "Lips and Lungs" (premiere)
32. Hundred Plus Club – "Reminders"
33. Terry Malts – "Used To Be"
34. Philosophical Zombie – "Inanimate Ending"
35. J. Robbins – "Static"
36. Pill – "Fetish Queen"
37. Major Stars – "For Today"
38. Psychic Dog – "Rev Mike"
39. Honey Lung – "End Of Time"
40. La Bete Blooms – "Breaking In"
41. Mint Mile – "City of Speed Traps"
42. J Mascis – "Waltz 2" (Elliott Smith Cover)
43. Caspian – "127 North"

New Music Night playlist
from Monday, September 19th, 2016
@ ONCE Somerville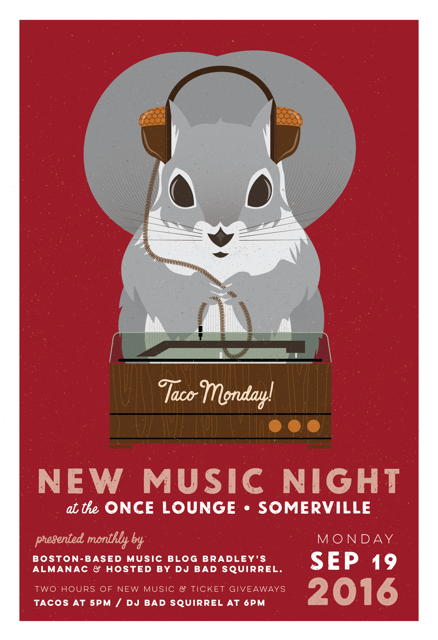 01. Sharon Van Etten – "Not Myself"
02. Lou Barlow – "In Your Eyes" (Peter Gabriel cover)
03. Ultimate Painting – "Song For Brian Jones"
04. Dyr Faser – "Estranged"
05. Wilco – "Someone To Lose"
06. Tanya Donelly – "Tooraloo"
07. The Dodos – "Never Meant" (American Football)
08. American Football – "Give Me The Gun"
09. Hiss Golden Messenger – "Tell Her I'm Just Dancing"
10. Douglas Fir – "I Know That You Don't"
11. Flock Of Dimes – "You The Vatican"
12. The Minders – "Into the River Pt. 2"
13. Philosophical Zombie – "Dream On"
14. Soft Pyramids – "Paper Houses"
15. LVL UP – "Spirit Was"
16. The Needy Sons – "Lost Against the Twilight"
17. Pixies – "Tenement Song"
18. The Dazies – "Little Things"
19. The Wedding Present – "Lead"
20. Terry Malts – "Seen Everything"
21. Boys Forever – "Voice In My Head"
22. Halfsour – "Ten Year Tenure"
23. Strange Passage – "Lament"
24. Tokyo Police Club – "My House"
25. Tangible Excitement – "Muddled Whine"
26. Bodyheat – "Moon Singer" (Rose Melberg cover)
27. Real Numbers – "Wordless Wonder"
28. Split Single – "Leave My Mind"
29. Nancy Sin – "Room For Rent"
30. La Sera – "Queens"
31. Krill – "Happy"
32. James Rocket – "Clothes Make the Man"
33. Pansy Division – "He's Trouble"
34. Kestrels – "No Alternative"
35. Expanda Fuzz – "It's Your Glow UFO"
36. Kim Gordon – "Murdered Out"
37. E – "Great Light"
38. Cavemen – "Too High To Die"
39. Poster Children – "If You See Kay" (demo)
40. Whoa Melodic – "Goodbye Good Luck And See You"
For more 'Nac-endorsed new music, check out my always-in-progress Nac Tracks playlists over on Soundcloud.
Posted on October 7, 2016 at 8:58 am | No Comments
A 'nutshells' post, in which I share five new things rattling around my between my ears…

On November 11th, Kristin Hersh will deliver her long-awaited next album, "Wyatt At The Coyote Palace", in the U.S. (and in the U.K. 2 weeks earlier – lucky sods). It's her first solo LP since 2010's "Crooked", and continues her unique practice of combining her singular talent for songwriting with her more-recently explored knack for book-writing — by releasing it with an accompanying collection of essays.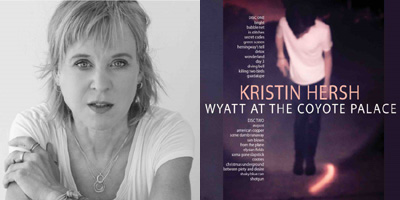 The Throwing Muses founder hasn't exactly been resting on her laurels in the six years since her last solo release – Two books (the acclaimed "Rat Girl" memoir and "Don't Suck, Don't Die", her moving reflection on her special relationship with the much-missed Vic Chesnutt – the KH-narrated audio version was just released), a double-length Muses LP ("Purgatory/Paradise"), two releases from her noise-rock trio, 50 Foot Wave, including this year's "Bath White" EP, and a new trio, Outros, with Chris Brady from (the real) Pond/Audio Learning Center & 50'~ drummer Rob Ahlers. All of this while sharing her creative process with a small army of devoted fans (dubbed "Strange Angels", who support her work through regular contributions) and suffering some personal upheavals that she's candidly discussed in recent interviews. There was a time she'd worried she'd lost her songwriting spark, so the announcement of this record came as welcome news indeed.
The first sonic taste of the 24-track (!), double-disc, hardcover book "Wyatt At The Coyote Palace" is "Soma Gone Slapstick", which also has a new Orrin Anderson-directed video to go along with it…
Pre-order WATCP through Kristin's website, and while you're there, check out what it takes to become one of her Strange Angels. Signing up not only gets you her releases, but free tickets to upcoming shows — she hits the road (and the airport) in November for a 6-week international tour that finishes up here in the Boston area at the Sinclair on Sunday, December 18th. Grab tickets for that one right here.

Speaking of the Muses, erstwhile TM co-founder Tanya Donelly is having one hell of an active year with both the return of her beloved 90s-era quartet Belly to live stages and the release of her collected "Swan Song Series" of solo work on American Laundromat records. She just played a couple dates in support of that triple-LP (!) with an ace backing band and a slew of guests at the Somerville show that included Bill Janovitz (Buffalo Tom/Needy Sons), Tom Gorman (Belly), Sam Davol (Magnetic Fields), and duo Damon & Naomi (Galaxie 500). Not long before that she shared the Brighton Music Hall stage with Janovitz and Mike Gent of (the Figgs/Needy Sons) as part of the Concert Across America. Boston is one lucky town that we get to see these kind of live collaborations so often.
Bill Janovitz, Tanya Donelly, & Mike Gent
at Brighton Music Hall on September 25th, 2016
Tanya's busy year includes a gorgeous contribution to American Laundromat's incredible "Say Yes! A Tribute to Elliott Smith" collection, which sees its official release next week. My pre-order package arrived a couple days ago, and it's a something special to behold and be heard, with striking design work from Daykamp Creative, and a ridiculously stacked lineup of artists that includes J. Mascis, Juliana Hatfield, Waxahatchee, Lou Barlow, Adam Franklin (of Swervedriver), Yuck, and more. Order yours over at ALR.
Here's Tanya Donelly's gorgeous take on Elliott Smith's "Between The Bars"…

Another lovingly-produced tribute to one of my all-time favorite songwriters was released just last week: The 21-track "Constant and True – A Tribute to the Songs of Rose Melberg" on February Records. The covers come from all throughout Rose's musical career, including songs from Go Sailor, Tiger Trap, the Softies, her solo releases, and more. Especially excited to see my pals in The Smittens contribute their version of Go Sailor's "Together Forever In Love". Have a listen to that track below, hear the rest of the songs at Bandcamp, and order your own copy (with proceeds benefiting Rose's chosen charity of the Multiple Sclerosis Society of Canada) right here.

After years of begging/demands/threats from the miscreants at the PedroTheLion.org forum, David Bazan is finally gathering together his long-out-of-print Christmas singles into a collection titled "Dark Sacred Night", which will be out on November 11th.
While he's released a total of 14 carols since the first 7-inch on Suicide Squeeze in 2002, the compilation gathers just 10 remixed/remastered tracks. Completists need not fear, though, as Amazon let slip the news that there will be a limited edition "Christmas Bonus" 12-inch with the other 4 remaining songs. Look for an official announcement on that companion EP soon, and in the meantime pre-order the "Dark Sacred Night" collection from Undertow or Suicide Squeeze, where you can snag one of the 2000 limited edition blue vinyl (with white snow flakes!) copies.
Here's one of the tracks, David Bazan's cover of Low's "Long Way Around The Sea"…

I've been a fan & follower of Geoff Farina's work since his days in Boston trio Karate and duo Secret Stars, have dug his solo work and frequent collaborations with Chris Brokaw, and always look forward to news of another full-band record on the way. November 25th will bring "Grant No Glory", the sophomore full-length from Exit Verse, Farina's trio with bassist Pete Croke (Brokeback, Tight Phantoms) and drummer Chris Dye (Speck Mountain, Chin Up Chin Up). The 9-track record follows their 2014 self-titled debut, which was also released by the Ernest Jenning Record Company. Pre-order "Grant No Glory" through Bandcamp while you stream lead-off track "Sleeping In Graceland"…
Posted on September 19, 2016 at 9:35 am | No Comments
Well, this worked out quite nicely indeed. When we were trying to figure out which (taco!) Monday evening in September would host the monthly New Music Night at Somerville's Once Lounge, tonight jumped right out as the ideal choice. The reason? My two hour DJ set of new music and Boston-area ticket giveaways would serve as an intro of sorts for a free performance by singular songwriter Chris Brokaw, who will in turn be opening up for Catherine Capozzi (aka Axemunkee). As a longtime fan of all-things-Brokaw (including Come, Codeine, the New Year, Empty House Cooperative, his duo work with Geoff Farina, and occasional stint helping the Lemonheads sound better), it's a show I would have been at anyway. Since Chris relocated from Boston to Seattle five years ago (side note: 5 years already?!), his area solo sets are rarer occasions, of course, and even more rarely do they feature the combo of taco accompaniment, free admission, and a carefully chosen playlist of brand new songs to set the mood.
Taco time starts at 5pm, New Music Night (and ticket giveaways) at 6pm, and Chris should start around 8pm. Oh, and about those giveaways? Great stuff this month, including pairs to upcoming area appearances by LVL UP, Pansy Division, Tanya Donelly, Poster Children, Kudgel, Halfsour, and Flock of Dimes (Jenn from Wye Oak!). For more info, check out the Facebook event, and scroll down below this month's Daykamp-designed flyer for a look at what I played last month at NMN's August edition…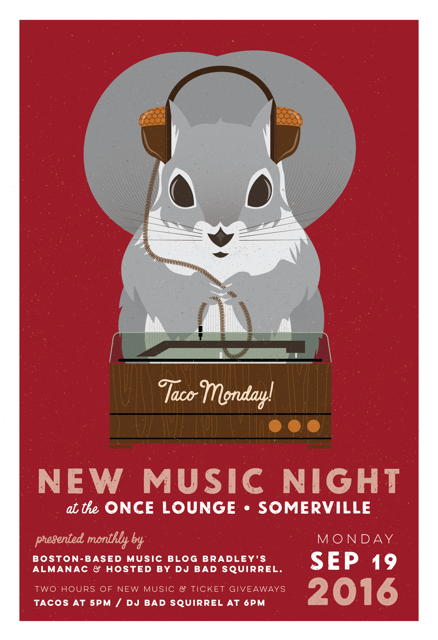 ---
Last month's NEW MUSIC NIGHT playlist
from Monday, August 22nd, 2016
at ONCE Somerville
01. Kyle Dixon & Michael Stein – "Stranger Things" (Extended Theme)
02. Flock Of Dimes – "Everything Is Happening Today"
03. Warpaint – "New Song"
04. The Faint – "Skylab 1979"
05. The Album Leaf – "Glimmering Lights"
06. Belle and Sebastian – "Olympic Village 6AM"
07. Stove – "Graduate and Congratulate"
08. Sam Coomes – "Stride On"
09. Dave Godowsky – "Something"
10. Katy Goodman & Greta Morgan – "Bastards Of Young" (Replacements)
11. Lydia Loveless – "Out On Love"
12. Chris Staples – "Golden Age"
13. Smittens – "Together Forever In Love" (Go Sailor cover)
14. Barbara Manning & The Go-Luckys! – "A Mountain"
15. Darren Hayman – "The Buffet Car Song"
16. Allah-Las – "Could Be You"
17. Kyle Dixon & Michael Stein – "A Kiss" (Stranger Things soundtrack)
[ a special live performance from New Dog ]
18. Kyle Dixon & Michael Stein – "She'll Kill You" (Stranger Things soundtrack)
19. EZTV – "Reason To Run"
20. Tennis – "Ladies Don't Play Guitar"
21. Weakened Friends – "Blankets"
22. The Wedding Present – "Broken Bow"
23. Pixies – "Talent"
24. Walter Schreifels – "Save The Saveables"
25. Brendan Canning – "Vibration Walls"
26. Bruvs – "Friends"
27. Bueno – "Oh Lord I'm Confused"
28. Creative Adult – "Moving Window"
29. Expanda Fuzz – "Flavour: Zombie"
30. LVL UP – "Hidden Driver"
31. Endless Arcade – "Lines"
32. We Can All Be Sorry – "Nowhere Us"
33. Halfsour – "Not Alright"
34. Forth Wanderers – "Slop"
35. Honey Bucket – "Downtown"
36. Joanna Gruesome – "Occult Bookshop"
37. Sheer – "Room"
38. Joyce Manor – "Fake ID"
39. Preoccupations – "Monotony"
40. LA Font – "Can't Be Beat"
41. Teenage Fanclub – "Thin Air"
42. Suburban Living – "Come True"
43. Latchkey Lights – "No Control"
44. Lost Film – "As You Were"
45. Chris Hansen & Matt Pond – "Someone's Daughter"
46. Pfarmers – "Red Vermin"
47. Swirlies – "Fantastic Trumpets Forever"
48. Thalia Zedek Band – "360°"
49. Eric Bachmann + Jon Rauhouse – "Camille"
Posted on August 22, 2016 at 2:31 pm | No Comments
New Music Night, the free monthly DJ event we host at the ONCE Lounge in Somerville, returns this evening with an extra something added: Along with the usual tacos, ticket giveaways, and playlist of new songs will be a special live performance from Anar Badalov, aka New Dog. It's a send-off of sorts, as the former Travels/Metal Hearts member starts a European tour in a couple of weeks. I've featured a few New Dog songs during past NMN sets (off his two most recent, and most excellent, full-lengths), so it's only fitting that Anar is the first live act to share one of the evenings.
My DJ set, and the accompanying ticket giveaways, start around 8pm, with New Dog around 9, and more new music after he finishes up. The giveaways? Only good stuff, including pairs of passes for upcoming shows by Jason Loewenstein (Sebadoh), Sam Coomes (Quasi/Heatmiser), & Saqqara Mastabas (Matthew Friedberger from Fiery Furnaces & Bob D'Amico from Sebadoh), the Thalia Zedek Band (album release show!), Minibeast, Black Helicopter, & Positive Negative Man, Rocky Votolato & Chris Staples, The Album Leaf & Sister Crayon, The Allah-Las & Tops, and LVL UP. Like I said, only good stuff.
The latest edition of the Daykamp-designed poster, followed by last night's New Music Night playlist. See you tonight?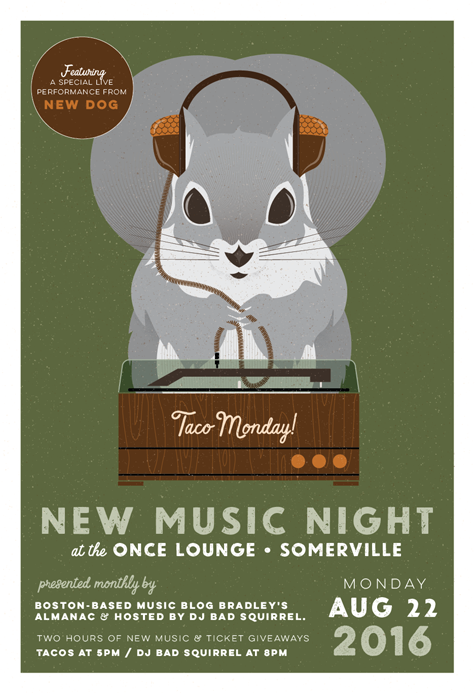 NEW MUSIC NIGHT VIII playlist
@ ONCE Somerville
from Monday, July 18th, 2016
01. Eric Bachmann & Jon Rauhouse – "Lilliwaup"
02. Adam Remnant – "When I Was A Boy"
03. New Dog – "Boy's Own"
04. Hiss Golden Messenger – "Biloxi"
05. Mill Pond Falls – "Four Roses"
06. The Handsome Family – "Gold"
07. Owen – "A Burning Soul"
08. PJ Harvey – "Guilty"
09. Morgan Delt – "I Don't Wanna See What's Happening Outside"
10. Wilco – "Locator"
11. The Sandwich Police (TSP) – "Love Yourself"
12. Flock Of Dimes – "Semaphore"
13. Thee Oh Sees – "The Axis"
14. Allah-Las – "Famous Phone Figure"
15. Stargazer Lilies – "When With You"
16. LVL UP – "Pain"
17. Amy Klein – "American City"
18. Weakened Friends – "Crushed"
19. Drowners – "Human Remains"
20. PowerSlut – "Girl Crush"
21. Year Of Glad – "Keeping The Peace"
22. Helms Alee – "Tit to Toe"
23. Less Win – "Rituals"
24. Fireworks – "Bury Me"
25. The Julie Ruin – "I Decide"
26. Joanna Gruesome – "Pretty Fucking Sick (Of It All)"
27. Pixies – "Um Chagga Lagga"
28. Beach Slang – "Punks In A Disco Bar"
29. Descendents – "Without Love"
30. Dinosaur Jr. – "Tiny"
31. Brendan Canning – "Book It To Fresno"
32. Doe – "Sincere"
33. Dumb Numbers – "Girl On The Screen"
34. Sharon Van Etten – "Do You Realize?" (Flaming Lips cover)
Stream many of the tracks found above, some I'll be playing tonight, and many other share-worthy songs, by checking out the 'Nac Tracks monthly playlists on Soundcloud.
keep looking »