Posted on December 31, 2017 at 8:49 pm | 4 Comments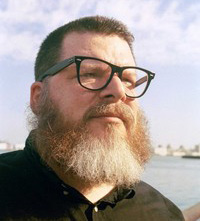 As this long, trying year comes to a close and the internet offers its plethora of "musicians we lost" posts, there's been a name missing that more-than-deserves a mention. And not just a mention, but a goddamn bold-faced memorial: Mr. Robert Neil Fisher of the Willard Grant Conspiracy, who passed away on Sunday, February 12th, 2017 at the far-too-early age of 59.
As a fan and longtime admirer, I'm fortunate to live in the Boston area where he was originally-based and frequently performed. The network of talented musician friends that rotated in and out of his creative collective is rooted here, so I got to see him & them play fairly often, and each set resides firmly in my brain and heart.
When it comes to memorializing the man and musician he was in words, I'll refer you to others: His official obituary, and appreciative tributes from Matthew at Song, By Toad, Jonathan at RPM/Life In Analog, and Loose Music on FB.
Rather than words, I'll instead share a couple of standout live recordings of sets performed in Cambridge, Mass: One from the Middle East Upstairs in 2006 and another from the Lilypad in Inman Square in 2008. The Lilypad appearance includes a bittersweet, classic mid-set cameo from the dearly departed Billy Ruane, himself a major WGC booster. Hard to believe he's been gone over 7 years now.
The cast of Conspiracy characters on these shows (and kindly correct me if I'm wrong) included guests Chris Brokaw & Drew O'Doherty on guitar for both sets, with David Michael Curry on viola, Nancy Delaney drumming, Dennis Cronin on trumpet, and Pete Sutton on bass at the Middle East. The Lilypad lineup, aside from the guitar assists from Chris & Drew, had Sean O'Brien on guitar, Anthony (?) on mandolin, and Peter on piano. I think.
While you listen to these, remember that the future holds more music from Robert & company: He had nearly finished his final full-length, "Untethered", before he passed, and his friends have finished it up for eventual release. Here's hoping the new year delivers it to us. Sleep well, Robert. We were so lucky to have you around for awhile.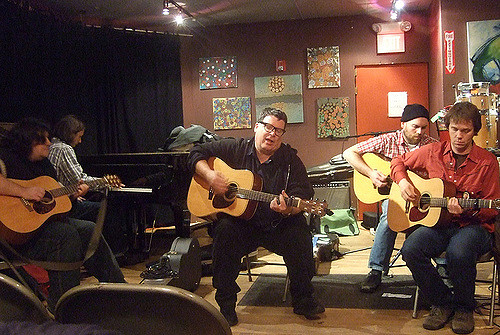 Willard Grant Conspiracy
Live at the Middle East Upstairs, Cambridge, MA
on Friday, December 29th, 2006
[ download the full set as one .zip file ]
01. The Ghost of the Girl in the Well
02. Dance With Me
03. Fare Thee Well
04. The Suffering Song
05. Let It Roll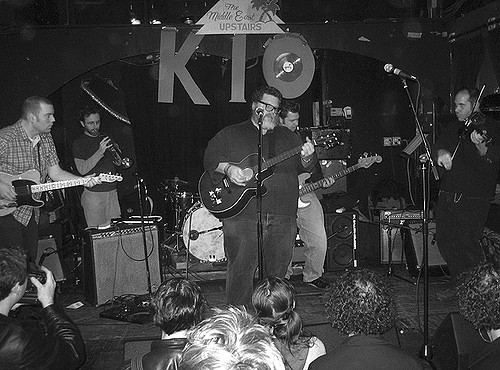 Willard Grant Conspiracy
Live at the Lilypad, Cambridge, MA
on Thursday, October 23rd, 2008
[ download the full set as one .zip file ]
01. intro
02. Drunkard's Prayer
03. Notes from the Waiting Room
04. Massachusetts
05. The Ashes
06. Evening Mass
07. banter
08. The Trials of Harrison Hayes
09. more banter (w/Billy Ruane)
10. Ballad of John Parker
11. and more banter (w/Billy Ruane)
12. The Ghost of the Girl in the Well
13. Fare Thee Well
14. No Such Thing As Clean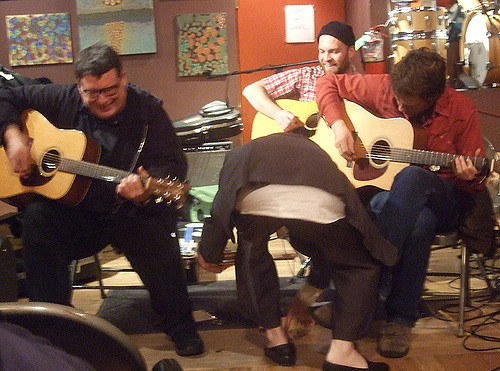 Posted on June 19, 2017 at 9:01 am | No Comments
Let the record show that the following list of carefully-compiled new selections were spun last Monday at the June 2017 edition of NEW MUSIC NIGHT at the ONCE Lounge in Somerville, Massachusetts. Two hours of new music, locavore tacos, & ticket giveaways (last week's winners got tix to see Ride, Land of Talk, Palehound, Now Now, & more).
Select songs are available to stream below, but for more new music, head to Soundcloud for my oft-updated monthly 'Nac tracks compilations.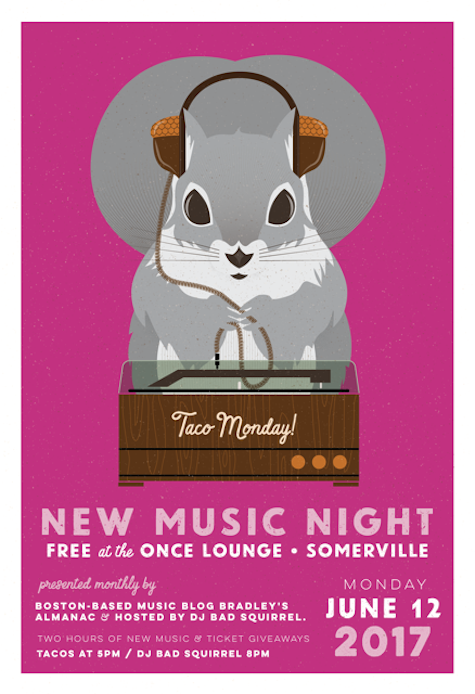 01. Iron & Wine – "Call It Dreaming"
from their upcoming "Beast Epic" LP, out in August on Sub Pop
02. Japanese Breakfast – "Boyish"
from "Soft Sounds From Another Planet", due out 7/14 via Dead Oceans
03. Luna – "One Together" (Fleetwood Mac cover)
off the forthcoming covers LP, "A Sentimental Education", out in September
04. Big Thief – "Shark Smile"
from their just-released new LP, "Capacity"
05. Stephen MacDonald (of the Okay Win) – "At Assembly"
from his solo LP, "Locale Divide", due out this week
06. Rob Crow – "Just Marking Time At This Point"
the Pinback co-captain's contribution to "Our First 100 Days"
07. People Like You – "Variations on an Aria"
first taste of their upcoming "Verse" LP, out 7/28 on Topshelf
08. The Drums – "Mirror"
from their just-released "Abysmal Thoughts" LP on Anti
09. Beach Fossils – "Tangerine"
featuring Rachel from Slowdive, from the new "Somersault" LP
10. The Pains of Being Pure at Heart – "When I Dance With You"
from "The Echo of Pleasure" LP, due out 7/14 via Painbow
11. Broken Social Scene – "Skyline"
from their upcoming "Hug of Thunder" LP, out 7/7 on Arts & Crafts
12. Courtney Barnett – "How to Boil an Egg"
from a new split singles 7-inch series
13. Swale – "Release Your Records!"
from their upcoming double LP "There's No One Here"
14. TW Walsh – "Dropout" (Alternate Version)
alternate take on a track from his recent "Terrible Freedom" LP
15. Palehound – "If You Met Her"
from their just-released "A Place I'll Always Go" LP
16. Waxahatchee – "Never Been Wrong"
from their "Out In The Storm" LP, out 7/14 on Merge Records
17. Alvvays – "In Undertow"
first single from their upcoming "Antisocialites" LP, out 9/8 via Polyvinyl
18. Tancred – "Birthday Candles"
a non-album track released as a new single
19. Now Now – "SGL"
new single to tide us over until their next record
20. Lake Ruth – "Dry Salt In Our Hair" (Le SuperHomard cover)
from a new EP of covers/remixes of this Le SuperHomard track
21. Land Of Talk – "Spiritual Intimidation"
from their just-released "Life After Youth" LP
22. Andrew Cohen & Light Coma – "Your Biography"
ex-Silkworm/Bottomless Pit member teams up with LC for the "Unreality" LP
23. No Hope / No Harm – "Roger Ailes Is Dead"
another Bandcamp-released single from this Boston-based band
24. Burglary Years – "Fake Flowers (Try Harder)"
their latest single, recorded at Converse Rubber Tracks Boston
25. Spiral Stairs – "Dundee Man"
from the former Pavement guy's latest record, "Doris & the Daggers"
26. David Barbe – "Portuguese Door"
from the former Sugar member's upcoming solo LP, "10th of Seas", out 8/18
27. Lo Tom – "Another Mistake"
D Bazan, T Many, TW Walsh, & J Martin made an LP, out 7/14 on Barsuk
28. Pet Symmetry – "Stare Collection"
from their recently-released "Vision" LP on Polyvinyl
29. Rainer Maria – "Lower Worlds"
first single from their self-titled comeback record, out 8/17 on Polyvinyl
30. Jason Loewenstein – "Hey Hey"
from his brand new solo LP, "Spooky Action", out now on Joyful Noise
31. Superchunk – "I Got Cut"
from their new 7-inch, released to benefit Planned Parenthood
32. Gogol Bordello – "Saboteur Blues"
first taste of upcoming "Seekers and Finders" LP, out 8/25 on Cooking Vinyl
33. Downtown Boys – "A Wall"
from their upcoming Sub Pop LP, "Cost of Living", out 8/11
34. Hot Water Music – "Never Going Back"
from their "Light It Up" LP, due out 9/15 on Rise Records
35. Dead Heavens – "Isn't Wrong"
from their just-released LP, "Whatever Witch You Are", out on Dine Alone
36. Camorra – "Roosevelt Champion"
off "Mourning, Resistance, Celebration" 10-inch EP, out 7/14 on Arctic Rodeo
37. Oh Sees – "The Static God"
They dropped the "Thee", and are releasing "Orc" on Castle Face on 8/25
38. Touts – "Political People"
off of "Sickening & Deplorable", newly-released on Hometown Records
39. Taiwan Housing Project – "Veblen Death Mask"
title track off their new Kill Rock Stars LP
40. A Giant Dog – "Photograph"
from their upcoming Merge Records LP, "Toy", due out 8/25
41. Able Baker Fox – "Drift"
from their long-awaited sophomore LP, "Visions", out 8/25 on No Sleep
42. The New Year – "The Party's Over"
from their new record, "Snow", available from Undertow
43. Ride – "Lannoy Point"
Lead-off track from their just-released "Weather Diaries" LP
Posted on May 30, 2017 at 2:24 pm | No Comments
The May 2017 edition of NEW MUSIC NIGHT came and went on the 15th at ONCE Somerville, with ticket giveaways galore and a playlist of new songs obsessively compiled and presented by yours truly. That very playlist is below, with a few embedded tracks for your aural pleasure. For a longer listen, hit up Soundcloud for my ever-growing, monthly 'Nac tracks compilations, and join us on Monday, June the 12th at ONCE for the next NMN…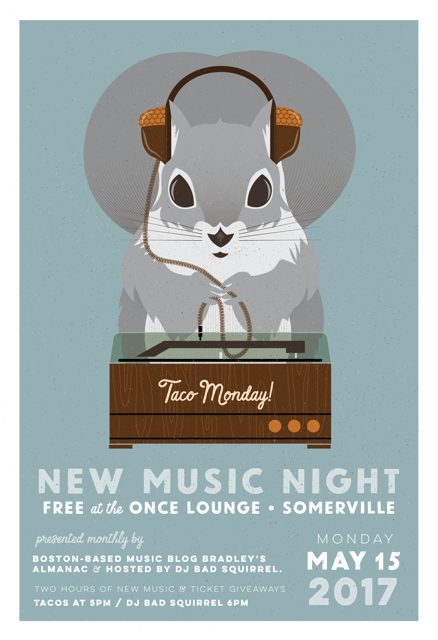 01. Wye Oak – "Wave Is Not The Water"
02. PJ Harvey – "A Dog Called Money"
03. Ty Segall – "Black Magick"
04. Broken Social Scene – "Hug of Thunder"
05. Girlpool – "Sleepless"
06. Coco Hames – "When You Said Goodbye"
07. Stephen MacDonald – "Basic"
08. Filthy Friends – "Editions of You" (Roxy Music cover)
09. The Hayman Kupa Band – "No More Bombs"
10. The Dears – "1998"
11. The National – "The System Only Dreams in Total Darkness"
12. Land of Talk – "Heartcore"
13. The Pains of Being Pure at Heart – "Anymore"
14. Phoenix – "J-Boy"
15. Mountain Goats – "Rain In Soho"
16. Shout Out Louds – "Oh Oh"
17. TW Walsh – "Terrible Freedom" (Alternate Version)
18. Will Johnson – "Filled With A Falcon's Dream"
19. Wilco – "Peace Love & Understanding" (Elvis Costello cover)
20. No. 2 – "Who's Behind The Door?"
21. Pilkington – "All Around The Neighborhood"
22. Charly Bliss – "Black Hole"
23. Fireworks – "Dream About You"
24. Factory Edge – "Ay Chi Chi"
25. Jason Loewenstein – "Superstitious"
26. Psychic Dog – "In The Dark (Pissin)"
27. Lo Tom – "Overboard"
28. The New Year – "Homebody"
29. Helium – "XXX" (2017 remaster)
30. Kestrels – "Octavio"
31. Elder – "The Falling Veil"
32. Mogwai – "Coolverine"
33. Slowdive – "30th June"
Again, be at ONCE for next month's installment of NEW MUSIC NIGHT on June 12th, with taco time at 5pm and NMN kicking off at 8pm. Keep an eye on the Facebook event page for the eventual list of ticket giveaways…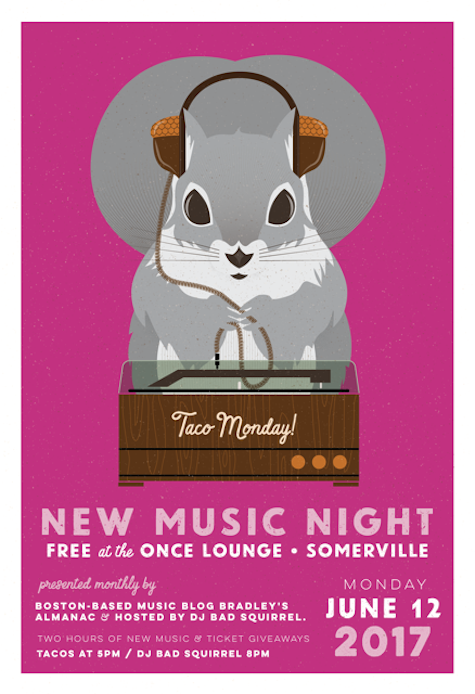 Posted on May 15, 2017 at 9:12 am | No Comments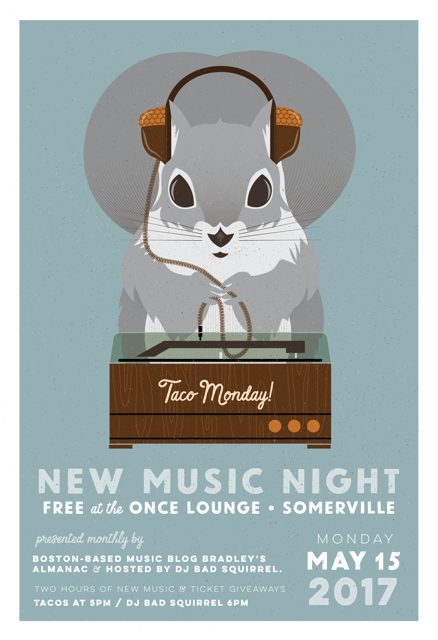 The May 2017 edition of NEW MUSIC NIGHT is going down this very evening at the wonderful ONCE Lounge in Somerville starting at 6pm. For the uninformed: Two hours of nuthin' but new songs spun between free ticket giveaways for a bunch of upcoming Boston-area shows, all while you chow down on some super-tasty tacos. It's a fine time indeed, a nice way to start the week, and I say that not just because I'm your sonic selector. I simply love hangin' at the place.
So what can ya win? How about pairs of tickets for imminent local appearances from Will Johnson (Centro-matic), John Moreland, Mary Timony (as Helium!), Land of Talk (!!!), Psychic Dog (album release!), When Particles Collide, PowerSlut, The Knock Ups, Charly Bliss, Yucky Duster, Lost Dog, Coco Hames (of the Ettes), and Little Bandit. Just show up, throw your entry in a Chinese take out container, and cross yer fingers that I call your name.
For the curious, below lies a look at last month's playlist, and if you want to dig deeper, check out my past & future 'Nac Tracks monthly streaming Soundcloud playlists of newly-discovered songs. If you can't make it tonight, shoot for next month's NMN on June 12th from 8-10pm.
NEW MUSIC NIGHT playlist
April 2017 Edition – 4/24/17
ONCE Lounge, Somerville, MA
01. Marissa Nadler – "Rosemary"
02. RRing – "100 Dollar Heat"
03. Tara Jane O'Neil – "Blow"
04. Thurston Moore – "Smoke Of Dreams"
05. Will Johnson – "Predator"
06. Doug Tuttle – "Can It Be"
07. Adopted Highways – "Up"
08. Eyelids – "Falling Eyes"
09. Waxahatchee – "Silver"
10. Big Thief – "Mythological Beauty"
11. Sheer – "To Love And Feel Alive"
12. Flock of Dimes – "Potential"
13. TW Walsh – "Terrible Freedom"
14. The Vacant Lots – "Night Nurse"
15. Beach Fossils – "This Year"
16. The Drums – "Blood Under My Bed"
17. Land Of Talk – "This Time"
18. Coco Hames – "Tiny Pieces"
19. Happyness – "Bigger Glass Less Full"
20. The Jesus and Mary Chain – "Always Sad"
21. The The – "Can't Stop What's Coming"
22. The Mountain Goats – "Andrew Eldritch is Moving Back to Leeds"
23. Future Teens – "Party Ethic"
24. Chain & the Gang – "Certain Kinds Of Trash"
25. Guided By Voices – "Dr. Feelgood Falls Off the Ocean"
26. Broken Social Scene – "Halfway Home"
27. Black Helicopter – "And I"
28. Angus – "I'm An Idiot"
29. Kestrels – "Thorn" (MBV cover)
30. The Van Pelt – "His Steppe Is My Prairie" (2017 remaster)
32. Helium – "Hole In The Ground" (2017 remaster)
33. The New Pornographers – "Whiteout Conditions"
34. Andrew Cohen & Light Coma – "Repack"
35. The New Year – "Myths"
36. Slowdive – "Sugar for the Pill"
37. Sharon Van Etten – "The End Of The World" (Skeeter Davis cover)
Posted on May 11, 2017 at 8:49 am | No Comments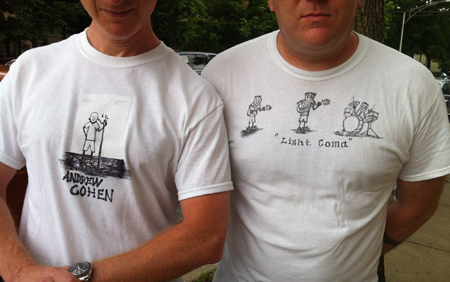 Never underestimate the impact of a well-chosen analogy. Seems we owe the welcome return of songwriter/guitarist Andy Cohen to a timely turn of phrase from Light Coma drummer Jim MacGregor, who one night caught Cohen in the midst of an existential "should I keep making music or not?" crisis. After more than 25 years of playing with incomparable, incredible rock trio Silkworm and its worthy successor Bottomless Pit (both with co-songwriter/guitarist Tim Midyett), Cohen found himself with dwindling freetime and a side-man role in Midyett's excellent Mint Mile project. On the verge of packing it in, as so many (and sometimes not enough) middle aged rockers do, it took one tempting offer from MacGregor to keep him in the game: "We could be your Crazy Horse".
As recounted in the latest episode of the Crashing Your Planet podcast, that's exactly what lead to the team up of Andrew Cohen & Light Coma, who will issue their debut LP, "Unreality", on June 2nd through the esteemed Comedy Minus One record label. It's a fitting home for the album, as CMO has become the defacto source of all things Silkworm-centric during the past decade, with several Bottomless Pit releases, SKWM reissues, and related projects scattered among other top-notch rock records.
As a longtime admirer of Andrew Cohen's songwriting and guitar playing, it's a massive honor to debut a track from "Unreality" here on the Almanac. "The Usual" is one of three acoustic songs from the record, laid down before he hooked up with Light Coma. Stream it here…
Comedy Minus One previously shared the track "Repack"…
"Despite my intention to retire, it didn't let itself happen." – Andy Cohen
Pre-order Andrew Cohen & Light Coma's "Unreality" LP here, and if you want to celebrate its release in person, make your way to the Township in Chicago on May 28th for a special Comedy Minus One show with OUT, The Rutabega, Mint Mile, and of course, AC&LC. My Boston -> Chicago flight has already been booked.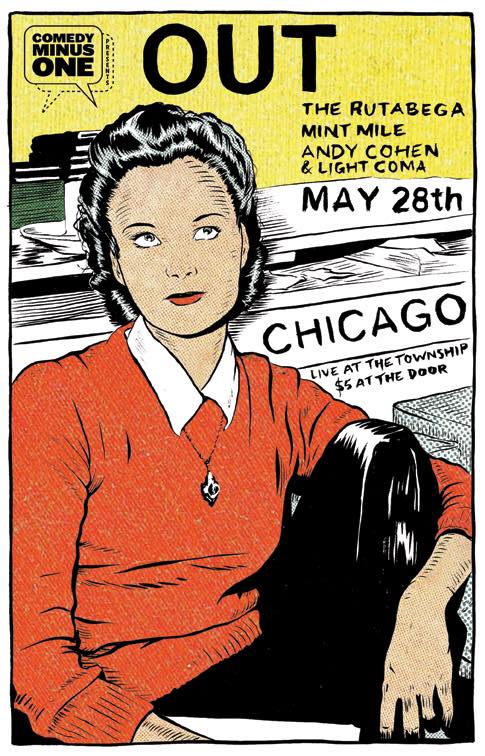 keep looking »