Posted on March 1, 2011 at 10:09 am | No Comments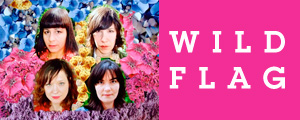 Now that we're living in world where everyone writes something about everything instantly, it shouldn't be surprising that relatively new quartet Wild Flag has been the subject of more pre-release digital scribbling than any band without studio recordings. I'd never call it undeserved hype, though – you can put solid money down that all the words will be worth it, given both the pedigree and the label behind them. That pedigree? Mary Timony (solo artist/ex-Helium) on vocals & guitar, Rebecca Cole (ex-The Minders) on bass, and 2/3rds of Sleater-Kinney in guitarist/singer Carrie Brownstein and drummer Janet Wiess (also of Quasi & the Jicks). Seriously, that is some superstar power right there. And the label that will be putting out their stuff, including an imminent debut Record Store Day 7-inch? None other than Merge, who are batting pretty much 1000% so far this year. A mere two months into 2011 and they've already given us records from Apex Manor, East River Pipe, Jonny, Destroyer, and Telekinesis, with Wye Oak and the Mountain Goats on deck. I could listen to nothing but Merge stuff and not be left lacking. It's almost embarrassing.
After a string of West Coast appearances late last year, Wild Flag hits our coast for the first time on a 14-date tour that starts this Saturday in Brooklyn. Two days later, on Monday, March 7th, they'll be here in Boston at the Brighton Music Hall with tourmates Yellow Fever and personal local faves Shepherdess.
Wanna go, too? I've got a pair of guest list spots to give away to one fortunate soul, so email giveaways [at] bradleysalmanac [dot] com before this Friday at Noon with a subject line of "Wild Flag!". Include your full name in the email, and keep Monday night free, because on Friday afternoon I'll email the winner with some post-weekend plans for you and a pal.
Head here for tickets of your own, and hit up the FB event page for some RSVP action. If you want to avoid Ticketmaster fees (and really, who doesn't?), you can stop by the Paradise box office down the street, where they sell tix for BMH shows.
Comments