Posted on March 21, 2020 at 4:59 pm | 1 Comment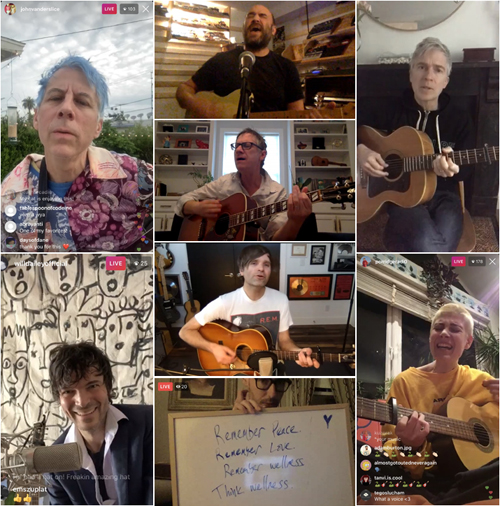 Well, this is all pretty damn surreal, innit? Here in Massachusetts, we're hunkered down somewhere between Florida-style carefree roaming and full-on California shelter-in-place. Far more CA than FL, of course, and I'm playing it safe by staying at home and keeping away from friends and strangers alike. We're roughly a week in and nerves are fraying. Hell, they were pretty frayed before any of this began.
Keeping me from unraveling entirely has been the wealth of livestreams that have sprung up since last weekend. Some faves have taken quickly to the internet, tweaking their at-home setups and experimenting with platforms to play from their couches, practice spaces, and patios. Many are doing it to stay connected, to keep themselves and their fans sane, some are helping to raise funds for worthy causes or for themselves in the painful absence of touring and merch-table income. I can say that I wish it wasn't necessary, but I can't say it isn't absolutely wonderful. A soul-feeding silver lining on a the COVID-19 cloud.
These things are popping up so fast and frequently that I'm having a tough time keeping track (and missed some great ones), so I've pulled together a little list of what I've been digging and looking forward to, including a handful of Boston-based musicians. Know of a good one I'm missing that I might be into? Leave a comment on Farcebook (y'know, since no one comments on websites anymore). See you on the streams…
Whew. How's that for filling up some of yer newly-forced free time? And the list is only gonna get longer. Again, if you know of something special I'm missing, head here and lemme know. Goes without saying at this point, but be well, everyone. Take care of yourselves, mentally and physically. Easier said than done, I know. Things are gonna get better. Just wait.
Comments