Posted on April 30, 2012 at 11:50 pm | 8 Comments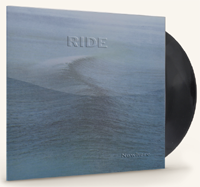 On any given day, if you forced me to shout out my favorite album ever, there's a very good chance I'd yell "NOWHERE"! For many, many months after Ride's 1990 start-to-finish masterpiece was released it rarely left my walkman, soundtracking a very volatile chunk of my formative years. The 11 songs on Ride's debut full-length (after a string of ace EPs) settled down very, very deep into my heart and brain, and to this day I've never once tired of hearing it. Hell, I nearly named this blog after a "Nowhere" lyric, but didn't want to step on Frank's already-Ride-referencing toes.
So when the album hit the 20-year mark and Rhino Handmade released remastered double-disc/single LP versions in late 2010, you're damn right I re-bought it. Sure, I have that purist part of me that screamed "Don't mess with perfection!", but I needed to know what they'd done to my dearly beloved. Even if it was going to cost me 40 bucks plus shipping to find that out.
Well, whaddya know… they done good.
Today, to coincide with Clicky Clicky's release of the lovingly-curated "NOFUCKINGWHERE" tribute compilation (on which 11 Boston bands cover every single song from the record), and realizing that a $40 pricetag is tough for your average Ride fan to throw down for a 20-year old album they probably know by heart, I thought I'd lay out some simple audio/visual evidence in support of the reissue. Whether you've heard the original never, a dozen, or a million times, the remastered "Nowhere" should be on your shelf. Thanks to Rhino, by the way, for allowing me to use the audio tracks below.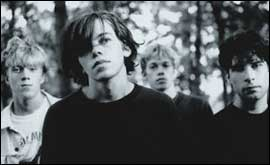 The aural dynamics are a vital part of "Nowhere", so when I heard they were remastering the thing, I feared that we'd get unnecessary compression and over-maximization of valleys vs. hills (don't worry if you didn't understand that, it may not actually make sense). The album came out well before the hot-levels craze, where every track was squashed to hell and pinned to max volume. Fortunately those days have (mostly) passed, and Nick Webb at Abbey Road (a former Beatles engineer who handled the remastering) kept all the lows, highs, and dynamic shifts intact – to me, they feel more powerful than ever.
(For a far better explanation of mastering, specifically "loudness", than I could ever hope to write, check out this excellent primer over at Bob Weston & Jason Ward's Chicago Mastering Service. It'll help you understand what I'm trying to get across. Basically this image = bad.)
Compare the waveform of the original 1990 version of "Vapour Trail" with its remastered counterpart, and you'll see how the volume was increased without maxing all the levels to their highest points…
But more importantly, listen to the original and the remaster back-to-back. Yes, obviously the new version is a bit louder, but pay particular attention to when the drums kick in, or when the strings arrive…
The bass drum and snare are punchier but still in the pocket – they don't distract from the guitars or vocals. They're clearer, as are the all-important strings, which are given added definition without sterile separation. I hear details in these songs that I've never heard before, and given how many times I've listened to them, that's a mastering miracle. It's really a near-perfect production job, finding a balance between added clarity and the original's warm blanket sound.
For another taste (unfortunate but unplanned pun), have a look and listen to "Paralysed", a longer and more dynamic track than "Vapour Trail"…

Aside from the audio improvement the remaster provides, the bonus material is the other obvious reason to pick up the "Nowhere" reissue: The 4 ridiculously great songs from "Today Forever" EP, which were also remastered, are tacked on the first disc at the end of the album. The original version of EP track "Today" suffered from very low levels, and was a bit muffled – that's finally been remedied, and it positively sparkles now. (side note – check out Lou Barlow's thoughts on the "Today Forever" EP right here)
The second disc of the pair holds a previously-unreleased live recording of the band at what some would call the peak of their power, during their first U.S. tour in 1991 at the Roxy in LA. 12 tracks, including 7 from "Nowhere". It's probably the best live document of the band I've ever heard, and I've heard more than my share.
The packaging of the double-disc is impressive as well, featuring a 6″ x 6″ hardbound book with a lenticular version of iconic blue wave image on the front, and photos, lyrics, artwork, and an understandably gushing essay from music critic Jim DeRogatis on the inside. The presentation nearly does the audio justice. I haven't checked out the 180g vinyl remaster, which keeps things simple with just the original "Nowhere" tracks, but it looks, and likely sounds, just as gorgeous. This is the first time the LP version has been available in the states, and pulling together this post has just convinced me I really need to upgrade my original import-only copy.
So hit up Rhino before I grab the last LP (it actually says "Low stock", so I'm not really kidding), or snag the 2CD version. Then head straight to Clicky Clicky and download "NOFUCKINGWHERE" (for free) so you have something to listen to while you wait by your mailbox.
Comments