Posted on November 8, 2010 at 9:47 am | No Comments
We interrupt your irregularly-scheduled musical programming for something I don't mention often enough on the 'Nac: Comic books. Or 'sequential art', as the more erudite might say. 'Graphic storytelling', maybe? Whatever you want to call them (just not 'the funny pages'), I don't write about them near as much as I used to, and certainly not as much as I should.
The short skinny: I was a comic-obsessed teenager who lost track during college but rediscovered the love in the mid-90s, mostly thanks to Misters Ellis and Ennis. These days, as a bonafide, toddler-raising adult, that love remains strong, and while I still make weekly Wednesday trips to my local shop, I don't buy nearly as many monthlies as I used to – I'm mainly a trade paperback kinda guy. For the uninitiated – trade paperbacks (TPBs) are the eventual collections of multiple monthly issues. They're for more patient readers, those who'd rather have something with a spine on their bookshelf instead of a growing collection of floppies, or those with faulty memories who get more out of chapters read back-to-back-to-back.
There's a catch-22 in making the conversion from monthly comic collector to the paperback-buying practice – if too many people 'wait for the trade', then there's a chance that collection may never come. A monthly book needs enough retail action to justify that eventual bound release. It would be like an army of individual TV viewers saying "Oh, I won't watch this show – I'll just wait for the season 1 DVD collection," only to see the show get canceled after a few episodes. Some comics publishers can be more forgiving than networks, allowing new books time to grow before getting the axe, and collecting ones that end far too soon (I'm looking at you, Air and Unknown Soldier).
While my comics-buying is nowadays mostly TPBs, there are a select few books I must buy monthly, for a couple of obvious reasons – a compulsion to know, as soon as humanly possible, what happens next?, and a desire to express my appreciation for the book's mere existence with my wallet. Pretty simple. There aren't a lot of monthly comics that qualify, but the ones that do are pretty special.
One of those is Toronto-based writer/artist Jeff Lemire's spooky, spellbinding Sweet Tooth, which debuted on DC's Vertigo imprint in late 2009. I fell for Jeff's work after devouring Top Shelf's giant collection of Jeff's "Essex County" books, and was instantly hooked. As a kid raised in Northern Vermont (in a place called… Essex), and who spent some time visiting similar Canadian farm country to where those stories were set (shout out to La Pocatiere), I was an easy target. Jeff done got me good.
So when Sweet Tooth was announced and released, I was on board for at least a few issues, after which I figured I'd start waiting for the trade. Well, so far, that waiting has been impossible. Sweet Tooth squashed my patience, and as each issue adds a new layer to the story, I don't see that changing. The latest installment, number 15, was just plain riveting.
As a fan, I've been the beneficiary of Sweet Tooth's excellent online promotion, taking advantage of a couple contests (one from Vertigo's Graphic Content blog, the other from Jeff's own Twitter account) that scored me autographed copies of the first 5 issues of the series and the first TPB collecting those same five issues. Since I'd already bought all those monthlies and the bound book, I figured I'd pay my good fortune forward and gift them to a couple 'Nac readers: The first five Sweet Tooth monthlies to one winner, and the first trade paperback collection to another. And whoever wins, well, you'll thank me later.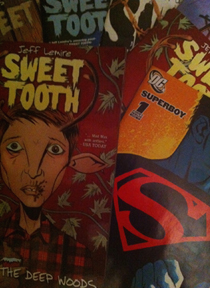 But wait, there's more! This past Wednesday saw the release of Jeff's very first quote-unquote-mainstream superhero writing work in the form of Superboy issue #1, also for DC, and I'm throwing in a copy of that one as well to the winner of the trade paperback collection. I don't buy a ton of superhero comics, but if Jeff's involved, I'm in. Here's some background for fans and soon-to-be-fans: Part 1 and part 2 of Jeff's creative journey from Essex County to Smallville.
The contest details: Send an email to giveaways [at] bradleysalmanac [dot] com. Make sure your subject line says "Gimme some Sweet Tooth!", and tell me the first comic book you remember reading (or buying). If you don't remember, name your current favorite. If you've never read one, well, first of all – shame on you – but I'll settle for your favorite superhero. Even though Sweet Tooth is not a superhero comic. Or is it? It kind of is.
As I said, there'll be two winners: One gets the first Sweet Tooth trade paperback collection, titled "Out Of the Deep Woods" along with a copy of the just-released Superboy #1. A second winner gets those first five issues of Sweet Tooth. The only condition: Continental U.S. or Canadian readers only (as if I'd exclude Jeff's own homeland!).
Alright, get emailing. I'll take entries for one week, until exactly 9am EST on Monday, November 15th, and contact the winners that afternoon to find out where to send your early holiday presents.
Speaking of holiday presents, the second collected volume of Sweet Tooth, titled "In Captivity", arrives on December 14th, Superboy continues monthly, and way on down the road, look for Jeff's next work for Top Shelf, "The Underwater Welder". Keep an eye on Jeff's blog and Twitter account for the latest.
Comments