Posted on October 21, 2010 at 10:05 am | No Comments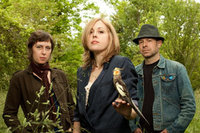 This coming Monday, singer/guitarist Corin Tucker brings her new songs and backing band to Boston as part of her first-ever East coast solo tour, and I'm probably one of the few people more excited about her drummer than the former (and hopefully future) Sleater-Kinney member herself. Sure, when I heard Corin was working on her first album of solo material since S-K's 2006-announced "indefinite hiatus", I was pretty curious to hear the results, but curiosity became excitement after I learned who was behind the kit in her new band: Unwound's Sara Lund. As a longtime Unwound fanatic (one who considers their 2001 swansong, "Leaves Turn Inside You", to be the first pure musical masterpiece of the 21st century, no foolin'). I always found Sara's drumming to be an integral part of that band's particular genius, and have been waiting too long to see her play live (since 2001, in fact, when Unwound had to cancel their final Boston show on… 9/11). That wait ends shortly on the Paradise's recently-relocated stage.
Not only will we be seeing the Marshall Corin Tucker Band play songs from the just-released debut, "1000 Years", but we get two openers who will do more than just kill time: Sara Lund's other project, Hungry Ghost, will play after Aussie-pop-wunderkind Darren Hanlon kicks off the night. Seriously, I wouldn't miss a single minute of this show.
Wanna go? Send me a email at giveaways [at] bradleysalmanac [dot] com before Noon on Monday the 25th, and keep that night free in case you're the randomly-chosen winner. Use "CTB!" as the subject, include your full name and town of residence, and keep a good friend on speed-dial so you can invite them as your guest. The winner will be on the list with a +1 Monday evening.
Here's a track from the Corin Tucker Band's "1000 Years", Darren Hanlon's latest video, and make sure you hit Hungry Ghost's MySpace page to aurally prepare as well. Even if you don't win (get tix here), I hope to see lots of you there…
Comments