Posted on September 14, 2010 at 11:24 pm | No Comments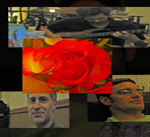 While the band name Death Culture at Sea may be unfamiliar to you, the three gents involved should not be: Matthew Gallaway, guitarist/vocalist for NYC's Saturnine; Matt Kadane of Bedhead and The New Year; with their mutual friend and bandmate – Saturnine and The New Year bassist Mike Donofrio.
Their 5-track debut EP, "God Loves Lola", arrives as a complete surprise. Recorded a couple months ago when the trio convened for a two-day session in Brooklyn with engineer/musician Ian Love (of many bands, including Rival Schools), it features Gallaway on vocals and guitar, Donofrio on bass, and Kadane on both drums and guitar. Given that, you'd imagine it would sound like a perfect marriage (or a least a weekend fling) between Saturnine and The New Year… and you'd be right. To me, that's nothing but a good thing, and a perfect addition to my impending autumn's soundtrack.
Here's my favorite of the five songs…
Grab the rest, for free, at the new DCAS website.
While the band has no concrete future plans, no live dates in the works, Matthew says they haven't ruled out getting together and recording more songs down the road. Here's hoping.
Comments
Recent Posts
The 'Nac on Twitter
Recent Comments
Recent Facebook Posts
Another new track off the upcoming J Mascis solo record, a mellow one called "Web So Dense"…
About the 'Nac
This is Bradley's Almanac. I'm your host, Brad. Barely holding it together since February 2000.

"I love this song. It's so true. I wish this song was a whole day long. Man, I would have the best day that day."
- The Kids In The Hall

"One good minute could last me the whole year..." - Superchunk
Almanac Archives
Search the 'Nac
Boston-Area Action
Wednesday, October 17th
Goo Goo Dolls
"Dizzy Up The Girl
20th Anniversary Tour"
@ House of Blues
---
Thursday, October 18th
BOSTON EMISSIONS TEN!
Anngelle Wood celebrates 10 years
as host with a live broadcast & bands:
Exit 18, Parlour Bells, & Stars Like Ours
7:30pm @ ONCE Somerville
---
Thursday, October 18th
Big Thief
The Range of Light Wilderness
michael
@ the Paradise
---
Thursday, October 18th
The Proletariat
Savageheads
Silver Screams
@ Sonia
---
Friday & Saturday
October 19th & 20th
Nine Inch Nails
The Jesus & Mary Chain
@ the Wang Theatre
---
Friday & Saturday
October 19th & 20th
The Town & the City Festival
dozens of artists over 2 days
in Lowell, Massachusetts
---
Saturday, October 20th
Mitski
Jessica Lea Mayfield
@ House of Blues
---
Saturday & Sunday
October 20th & 21st
Chvrches
Lo Moon
@ the Orpheum
---
Sunday, October 21st
Johnny Marr
The Belle Game
@ the Paradise
---
Sunday, October 21st
Courtney Barnett
Waxahatchee
@ House of Blues
---
Monday, October 22nd
Guided By Voices
Park Doing
@ the Sinclair
---
Tuesday, October 23rd
The Church
@ the Sinclair
---
Tuesday, October 23rd
Garbage
@ House of Blues
---
Wednesday, October 24th
Lily Allen
@ the Paradise
---
Thursday, October 25th
Minus the Bear
Caspian
@ the Paradise
---
Thursday, October 25th
Pile
The Spirit of the Beehive
Lilith
@ the Sinclair
---
Friday, October 26th
We Were Promised Jetpacks
Hurry Up
DJ Carbo
@ Brighton Music Hall
---
Friday, October 26th
The Bevis Frond (two sets)
@ the Rockwell
---
Saturday, October 27th
Mountain Man
The Dead Tongues
@ the Sinclair
---
Sunday, October 28th
Wavves
Beach Fossils
Kevin Krauter
@ the Paradise
---
Sunday, October 28th
Monster Magnet
Electric Citizen
Dark Sky Choir
@ the Sinclair
---
Tuesday, October 30th
Violent Femmes
@ the Royale
---
Tuesday, October 30th
Minus the Bear
Caspian
@ the Paradise
---
Thursday, November 1st
Lemuria
Bethlehem Steel
@ Great Scott
---
Thursday, November 1st
Mom Jeans
Just Friends
Awakebutstillinbed
Retirement Party
Two shows @ Once Ballroom
---
Thursday, November 1st
Tune-Yards
@ the Paradise
---
Friday, November 2nd
Hot Molasses (album release show!)
Sugar Cones
@ the Lilypad
---
Friday, November 2nd
Roky Erickson
@ the ONCE Ballroom
---
Saturday, November 3rd
Ian Sweet
Young Jesus
Sean Henry
@ Great Scott
---
Monday, November 5th
Maggie Rogers
Mallrat
@ the Royale
---
Monday, November 5th
Shannon & the Clams
@ the Sinclair
---
Monday, November 5th
Tenacious D
@ the House of Blues
---
Monday & Tuesday
November 5th & 6th
Lucinda Williams & Buick 6
@ the Paradise
---
Tuesday, November 6th
Fucked Up
Bad Waitress
DJ Carbo
@ Brighton Music Hall
---
Tuesday, November 6th
The Joy Formidable
Tancred
@ the Sinclair
---
Thursday, November 8th
Julien Baker
Phoebe Bridgers
Lucy Dacus
(solo & together)
@ the Orpheum
---
Thursday, November 8th
Cursive
Meat Wave
Campdogzz
@ the Paradise
---
Friday, November 9th
Low
In/via
@ Brighton Music Hall
---
Friday & Saturday
November 9th & 10th
Hassle Fest 10!
Boston's Underground
Music & Art Festival
all ages shows
@ Brighton Music Hall (on 9/10),
Lilypad, Studio 550, Green Street
Studios, Hardcore Stadium, & more
---
Saturday, November 10th
Elvis Costello & The Imposters
@ the Wang Theatre
---
Monday, November 12th
Saves the Day
Kevin Devine
An Horse
@ the Paradise
---
Tuesday, November 13th
Pale Waves
@ the Sinclair
---
Wednesday, November 14th
Richard Thompson (trio)
@ the Paradise
---
Wednesday, November 14th
The Alarm
The Gobshites
@ Brighton Music Hall
---
Wednesday, November 14th
Wild Nothing
@ the Royale
---
Thursday, November 15th
Jason Narducy (Split Single,
Superchunk, Bob Mould's band)
@ an Allston living room
---
Thursday, November 15th
Weakened Friends
Nervous Daters
Save Ends
@ Great Scott
---
Friday, November 16th
Kal Marks
Maneka
Nice Guys
Rong
@ Great Scott
---
Friday, November 16th
Robyn Hitchcock
@ City Winery
---
Friday, November 16th
Jim James (from MMJ – solo)
Alynda Segarra
(from Hurray for the Riff Raff)
@ the Shubert Theatre
---
Friday & Saturday
November 16th & 17th
Letters to Cleo
American Hi-Fi
@ the Paradise
---
Sunday, November 18th
(Sandy) Alex G
Half Waif
@ the Paradise
---
Tuesday, November 20th
Echo & the Bunnymen
Enation
@ the Orpheum
---
Saturday, November 24th
Death From Above
Le Butcherettes
@ Brighton Music Hall
---
Saturday, November 24th
Thom Yorke
Oliver Cooke
@ the Wang Theatre
---
Saturday, November 24th
Kurt Vile & the Violators
Jessica Pratt
@ the House of Blues
---
Monday, November 26th
Stove
Pet Fox
@ O'Brien's
---
Monday, November 26th
Preoccupations
Protomartyr
Rattle
DJ Carbo
@ Brighton Music Hall
---
Tuesday, November 27th
Speedy Ortiz
@ the Sinclair
---
Thursday, November 29th
Kississippi
gobbinjr
Ruler
@ Great Scott
---
Thursday, November 29th
Peter, Bjorn, & John
Georgi Kay
@ Brighton Music Hall
---
Friday, November 30th
Cloud Nothings
The Courtneys
@ the Sinclair
---
Saturday, December 1st
Snail Mail (two shows!)
@ the Sinclair
---
Sunday, December 2nd
The Helio Sequence
Wild Pink
@ Great Scott
---
Monday, December 3rd
Cults
@ Great Scott
---
Wednesday, December 5th
Lindsey Buckingham
@ the Wilbur Theatre
---
Wednesday, December 5th
Reverend Horton Heat
& Junior Brown with
The Blasters
Big Sandy
@ the Royale
---
Friday, December 7th
Soccer Mommy
Ratboys
@ Brighton Music Hall
---
Saturday, December 8th
Marissa Nadler
@ Great Scott
---
Saturday, December 8th
Phosphorescent
Liz Cooper & the Stampede
@ the Royale
---
Sunday, December 9th
Old 97s Holiday Extravaganza
Caseymagic
Rhett Miller
@ the Sinclair
---
Sunday, December 9th
Justus Proffit & Jay Som
Kal Marks
@ Great Scott
---
Monday, December 10th
Priests
@ Great Scott
---
Wednesday, December 12th
Gang of Youths
@ Brighton Music Hall
---
Thursday, December 13th
J Mascis
Luluc
@ the Sinclair
---
Saturday, December 15th
Night Birds
Dark Thoughts
Conmen
@ Great Scott
---
Monday, December 17th
Hiss Golden Messenger
@ The Sinclair
---
Tuesday, December 18th
Beach Bunny
Field Medic
@ Great Scott
---
Friday, December 28th
Bad Rabbits
STL GLD
Haasan Barclay
@ The Sinclair
---
Saturday, December 29th
Hop Along
@ Paradise Rock Club
---
Monday, December 31st
The Felice Brothers
@ Brighton Music Hall
---
Monday, January 14th
The Lemon Twigs
@ the Paradise
---
Thursday, January 17th
Camper Van Beethoven
@ the Middle East Downstairs
---
Thursday, January 24th
Neko Case
@ the Royale
---
Friday, January 25th
Rubblebucket
Diet Cig
@ the Paradise
---
Wednesday, February 13th
Joe Jackson
@ the Shubert Theatre
---
Friday, February 8th
Sharon Van Etten
Nilufer Yanya
@ the Royale
---
Wednesday, February 13th
Metric & Zoe
July Talk
@ House of Blues
---
Thursday, February 14th
Car Seat Headrest
@ the Royale
---
Saturday, February 23rd
Julia Holter
@ Brighton Music Hall
---
Friday, March 8th
Tokyo Police Club
@ the Sinclair
---
Monday, March 11th
Teenage Fanclub
@ the Paradise