Posted on July 19, 2010 at 8:21 am | No Comments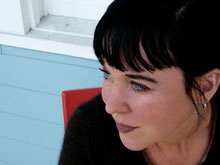 2010 is a ridiculously rewarding time to be a Kristin Hersh fan. Having eschewed the standard record/release/tour/rinse/repeat cycle that most label-bound artists stick to, she's turned to her loyal followers, both old and new, to directly fund her ongoing projects, and to share in their progression. This year, that investment is paying off in spades: A brand new full-length, "Crooked", released digitally as part of a gorgeous hardcover book from publisher HarperCollins in the UK. And another far more ambitious book on the horizon: An auto-biography, "Rat Girl: A Memoir" (that's the U.S. title, out next month – it'll be "Paradoxical Undressing" elsewhere).
And that's just her scheduled, official solo output. There's also a long-awaited Throwing Muses album in the works, which we're getting a preview of in the form of free demo downloads on the Muses' CASHmusic page. Her rock trio 50 Foot Wave hit the studio earlier this year, so we should be hearing the results of those sessions as well. All the while, Kristin keeps playing shows (a 6-date UK/Irish tour started over the weekend – see below), raising her boys, and offering up tons of bonus material on the exclusive pages that her subscribers (her "Strange Angels") get access to. Even for the most ardent fan, it can be tough keeping track of all this stuff. That is most definitely not a complaint.
That embarrassment of online bonus riches includes not one, but two new digital EPs connected to the release of the "Crooked" album/book: "Crooked Beginnings", comprised of newly remixed and remastered non-disc demos; and "Crooked Remainders", four songs that didn't make the final cut of the album.
It's "Crooked Beginnings" that jumps out, due not just to a set of solid songs that could easily have comprised a physically-released-and-sold EP that would make any artist proud, but due to the involvement of audio engineer & ace musician TW Walsh. I've been a fan of TW's since his initial involvement with Pedro The Lion, even moreso after digging into his own solo work (which most recently took the form of Boston band The Soft Drugs), and am increasingly impressed with his engineering work as he mixes and masters a whole bunch of records I dig (including pal David Bazan's "Curse Your Branches" last year).
So a KH/TW team-up is right up my alley, and the results measure up to the associated anticipation. Tim's aural changes add clarity and depth, giving the songs more definition and oomph than the original demos (which can be found on the downloadable "Speedbath" collection), and then there's this: He applied his drumming skills to my favorite song on the EP, "Around Dusk". I loved the original demo, was a bit disappointed to learn it wouldn't make the "Crooked" cut, so to hear it in this form is a real gift. TW offers some comments on the track…
"My first attempt was to emulate the feel of the [original version's] drum loop, but it didn't quite work within the track. After trying several options, I settled on a very simple pattern without any fills or embellishments. It has a kind of hypnotic vibe. I overdubbed shaker and tambourine to fill out a little more space."
And on mixing/mastering the "Crooked Beginnings" EP as a whole, TW says…
"As for the mixing/mastering, I received "stems" for all of the songs. Stems are subgroups of tracks. For example, if there are 4 electric guitars on a song, these have been sub-mixed and reduced to 2 tracks. Vocals have probably already been compressed and received reverb treatment. So, the song has already been "mixed" to a certain extent, but there is still room for refinement. What I tried to do was to give each instrument its own space in the mix and to fine-tune the dynamics of each track so the music breathed, but the mixes still had some punch. Hopefully I accomplished this goal, and Kristin feels that these recordings are represented well. The source tracks were solid and felt more like finished songs than a collection of demos. Well done, Kristin. Cheers!"
Couldn't agree more with that last bit. And thanks to Kristin and the CASHmusic crew, I'm honored to offer up this new version to any and all non-Strange Angels (Normal Angels?) in both MP3 and higher-quality FLAC form, as well as a stream of the entire 5-song "Crooked Beginnings" EP. To see just what kind of magic TW worked, I'm also sharing the original demo version of "Around Dusk"…
[MP3]: Kristin Hersh – "Around Dusk" (with TW Walsh)

[FLAC]: Kristin Hersh – "Around Dusk" (with TW Walsh)

[MP3]: Kristin Hersh – "Around Dusk" (original "Speedbath" demo)
While "Crooked" is only being released as a combo book/digital download in the UK, the package can now be purchased online in the U.S. and elsewhere from the Book Depository or Amazon (note that the Book Depository has free shipping, so it's a hell of a deal). The best part: Each book includes login information to access not only the full album in lossless and MP3 format, but the "Crooked" bonus materials, including both of the new EPs, Kristin's excellent audio commentary for every track, and some exclusive video.
If you're hankering to hear the new collection right away, today marks the debut of the full album download (with a digital booklet) on iTunes (and elsewhere) here in the states. The album will be in U.S. stores soon in a gorgeously-designed digipak (which us Strange Angels already have our happy little hands on), and it will also be available in Kristin's online store, of course.
The innovative CASHmusic has a lot of other cool stuff going on, so don't limit yourself to the KH/Muses/50'~ pages. Check out a brand new, and totally free, live album download from Calexico, or have a look at the Xiu Xiu and Portugal. The Man CASHmusic pages.
As I mentioned above, Kristin is in the midst of a short tour of Ireland and the UK. The remaining dates…

19 July – Dublin, EI – Whelan's
20 July – Cork, EI – Cyprus Ave
22 July – London, UK – Barbican Centre
23 July – Gateshead, UK – The Sage (sold out)
Kristin's memoir, "Rat Girl", is being released by Penguin on August 31st in the United States. It'll be titled "Paradoxical Undressing" in the rest of the world (apparently America can't handle the word "paradoxical"?! I assume the reason wasn't "undressing".), and will be out in January, 2011. There are a few "Rat Girl"-related events scheduled in the U.S. so far (and more to follow). Here's a current run-down…

8/31 – NYC – "Upstairs at the Square", Barnes & Noble, Union Square, NYC
9/15 – "The Happy Ending Reading Series" – Joe's Pub, NYC
10/9 – "Live Wire" – Portland, OR
10/10 – Wordstock event (TBA) – Portland, OR
10/28 -Flavorpill reading event at The Tank – NYC
Here's hoping a Boston-area event pops up in there somewhere before the schedule is finalized.
Be sure to follow Kristin's oft-updated Twitter feed, befriend her on Facebook, and don't miss her picture-a-day feed, Kristin With An Eye.

Comments