Posted on June 22, 2010 at 3:24 pm | No Comments
This coming Saturday, June 26th at Great Scott, Wheat will take the stage after Allston's own The Beatings – an unenviable task that is essentially a win-win for anyone in the crowd. The better the Beatings, the more pressure on Wheat to keep things rocking, but I'm pretty sure they're up to the task.
I've been a Wheat fan for over a decade now, watched as they entered and emerged from the dark tunnel of the quote-unquote recording industry, and I'm damn grateful the guys are still around, still writing and releasing songs (their latest is last year's "White Ink, Black Ink"), and still gracing area clubs with the occasional live show. Can't be easy being a long-distance Wheat fan, fingers constantly crossed that they'll journey back your way someday, so we here in Boston are obliged to pack these random gigs on their behalf.
Thanks to the band, I've got a pair of guest list spots to help do just that on Saturday, along with a swanky new Wheat t-shirt (shown below) for the winner. Rather than pick an entrant at random, this time there's a bit of a catch: Wheat trivia! Yup, drummer/keyboardist Brendan Harney has a question for you, so you'll need to put on your thinking cap (or, um, spend 30 seconds on Google) before you fire off an email to giveaways [at] bradleysalmanac [dot] com. Include your full name in the note, and write the answer to this in the subject line…
Q: What Cameron Crowe movie was Wheat's "Don't I Hold You" in?
I'll pick someone from all the correct answers received before Noon this Friday, June 25th, and let them know that they'll be on the Great Scott guest list with a plus one on Saturday night. Arrive early, not just to catch The Beatings as well, but for sets from Foredoes Me Quite and Joe Touchette III.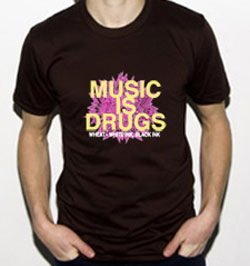 Tickets for the show are available here, or at Great Scott.
Here's a live Wheat MP3 I shared awhile back, a Daft Punk cover from one of their previous stops at Great Scott…
Comments