Posted on June 7, 2010 at 8:12 pm | No Comments
Life is good, the socially-conscious, Boston-based retailer of apparel and accessories (and good vibes) held a launch party on the sun-drenched roof of their flagship Newbury Street location this evening for their annual Boston-area Life is good Festival, giving local media types a first look at the lineup for the mid-September fun fest. The kid-and-adult-friendly charitable event (100% of proceeds go towards their own Life is good Kids Foundation) has traditionally been held on the Boston Common (and once at Fenway), and 2010 sees not just a location change, but a dramatic increase in its scale, mission, and most relevantly to me personally, its musical focus.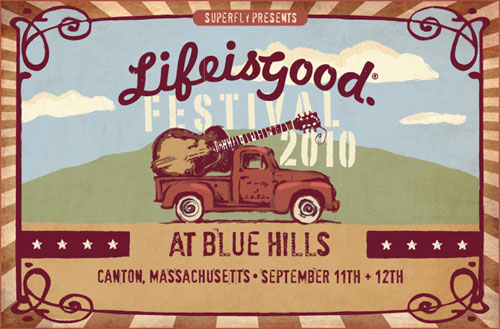 This year the super-sized Life is good Festival, which includes three music stages, will take place September 11th and 12th on the 40-acre Prowse Farm at the foot of the Blue Hills in Canton, MA. Performers are being booked with help from Superfly Productions, the team behind the lineups of the Bonnaroo and Outside Lands fests. Boston has been starved for an independently booked, multi-day music festival, so I've been looking forward to this reveal for awhile. As I figured, headliners are geared slightly towards a hacky-kickin' crowd, but the lineup is by no means limited to the crunchy side – there's an awful lot of diversity in the list of artists involved. Not a wealth of bands you'll find in my own collection (regular 'Nac readers can pick 'em out), but plenty to get all sorts of music fans down to Canton for a couple days.
The lineup for the 2010 Life is good Festival, a "two-day celebration of music and optimism", will include sets from…
Jason Mraz
Ben Harper & Relentless7
Guster
Ziggy Marley
Corinne Bailey Rae
Mavis Staples
Galactic
Ozomatli
Dr. Dog
Grace Potter & the Nocturnals
OK Go
Brett Dennen
Donavon Frankenreiter
Sierra Leone Refugee Allstars
Trombone Shorty & Orleans Avenue
Toubab Krewe

and on the kids stage…

They Might Be Giants
The Laurie Berkner Band
Dan Zanes & Friends
The Sippy Cups
The Big Apple Circus

… and more to be announced.
For a complete list of festival details, visit their info page, and be sure to have a look at how you can become a "VGP" (Very Good Person), which grants you some fairly special perks during the weekend. Bert and John Jacobs, brothers and co-owners of Life is good, are shooting to raise a million dollars for in-need children with this thing, and towards that end, the "VGP" program encourages additional fundraising by offering artist meet-and-greets, a special "VGP Lounge", better stage views + parking, backstage bbqs, and bonus schwag to those who gather extra funds for the kids. It's the LIG version of the "VIP" sections you see at other fests that end up being filled with industry-types and paparazzi-bait. This time, it's the generous who will get the royal treatment, as it should be.
More performers are due to be announced, and tickets will be available on June 17th through the Lig Festival website (so your services charges won't be wasted). Single-day adult tickets are 50 bucks, or $90 for both days. Kids' single-day tix are just $10, and children under 5 are free (good news for Brendan… means I don't have to add anything more to his rapidly growing future-chores tab).
Comments