Posted on April 19, 2010 at 7:30 am | No Comments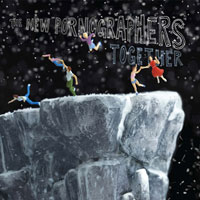 As a longtime fan of Canadian super- uber-group The New Pornographers, the weeks leading up to a new album release are like a prolonged Christmas Eve. All anxiousness and anticipation and 'Hurry up!'. In the run up to the May 4th holiday shelf date for "Together", we've been teased with two very-promising peeks at our long-awaited present in the form of preview MP3 "Your Hands (Together)" and first (iTunes) single "The Crash Years" (and teased by Mr. Ted Leo about yet another track… scroll to the end). But for me, well, Christmas came early, and tomorrow I get to share my premature good fortune with the Boston-area.
I've just had my first (and second, and third, etc.) full listen to the whole shebang, and it's quite simply a stunner. Even five songs in I knew it beat 2007's "Challengers" by a Canadian country mile. But why the advance aural action? Get this: Tomorrow night at 9pm, I've helped organize what's being called a New Pornographers' "Get Together" at The Independent in Somerville's Union Square. Yes, it's a listening party, but this time there's a bit more to it. Let's run down the details, shall we?…
Between 9pm and 1am, we'll play the New Pornographers new one a couple times, two weeks before you can buy it.
When we're not playing the album, we'll be playing our favorite Matador Records-released songs, along with something special: A just-for-the-occasion mix disc put together by head-Pornographer Carl Newman himself.
Starting at 9pm, the first 20 people through the door get a limited edition, hand-numbered CD burn of that mix disc. It's ridiculously, and wonderfully, eclectic, and there were just 150 made (the rest went to the other countrywide Get Togethers, of course).
We'll be giving out a pair of tickets to the New Pornographers' show at Boston's House of Blues on Friday night, June 18th.
We also have posters (two of which are autographed by Mr. Newman) and a couple copies of the Dan-Bejar-penned "

Myriad Harbor

" vinyl seven-inch single (which includes a non-Challengers b-side) to give away as well.
The evening is not just presented by Matador Records, WZBC, and yes, Bradley's Almanac – it's also sponsored by PBR, who have set up special deal on a certain amount of tallboys (not quite free, but close enough).
So there ya go. Free stuff, discounted drinkage, at a great bar, and all soundtracked to one of the best albums of the year. If you're thinking of coming, fire off an RSVP email to gettogetherboston [at] gmail [dot] com, mark yourself down on the Facebook event page, and make sure you get there early to grab a compilation and super-cheap suds.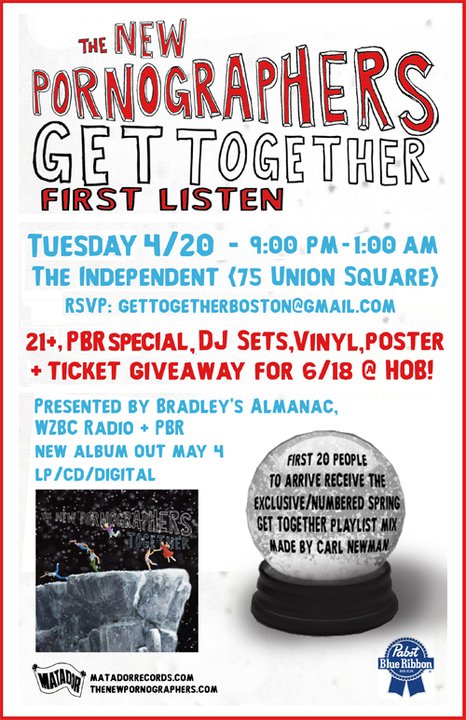 Comments