Posted on April 8, 2010 at 10:08 am | No Comments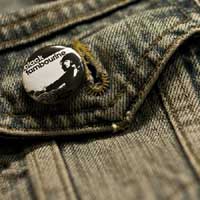 Live near Boston? Got plans tonight? No? Well, lemme take care of that for you…
Understatement alert: I love Slumberland Records. Like, really, really love them. So much so that I flew out to California a couple weeks ago to attend one of the label's 20th Anniversary shows at the Rickshaw Stop in San Francisco. And while I had to endure the incessant death-breath of a fellow JetBlue passenger for 6 excruciating hours, in the end, it was worth it. So totally worth it.
And tonight, I get to bring a little bit of that Slumberland magic back to the Boston area. Y'see, the label has just released a new compilation of tracks from legendary and highly influential (in some circles, namely ones I live in) quartet Black Tambourine. The self-titled CD/vinyl release pulls together all their studio material, including early demos along with two newly recorded (!) covers and, yes, two brand new tracks (!!). This, for many early indie-pop fans like me, is a quote-unquote "Big Deal". Capital 'B', capital 'D'.
When Slumberland main man (and Black Tambourine member) Mike Schulman announced that several cities would be hosting listening/release parties for the BT comp, I was bothered enough by the Boston-area's absence in that list that I just went ahead and volunteered to make it happen. So, this very night in Cambridge, we'll be commemorating this blessed event by hosting a special evening of music at River Gods on River St. near Central Square. Here's what's on the agenda…
Starting at 9pm sharp, I'll be playing songs from my own Slumberland 7″ and CD collection (and also, um, a few Twin Peaks soundtrack songs, because the show premiered exactly 20 years ago tonight, and I'm an unabashed TP fanboy). At around 10pm I'll start playing the new Black Tambourine compilation in its entirety, and will give away a stack of it on sweet, sweet vinyl (oh, and CDs, buttons, and posters, too).
Acting as the the label's New England ambassador, singer/guitarist Andrew Churchman from the Boston-based Slumberland-signed band Pants Yell! will be playing any songs he damn-well pleases (all on vinyl, 'natch) after I finish up, and then guest DJ Rav from WZBC's esteemed Flyweight radio show will spin his own stack of Slumberlandy songs to close out the night. He'll probably play the BT compilation again for those who missed it, and will be giving away more free stuff until it's gone.
Get it? Got it? Good.
The night is absolutely free, it's 21+ (sorry 'bout that, young snappers of whippers), and hey, it's at River Gods. Which is a safe bet for a good time regardless of what music happens to be playing. So I'll see ya there, fellow noise-pop fans…
Comments