Posted on February 7, 2010 at 3:16 pm | No Comments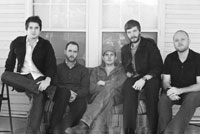 After a wait of nearly four years since their breakthrough full-length, "The Trials of Van Occupanther", Midlake returned with last Tuesday's arrival of their third album, "The Courage of Others"
. Criticism has been wide-ranging, from unqualified raves (see the AVClub) to flat-out dismissals (from you know who), and while I fall somewhere in the middle, I'm definitely heading in the direction of 'rave'.
Though I was immediately impressed upon Van Occupanther's release, it did take awhile for its magic to truly charm me, so I'm hesitant to judge this new one too quickly. It has the disadvantage of increased expectations, and if you come looking for the catchier, more upbeat side of the band (a la signature song, "Roscoe"), you'll have to look elsewhere. The hooks here are subtler, more drawn out… sometimes hard to find at all. "The Courage Of Others" is a drastically moodier affair – the band takes a fair amount of risk within the sonic box they've placed themselves in.
During the long wait for the album I wondered, given that every review of their previous one mentioned the same 70's touchstones (Fleetwood Mac, Fairport Convention, etc), if the band took so long in an over-thought effort to reinvent themselves. Well, the answer is very simply no, but they've definitely gone darker and deeper, and are taking hits for it. For every band that tries too hard to change up their formula and fails hard, there are those that work within what they know (and what many love them for) to craft a worthy follow-up. I think that's where Midlake is at, coming up with a collection of songs that is just different enough from its predecessor to avoid redundancy, yet still rub a few followers the wrong way.
Thanks to the folks at Filter, I've got a couple copies of Midlake's "The Courage of Others" on CD to hand out to 'Nac readers. If you reside in the continental U.S., drop an email to giveaways [at] bradleysalmanac [dot] com entitled "MIDLAKE" before this coming Friday, February 12th at 9am. I'll fire up the randomizer and pick two winners that day, then get in touch for mailing addresses.
As the ceaseless (and increasingly rapid) consume/judge/move-on cycle that is today's internet-music-review-machine chews new albums up and spits 'em out, I look forward to spending the rest of the winter letting this one sink in, and to Midlake's April 9th stop in Boston near the end up their upcoming U.S. tour. I remember very distinctly their visit to TT the Bears back in 2006, playing first of three bands, and how enamored I was of their live set. They headlined both the Middle East Upstairs and then the Paradise the following year, but haven't been back since. (and thanks to Kevin in the comments for setting me straight on those headlining gigs, both of which I missed. The 'Nac intern responsible for fact-checking has been sacked)
Stream "The Courage Of Others" over at NPR, and if you're in the Boston area, stop by Newbury Comics, where I picked up the CD for a measly $7.99 (with a sticker on the front that ironically included previous praise from P4K). A nice surprise? Finding an insert inside with a download code for bonus track "Rose Of Dawn" (which easily measures up to the rest of the album) and a hi-res quicktime file of the Jason-Lee-directed teaser film above. Which could be looked at as an attempt to culturally balance out his work in the Chipmunk films.
Comments