Posted on October 27, 2009 at 3:17 pm | No Comments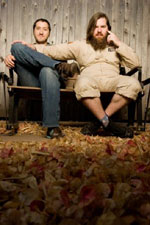 Ladies and gentlemen, Pinback is, um, back. No, not yet with a new album (their latest remains 2007's "Autumn of the Seraphs"), but with a month-long tour that brings them to Boston's Paradise this Halloween night. Without a fresh record to spotlight, I'd assume a discography-spanning setlist (and so far, show reports say so), though those same reports also reveal a distinct lack of new songs. That either means they don't yet exist, or that the band is holding 'em back until the next album arrives (said to be in 2010 by Temporary Residence, who picked them up after Touch & Go stopped releasing new music), but knowing Zach & Rob's prolificacy, I'd guess it's the latter. And yes, prolificacy is a word, despite my spellcheck telling me otherwise. Silly spellcheck.
For an opener, a real treat (and, possibly, some tricks) – killer locals Ho-Ag. Now there's a team-up for ya. Hopefully Ho-Ag will make up for Pinback's lack of new songs by sharing some of their own.
Wanna go? Wanna bring a friend? You know the drill – Email giveaways[at]bradleysalmanac[dot]com, include your full name, and throw "Pinback please" in the subject line. Make sure it arrives in my inbox before 9am this Friday the 30th, and I'll drop the random winner the good news that morning.
Oh, and about Rob & Zach Pinback's songwriting prolificacy? You know, all those other projects and solo efforts? Well, there's another jewel on that spiky crown: Mr. Armistead Burwell Smith IV (that's Zach) has at last released his long-in-the-making solo debut under the name Systems Officer, and it's a freakin' keeper. Hell, I think his "Underslept" (also out on Temporary Residence) might just end up on my faves-of-the-year list. Pinback fans, I know it's hard to keep track of their hit-or-miss offshoots, but seriously, don't let this one get lost in the stack. Make an effort, seek it out when it hits stores on Nov. 3rd (you can already download the album at iTunes), or grab one at these live shows where Zach said he'll have copies available. There are also a couple of iTunes-only non-album tracks available right here if you're game, as part of the "Shape Shifter" digital single. Here's that song, the fourth cut on "Underslept"…
You can also get a higher quality Mp3 of that one over at RCRDLBL.
Alright, now get with the contest entering. To play it safe, you might want to grab your own ticket to Pinback's Halloween gig right here, or at the Paradise Box Office between Noon and 6pm any day until the show.
Comments