Posted on October 16, 2009 at 11:01 am | No Comments
Well, this is a strange one to write. To say I'm a little close to the subject at hand would be a slight understatement. For friends and followers who already know that the 'Amie' in the title of this post is my wonderful wife of 8 years, for strangers who can sympathize, and for Boston-area readers and music fans looking for a special show tomorrow, this one's for you. Most of all, this post is for Amie.
About a month ago, after a self-examination prompted an appointment, Amie was diagnosed with breast cancer. The 'C' word. The one that no one ever wants to hear and only those who've had it could ever fully understand. The past few weeks have been a rollercoaster of shock, resignation, fitful sleep, doctor's visits, more bad news, insurance questions, and major mood swings. Getting downsized by my corporate overlords in fairly brutal fashion just after her diagnosis didn't exactly help (too much extra time to think, though I'm of course glad for the extra family time), but compared to what Amie's dealing with, that's nothing, really.
For those who know Amie, if asked to describe her, the words "not shy" are near the top of the list. So there was no question of sharing the news with all the people in and around our lives. Once it got out there, well… our hearts have been absolutely overwhelmed by the notes, emails, calls, and sincere well wishes. From friends both new and old, even relative strangers who reached out and offered their own stories and words of support. It's still happening, and it's blowing us away.
Two of those notes got me thinking – Jay from Clicky Clicky and Jen from Band In Boston both emailed me separately, offering to help organize a benefit. At the same time, Billy O'Connell, who is both married to and manages the amazing Kristin Hersh, offered to help in any way they could. While the idea of gathering funds makes me a bit uncomfortable (yes, we could use it, but we're better off than many, and have a strong support system), the prospect of a pre-surgery party for Amie was too perfect. Something to lift her spirits before the big day.
And so, tomorrow at Noon, after emails and invites and the generous acceptance of our friends and favorites, it's actually happening…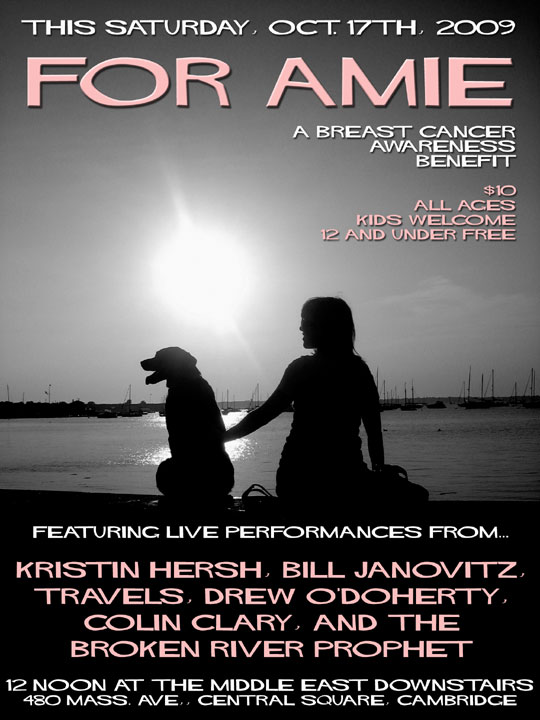 So join us downstairs at the Middle East at high noon tomorrow, Saturday, October 17th (during what also happens to be National Breast Cancer Awareness Month), for special sets from our friends The Broken River Prophet, Colin Clary (of the Smittens, driving down from Vermont), Drew O'Doherty (coming up from the Cape), Travels (Mona & Anar!), Bill Janovitz from Buffalo Tom, and Kristin Hersh of Throwing Muses & 50 Foot Wave. This is kind of a dream for us, and everyone's invited to share in it.
Tickets are $10 and should be available at the door, and we're splitting the proceeds with breastcancer.org, an online resource that Amie has found invaluable. It was very important for us to make this family friendly, so it's not only all ages – kids 12 and under get in free, and the drum-free stage setups should be safe for little ones' ears. The kind crew at Somerville's Kickass Cupcakes are also donating tasty treats, so arrive early to make sure you score one of those. There's a Facebook event page, and you can buy tickets online, although I hate directing you to Ticketmaster, where the fees are disproportionate to the ticket price and won't go to the cause. If you're able, stop by the Middle East's box office today before 7pm to avoid that. Some people have asked about a way to donate if they can't make it to the benefit, but after thinking it over, this really isn't about the money – what we'd really like is for everyone to either get their boobs checked or convince someone in their life to do the same.
To everyone playing, to Jay and Jen for the inspiration, to Kevin and the Middle East for hosting, to Kickass Cupcakes, and to everyone who's emailed and RSVP'd and offered to help, we could never possibly thank you enough. See you tomorrow…
Comments