Posted on July 28, 2009 at 11:01 pm | No Comments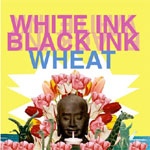 This Saturday, August 1st, the pride of Taunton, Mass. celebrates the release of their brand new album with a show at Allston's Great Scott. Yes, Wheat has returned. Their "White Ink Black Ink" hit the streets last week thanks to The Rebel Group label, and they've invited locals Bon Savants and Brooklyn's The XYZ Affair to help mark the occasion with this weekend's Massconcerts-presented bash.
A taste of what you're in for, with two freely available songs and a video from "White Ink Black Ink"…
I've got a pair of tickets to Saturday's show, along with an extra copy of the new album, to give out to one fortunate Almanac reader. If you're up for it, send along an email to giveaways [at] bradleysalmanac [dot] com by high Noon this Friday, July 31st, entitle it "Gimme Wheat!", and let me know which town you live in (obviously, make sure it's close enough to actually go to the show, doy). I'll pick a random soul from the emails, letting them know right away that their name will be on Saturday night's guest list with a +1. I'll also get in touch to get your mailing address so I can send the disc along.
For some insightful words on the band and the new album (along with another track from it), check out Chromewaves recent write-up, to own a copy of it as your very own, go here, and for tickets of your own to the show, click on over here.
Comments