Posted on December 16, 2013 at 9:00 am | 3 Comments
photo courtesy of Michael Charles /
Friends of CC
Just over a month ago, Boston-based musician Charlie Chesterman passed away. The news hit me like a brick, knocking me out of the daily hamster wheel as I prepped for a trip to the West Coast. I spent much of the cross-country plane ride with Scruffy the Cat, his seminal Boston rock band, playing loudly in my headphones.
I first heard Charlie & his songs more than 25 years ago, as a fresh-eared DJ filling summer slots at WWPV, the St. Michael's College radio station up in northern Vermont. I was too young to be working at a college station (and one I wasn't even planning on attending), but I had a hookup and a music obsession, and that was enough. Scruffy the Cat's 1987 EP "Boom Boom Boom Bingo" stared at me from the stacks one day, and "You Dirty Rat", the lead-off track, totally nailed me.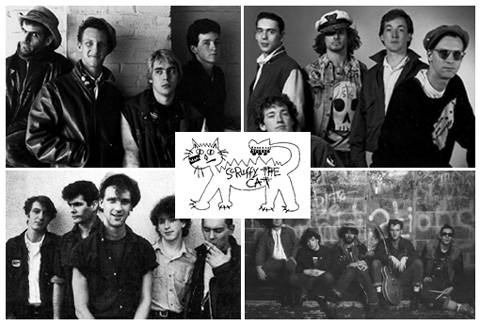 Sure, other bands outta Boston grabbed my attention – first the Cars in junior high, then the Pixies later on – but somehow Scruffy seemed more real. The were tangible, relatable, more down-to-Earth than the others, and they started me thinking that bands I could fall in love with were made up of musicians I could hang with. They were a bar band gone big, guys playing rock music that had me believing anyone could play rock music. Taken a certain way, that might sound like an insult, but from me it's the furthest thing from it. They planted the seeds of my playing in bands – something I eventually did, something that changed my life.
I followed Scruffy the Cat, and Charlie's post-Scruffy projects, into the 1990's and beyond. Even though I ended up in Boston, and got the chance to see him perform a couple times, I never did try to meet the man – I wouldn't have known what to say anyway. But I was always listening, always following, excited at any news of possible reunion shows, gut-punched by news of Charlie's health struggles.
On November 4th, 2013, he left us. At last Sunday evening's Boston Music Awards, Charlie's longtime friend and studio collaborator Pete Weiss presented his wife Juliann with the "Unsung Hero" award. Here's what he had to say to the Liberty Hotel crowd…
When we lost Charlie Chesterman last month, we lost a singular voice — not just in the Boston music community, but in music and art at large. He was a true artist in every sense of the word.
His own brand of wordplay, guitar finesse, and soulful (and sometimes mournful) singing defined him as a unique and valuable songwriter and performer.
I was lucky enough to work with him on seven albums over 20 years. And I was lucky to have him as a friend.
We lost one of the greats. We will miss him badly. But we're lucky he left us such amazing music — Scruffy the Cat, the Harmony Rockets, the Legendary Motorbikes, and solo recordings.
It's my privilege to present the Unsung Hero Award to Charlie's wife, Juliann Cydylo.
– Pete Weiss
A fund has been established to help Charlie's family in the wake of his passing, so please consider dropping some money in the digital hat "For The Love Of Charlie Chesterman". You can also contribute to the cause by grabbing the 20-track "Solid Gold Electric Chestnut Dispenser" compilation, which is a "collection of hard-to-find compilation tracks and previously unreleased rarities by the ex-Scruffy The Cat frontman, spanning 1992-2012." Well worth a measly 10 bucks.
What follows is a long form obituary that was passed along last month, and I proudly share it here. See below for some Scruffy The Cat songs to stream while you read about the gentleman who wrote 'em…
Boston rock musician Charlie Chesterman died Monday, November 4th, 2013 after a long illness. He was 53.
Born and raised in Des Moines, Charlie was lead singer of The Law, one of Iowa's first punk bands, in the late 1970's. He moved to Boston in the early 1980s where he started Scruffy the Cat, writing songs, playing guitar and singing most lead vocals. The band was at the forefront of a budding roots-rock movement, touring the U.S. relentlessly, sharing bills with the likes of The Replacements, Yo La Tengo, and Los Lobos, while releasing two full-length albums and two EPs on Relativity Records. After garnering attention on Coyote Records' 1986 Luxury Condos compilation, Scruffy the Cat's first EP High Octane Revival earned the fourth spot on the Village Voice 1986 Jazz and Pop Critics Poll. The band's debut full-length album Tiny Days was released the following year and quickly topped college radio playlists. The video for the album's track "My Baby, She's Alright" entered rotation on MTV and the band was later profiled in Newsweek magazine. During an interview conducted from a street corner phone booth, Charlie commented on Scruffy the Cat's spread in Rolling Stone's "Back to School" fall fashion issue, "We were going to get into Rolling Stone one way or another, so we figured we might as well get pictures of us with someone else's clothes on."
In 1988, a follow up album was recorded in Memphis with famed producer Jim Dickinson. Although Moons of Jupiter was not as enthusiastically received in pop circles as the previous album, the experience of recording in the shadow of Elvis, Al Green, Booker T and Stax/Volt left a deep impression on Charlie. It proved pivotal in leveraging both his own development as a crafter of songs and in his transition from pop star to mature artist in the wake of Scruffy's subsequent disbandment. As Chris Heim observed in a glowing 1988 Chicago Tribune review of the album: "It wasn't quite as dramatic as Saul on the road to Damascus, but something did happen to the Boston-based band Scruffy the Cat on its way to Memphis that converted once punky attack cats into sweet, soulfully cool kitties."
In the early 1990s, Charlie formed The Harmony Rockets, a jangly, British-pop-rock-influenced band. Popular and critically-acclaimed, the band played around the New England region, and released one record. In 1993, he recorded a few demos as a solo artist that resulted in his signing to Slow River/Rykodisc Records, with whom he recorded three albums — From the Book of Flames, Studebakersfield, and Dynamite Music Machine — that formed a sort of tragedy-to-redemption trilogy. He later put out three more albums with his band The Legendary Motorbikes, often known simply as Chaz & the Motorbikes. After stepping away from music for a few years to focus on raising his family, he issued a collection of unreleased and rare recordings entitled Solid Gold Electric Chestnut Dispenser.
Charlie's longtime producer Pete Weiss said, "I feel incredibly lucky to have had him as a close friend and collaborator. And I'm very grateful to have been invited into his amazing musical world. I love, love, love how uncompromising he was with his music, and how he looked at rock and roll through a visual/conceptual artist's lens."
Charlie loved Rickenbacker guitars, motorcycles and Vespa scooters, and collected mid-century American graphics. He studied and cherished the songwriting finesse of Buddy Holly, the raw grit and creativity of the early Beatles, the bombast of Little Richard, the twang of Eddie Cochran and Gene Vincent, and the ageless pop-rock of Chuck Berry, all of whom factored into his own style of songwriting and performance. In addition to his musical career, Charlie worked for many years at Boston's PSG Framing.
Charlie died peacefully at home surrounded by family. He is survived by his wife Juliann Cydylo, his daughter Clementine and son Woolsey, his sister Nancy Covington, his brothers Ted and Dan Austin, and his mother Carolyn Chesterman.
* Steve Morse of the Boston Globe wrote a feature on Charlie's passing.
* For more about Charlie, visit the Friends of Charlie Chesterman page on Facebook. This post, written by his friend Michael Charles (who took the topmost photo) is where many of us first heard of his passing.
* While you're at it, join the Scruffy The Cat fans group.
* It's a crime that Scruffy the Cat's major label output has been unavailable for so long, but there may be justice on the horizon. Keep an eye on those two Facebook groups while you keep your fingers crossed.
And finally, a few StC songs. Thanks for everything, Charlie…
Comments