Posted on April 23, 2014 at 2:28 pm | No Comments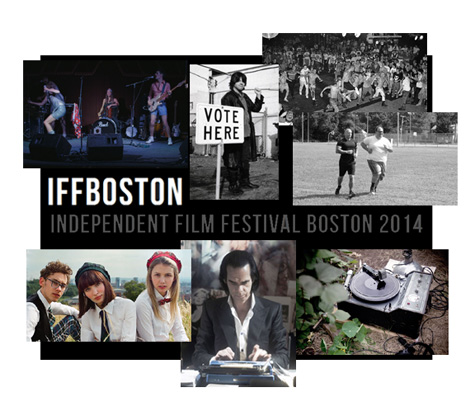 As warmer temps finally take hold in the Northeast, and the last of those nasty, dirt-colored snow piles fade from our streets, there's only one thing that will get me to spend many springtime hours inside a darkened movie theatre: The annual return of the Independent Film Festival Boston.
Now in its 12th year, the esteemed 8-day, non-profit, all-volunteer film fest kicks off tonight at the Somerville Theatre with a screening of "Beneath The Harvest Sky". That's one of many movies I'm looking forward to this year (and not just because star Aiden Gillen – from the Wire & Game of Thrones – will be in attendance, along with the drama's co-directors). Tickets for that are still on sale, but I can almost guarantee that won't be the case at the door tonight. Each year, many films sell out in advance, so have a look at the lineup and make a plan, or better yet, grab a full festival badge and save yourself a little stress. Update: Full fest badges are sold out! All the more reason to pick up single tickets in advance, or at least arrive early for the stand-by lines.
As usual, the IFFBoston schedule has a strong musical component to it, both in subject matter and soundtracking, so I've pulled together my yearly guide to those particular flicks. Here are a dozen films showing between now and next Wednesday that either directly, or tangentially, involve makers of music…
---
Of the 12 films listed here, this is the one I've been lucky enough to get a preview of, so I can guarantee the greatness. Obviously a must-see for fans of this former Hüsker Dü co-songwriter/singer/drummer and his seminal Minnesota trio, but it's not just for the already-familiar – it's a truly fascinating profile of a pure artist that stands on its own.
(for more of my thoughts, read this synopsis, which I contributed to the IFFBoston guide)
---
A Boston production, through and through – made here, starring more than a few people who live here, and soundtracked by a whole bunch of area musicians, including the Beatings (who you can hear in the trailer below), M.G. Lederman, Mean Creek, Slowdim, The Milling Gowns, and more. Not only do we get the area premiere on Friday night, but many of the bands involved will perform at a Saturday afternoon show at O'Brien's in Allston. Perfect post-film follow-up.
---
Described as "a poignant coming-of-age story that doubles as an indie-pop musical", Belle & Sebastian fans (myself included) have been waiting for this Stuart Murdoch-directed story for a very long time. Early reviews were mixed, and may depend on one's tolerance for twee (or Belle & Sebastian's catalog), but fortunately my tolerance for such things is very, very high. Bring it on, I say.
---
The lead character of this Pittsburgh-set drama, played by Rachel McKeon, is described as a "part-time Austin indie rocker — and full-time harbinger of chaos and destruction". That's enough of a hook to reel me in, especially knowing of one or two people who could star in this and turn it into a documentary.
---
The story behind V66, a Boston-based music video channel that burned bright for 18 months in the mid-80s and disappeared. Locally-focused, the station was noted for broadcasting in real-time, playing lots of Boston bands, and making their audience a part of the programming (long before 'social media' and 'customer-created content' became a buzz-phrases). The film features a more than a few now-and-former Boston musicians, including Kay Hanley, Greg Hawkes, Ben Deily, and Dan Zanes, and even some friends (Cathy! Nick!). This screening is sure to be a fun one.
---
While Michel Gondry's filmmaking is generally hit-or-miss (Eternal Sunshine: the best, Be Kind Rewind: the worst), he can be counted on for an interesting use of music. His latest, a French language film starring Romain Duris and Audrey Tautou, will close out IFFBoston 2014 next Wednesday, and judging from the soundtrack details, it's no exception (though I may have to take a bathroom break when that dreadful Lumineers song comes on).
---
Pulling from the synopsis: "…the gritty story of City Gardens, one of New Jersey's most infamous clubs and its larger than life promoter, Randy Now." I first became aware of this film a couple months back when Vulture interviewed Jon Stewart about his time as a bartender there back in the mid-80s, then again when Gibby Haynes of the Butthole Surfers appeared on the Daily Show with author Amy Yates Wuelfing, who just released "No Slam Dancing, No Stage Diving, No Spikes", an oral history of the fabled venue. The list of talking heads in the film is top notch: Along with Stewart, there's Dean Ween, Jack Irons, Milo Auckerman, Jello Biafra, Henry Rollins, Al Jourgensen, and Ian MacKaye. That's one seriously stacked lineup.
---
If you were assuming from the title that this would be Beatles-related, well, you'd be right. It focuses on my personal fave of the fabulous four – John Lennon – and uses audio and transcripts to reconstruct two interviews with him and Yoko Ono (one in 1970, one in 1980), contrasting and combining them to paint what, one hopes, is a unique portrait of the man – something that's not easy to do nowadays. The tagline sums it up nicely: "Ten Years – Two Interviews – One Lennon".
---
Lifting from the synopsis: "The 78 Project is on a journey across America to make one-of-a-kind 78rpm records with musicians in their hometowns using a 1930s Presto direct-to-disc recorder. With one microphone. With one blank disc. In one 3-minute take." Inspired by the travels of the legendary Alan Lomax, the film documents an ambitious new exercise in audio archiving.
---
Yes, the director is that Mike Myers. And his subject, Shep Gordon, looks to have had a hell of a life on Earth so far, managing artists as varied as Alice Cooper, Blondie, Pink Floyd, and Luther Vandross before moving on to handling celebrity chefs. Many of his famous friends and clients hold forth in the film, including Cooper, Michael Douglas, Emeril Lagasse, Anne Murray, Willie Nelson, and Sylvester Stallone. If that ain't a true mix of personalities, I don't know what is.
---
Nick Cave gets the documentary treatment, although it being Nick Cave, it does things a bit differently than your standard rock doc. From the synopsis: "This innovative drama/documentary features Cave as both subject and co-conspirator, intimately documenting his artistic process and combining it with a fictional staged narrative of his 20,000th day on Earth." In other words, don't go into it looking to uncover exactly what makes Nick Cave tick. Besides, do you really want to know?
---
The trailer for this Swedish-language film is all I needed to add it to my screening schedule. It's described as "an energetic rough and tumble story of three rebellious teenage girls who form a punk rock band to defy the stifling conformity of early-1980s Stockholm." Count me in.
If you're looking for more viewing tips beyond my music-centric ones above, surf on over to read Ty Burr and Peter Keough's recommendations at the Boston Globe, Norm Schrager's choices at Meet Me In The Lobby, and Erin Trahan's piece on this year's short films over at WBUR.
As you fest, make sure to keep tabs on IFFBoston's Facebook page and Twitter feed for the latest updates, like this list of filmmakers who will be appearing at certain screenings, which is always one of my favorite aspects of festival. Tonight: Carcetti in the house! See you there.
Comments