Posted on May 23, 2014 at 9:01 pm | No Comments
At last, the long weekend is here, and it's crammed with too many things to do and too many bands to see around Boston. There's not enough time to write about it all, much less do and see everything, but there are a couple stand-outs that deserve some special attention…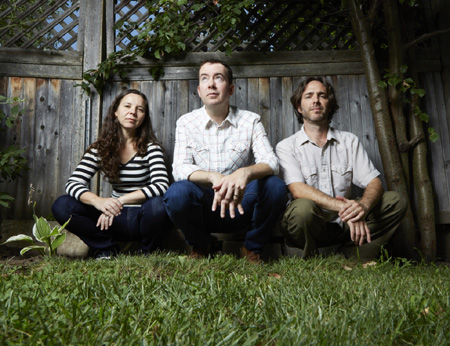 I'm sure I've said it before, and I'll say it again, but we're a lucky town thanks to Rachael McNally and Chris O'Rourke's years-ago decision to relocate from NYC to Boston, and the fact that they've kept their scrappy indie/rock/punk/etc trio Sleepyhead a going musical concern. Their live shows may be a rare thing, but when they do happen, they're all ours. There's long been the promise of a fresh batch of recorded material, as more new songs kept popping up in their sets each year. We're fortunate that while they may have slowed things down, they've never felt the need to put the brakes on after almost 25 (!) years as a band.
Well, 2014 sees them positively flooring it. They've released their first full-length in 15 years, the excellent "Wild Sometimes", on illustrious Chicago label Carrot Top Records, last month they played their first string of out-of-town shows in ages, and tomorrow night they make it local with a special record release show in the friendly confines of Cuisine En Locale in Somerville…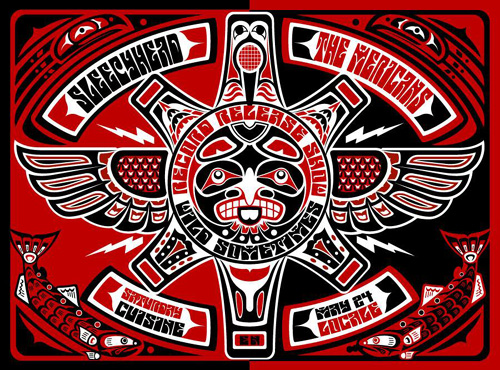 It's an all ages show, with openers the 'Mericans kicking the music off around 9pm, but if you really want the full experience, arrive early: Starting at 6pm you can order up a truly spectacular locally-sourced meal courtesy of the top-notch cooks of CoL. Hit their website to see what they'll be dishing, and to learn more about their meal shares and unique culinary events. The address: 156 Highland Ave., Somerville.
Stream Sleepyhead's long-awaited "Wild Sometimes" below, check out their brand new Jeannie Donohoe-directed video for the title track at Wifey.tv, and grab advance tickets for Saturday night's show here. Oh, and remember to eat light tomorrow – save your appetite for the pre-show chow-down.

File under: "A dream I once had". There are 15 bands playing on Saturday in three venues that are all within shouting distance of my own home. Yes, tomorrow is AWESOME DAY here in Allston, and there's an AWESOME DAY FEST to prove it.
O'Brien's, Regina Pizzeria, and Store 54 – all at the intersection of Cambridge St. and Harvard Ave. – are playing host to this multi-stage event, and the lineup includes some personal faves, among them Soccer Mom, Eldridge Rodriguez, Thalia Zedek Band, Earthquake Party!, and M.G. Lederman. Here's the full where and when…
AWESOME DAY FEST
Saturday, May 24th, 2014
at the intersection of Harvard Ave.
and & Cambridge Street in Allston, MA
At O'Brien's (doors at 3PM / $10 cover)
6pm-6:30pm: Quarterly
6:40pm-7:15pm: Jim Healey
7:30pm-8:05pm: Tired Old Bones
8:20pm-8:55pm: Civil Warblers
9:10pm-9:45: Soccer Mom
10:05pm-10:45pm: The Proselyte
11pm-11:45pm: Hey Zeus
12 midnight: Gondoliers
At Store 54 (donations encouraged)
9pm: M.G. Lederman
10pm: The Thalia Zedek Band
11pm: The Televibes
12pm: Beware The Dangers of a Ghost Scorpion
At Regina Pizzeria (donations encouraged)
9pm: Earthquake Party!
10pm: Eldridge Rodriguez
11pm: Lifestyle
(in between) DJ Ken Cmar
While there's a pretty good chance your own tomorrow will be awesome, those chances increase dramatically if you're actually at Awesome Day Fest….
Comments