Posted on October 24, 2014 at 3:43 pm | No Comments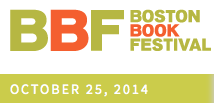 With last night's Herbie Hancock Keynote kickoff, the annual Boston Book Festival is officially underway in and around Copley Square. As much as I appreciate (and mutilate) the written word, my favorite parts of the fest always end up being those that throw music in the mix. The BBF never fails to incorporate at least one music-related event into their programming, and this year is no different: Saturday evening's grand finale is "Words and Music: A Literary Jam Session" at the Old South Church. The details, from their website:
In this one-of-a-kind session we'll hear from three authors who've infused their recent novels with music, from classical to rock 'n' roll. The heroine of
Stacey d'Erasmo
's "Wonderland" is a middle-aged rocker embarking on what she hopes will be her comeback tour. The young characters in
Kate Racculia
's "Bellweather Rhapsody" find more there's more than just music to discover (hint: corpse) at an orchestra camp in upstate New York. "Wonderkid" by
Wesley Stace
tells the story of the tumultuous rise and fall of a rock band whose audience is still in diapers. Musical interludes will be provided by Stace (aka John Wesley Harding), the appropriately named indie ensemble-pop group
The Michael J. Epstein Memorial Library
, and by our host, Pulitzer Prize winner
Paul Harding
, who's also no slouch at the drums. Dancing in the aisles is encouraged! Sponsored by Houghton Mifflin Harcourt."
Between now and then we've got tonight's second keynote speech by Susan Minot and a ton of interesting sessions on Saturday, so be sure to check the full schedule.
This year's fest gives me an opportunity to flashback to my favorite-ever BBF event, "The Book Revue: Words & Music", which capped off the 2010 edition. It was an ideal marriage of words & music, with a killer lineup and one hell of a host in Steve Almond ("Rock and Roll Will Save Your Life", "Against Football", etc).
After Almond's introduction, author/songwriter Joe Pernice (Pernice Bros., Scud Mountain Boys) read from his novel "It Feels So Good When I Stop" and performed the Pernice Bros. songs "The Loving Kind" and "Amazing Glow". Dean Wareham (Galaxie 500, Luna, Dean & Britta) read "Letter From A Concerned Luna Fan" from his novel "Black Postcards" and played G500's "Blue Thunder" along with the Dean & Britta track "The Sun Is Still Sunny". Author Nick Flynn delivered his intoxicating mediation on drinking, "Same Again" before an excerpt from his novel "The Ticking Is The Bomb". Kristin Hersh (Throwing Muses, 50 Foot Wave) followed with a couple excerts from her resurrected teenage diary "Rat Girl" and performed both "Flooding" and "Your Dirty Answer". Lastly, Nick Zinner (of the Yeah Yeah Yeahs) joined Zachary Lipez and Stacy Wakefield to present pieces of their collaboration "Please Take Me Off The Guest List". The centerpiece of the whole thing was Almond's hilarious lyrical dissection of Toto's "Africa". That bit is worth the price of admission alone.
The BBF shared, and still archives, the entire event in (one giant) MP3 form, so I've excised a few bits below alongside the original file. Enjoy…
Steve Almond vs. Toto. For more photos,
click here
.
[MP3] Boston Book Festival 2010 – "The Book Revue: Words & Music"
[MP3] Joe Pernice – "Amazing Glow" (live)
[MP3] Dean Wareham – "Letter From A Concerned Luna Fan" (reading)
[MP3] Dean Wareham – "Blue Thunder" (live)
[MP3] Kristin Hersh – "Flooding" (live)
Much gratitude to Mr. Tom Johnston for pulling that lineup together, and to the Boston Book Festival's continued inclusion of music-related programming every year. Have a look at Saturday's complete BBF 2014 lineup, and hit up the Dig for some recommendations
Comments