Posted on June 16, 2015 at 9:28 am | No Comments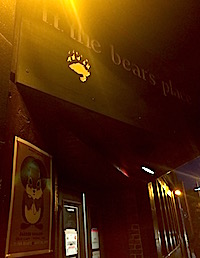 It's barely begun to sink in, but in little more than a month, Cambridge, MA rock club T.T. the Bears Place will no longer exist. The reasons behind its end are either straightforward or complicated, depending on who you're reading, but the simple fact is the well-worn stage of this Central Square institution will soon go silent. Boston rock forebears Scruffy the Cat will provide the closing notes on Saturday night, July 25th.
Before that happens, I'm compelled to put on one last "Bradley's Almanac presents…" show at TTs, and it's come together perfectly. The club has always been very kind to me, allowing the occasional custom bill with faves & friends, and the ability to do that there has never been lost on me. The fact that I get one more chance is a gift, so I'm making the most of it…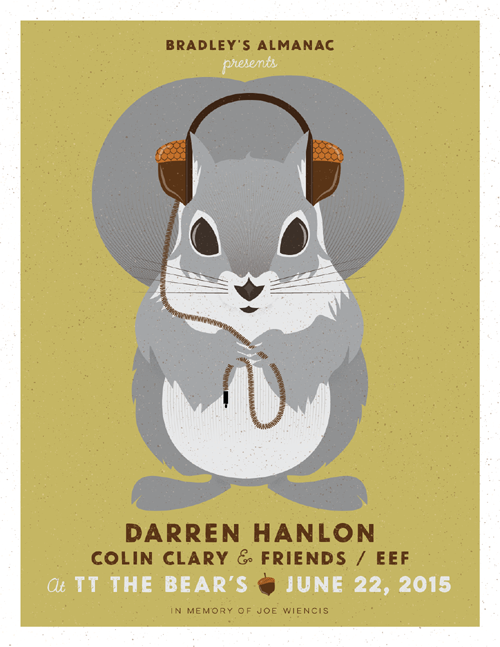 (show poster gorgeously designed by Nicole at
Daykamp Creative
)
This coming Monday, June 22nd, 2015, I'm proud to present a night with Australia's own Darren Hanlon, fresh off a tour opening for Courtney Barnett at sold out shows across the country. If you caught his too-short set at their Sinclair stop last month, you know he charmed the crowd with his witty, literate, irresistibly catchy songs, and all were left wanting more. Well, more is what we're getting, because before he heads back home to Oz, he's doing a few North American solo gigs. I'm honored to help make one happen here in the Boston area, and grateful that TTs gave us the green light.
Darren's set will be preceded by my longtime pal & bandmate Colin Clary (of the Smittens & Let's Whisper), who will drive down from Vermont to play a special mix of solo & band songs with a group of friends. Before that, the reunion that at least 3 people have been clamoring for: Vermont/Boston-based trio Eef will make their first on-stage appearance in nearly 2 decades. Ok, rather than refer to Eef in the third person, I'll just say "we", since yes, I'll be behind the drum kit. Our unexpected resurrection has resulted in a batch of newly-recorded songs, including a contribution to the just-released charity compilation Keep Safe Boston. You can stream that track, along with songs from Darren & Colin, below.

While I already consider this lineup, at this particular time, and at this particular club, to be something pretty special, there's another reason the night means a lot to me and others: We're dedicating the evening to the memory of our departed friend, Joe Wiencis. Joe, who was a longtime indie-pop (and Genesis) fan, passed away in late April. I wasn't able to attend his memorial, nor were a few other mutual friends I know of, so it felt right to mark the loss at a show he may have attended. Rather than a maudlin affair, it will instead be one filled with some of the songs that soundtracked Joe's too-short life. We'll have between-band mixes of his faves playing, and shortly after doors open at 8pm, there will be a tribute set of Joe-centric covers by newly-formed combo The Abacab Lounge Singers. Whether you knew him or not, arrive early to join us in commemorating our missing friend.
Tickets for this 18+ show are available for $8 at Ticketweb, or for $10 at the door on Monday night. If you have Facehole, check the event page for updates.
Some songs from Darren, Colin, & Eef. See you on Monday…
Comments