Posted on August 11, 2015 at 9:36 am | No Comments

Kristin Hersh, from the stage of Club Passim in Cambridge, Massachusetts on Monday night, July 27th, 2015…
"I was never very good at therapy, because… I can talk, I just can't talk out loud.
But I was made to go this year, and it was… it was entertaining.
The therapist said "I can see your work is very important to you, but I feel that it's rather isolating. So tell me, what is it like at a 'Kristin Hersh show'?"
"I don't know, I've never been to one."
"Well, who do reviewers compare you to?"
I said "Everybody who makes anybody sad. Nick Drake, Elliott Smith, Mark Linkous, Kurt Cobain, Vic Chesnutt…"
She said "Well, what I want you to do is reach out to all these people and re-form your peer group."
"I can't do that…"
"Yes, you can."
"No, I can't. They're dead."
She said "All of them?"
"Yeah, we're a fragile group."

Kristin has a new book about Vic Chesnutt, titled "Don't Suck, Don't Die – Giving Up Vic Chesnutt" arriving in October. The discounted hardcover is available for pre-order from University of Texas Press.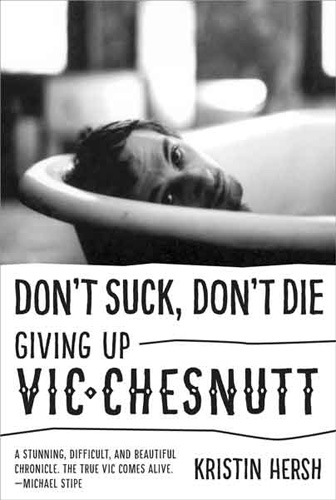 Keep up with all things Kristin through her website and on Twitter, and consider becoming one of her Strange Angels, who help directly fan-fund her music-making career.
Comments
Recent Posts
The 'Nac on Twitter
Recent Comments
Handy links
Search the 'Nac
BOSTON-AREA LIVE SHOW ACTION
---
Monday, March 20th
Bruce Springsteen
& the E Street Band
@ TD Garden

---
Tuesday, March 21st
EARFULL - words & music
from author Lauren Acampora,
composer Mason Darin with guest
Jeanie Stahl, writer/director
John Sayles, and musician Lizje
@ the Burren Backroom

---
Saturday, March 25th
Bird Streets (duo show)
@ the Village Social Club
inside Garrison House, Brookline

---
Saturday, March 25th
Yoni Gorden's
"Courtship"Record Release show!
with Kathy Snax and visuals
by Alison Tanenhaus & Vidumami
@ Boston Funk, Beach St.

---
Saturday, March 25th
Addie
Chris Normann
Thumber
@ EXIT Galleries

---
Sunday, March 26th
Andy Cohen
(Silkworm/Bottomless Pit)
Chris Brokaw
@ an Allston living room

---
Tuesday, March 28th
Sunset Rubdown
@ the Crystal Ballroom

---
Tuesday, March 28th
The Residents
@ the Sinclair

---
Thursday, March 30th
Will Johnson
@ an Allston living room

---
Thursday, March 30th
The Murder Capital
Pet Fox
@ the Sinclair

---
Friday, March 31st
The Church
@ the Sinclair

---
Friday, March 31st
Jukebox The Ghost
@ the Royale

---
Sunday, April 2nd
Robyn Hitchcock
Kelley Stoltz
@ City Winery

---
Monday, April 3rd
Tennis
Kate Bollinger
@ the House of Blues

---
Tuesday, April 4th
Jason Narducy (Split Single,
Superchunk, Bob Mould Band)
with a string section
live in Somerville
@ A Curated World

---
Thursday, April 6th
Rick Berlin w/Orchestra Luna,
Berlin Airlift, & Nickel & Dime Band,
with guests The Sheila Divine,
Hallelujah the Hills, & Nervous Eaters
@ Brighton Music Hall

---
Thursday, April 6th
Jake McKelvie &
the Countertops
with Thalia Zedek
@ Notch Brewing, Brighton

---
Thursday, April 6th
Caroline Rose
@ the Sinclair

---
Friday, April 7th
Laura Stevenson
"Wheel" 10th Anniversary
Kayleigh Goldsworthy
@ the Sinclair

---
Saturday, April 8th
Dear Nora
(Katy Davidson solo)
@ Gallery 263

---
Saturday, April 8th
Sleaford Mods
@ the Paradise

---
Saturday, April 8th
Emma Ruth Rundle
@ Crystal Ballroom

---
Sunday, April 9th
Bikini Kill
@ Roadrunner

---
Thursday, April 13th
Andrew Bird
@ MGM Music Hall

---
Thursday, April 13th
Jake McKelvie &
the Countertops
with Dutch Tulips
@ Notch Brewing, Brighton

---
Friday, April 14th
U.S. Girls
Jane Inc.
@ the Sinclair

---
Friday, April 14th
Radio Compass
@ Faces Brewing, Malden

---
Friday, April 14th
Widowspeak
Duster
@ the Paradise

---
Saturday, April 15th
Raw Bell
Unmade Bed
The Mystery
@ the Jungle

---
Saturday, April 15th
Harris
Sidewalk Driver
Stars Like Ours
Aaron and the Lord
@ Crystal Ballroom

---
Sunday, April 16th
Codeine
Barbara Manning
@ the Sinclair

---
Sunday, April 16th
Peter Case
Ben de la Cour
@ Atwood's Tavern

---
Sunday, April 16th
Dead Can Dance
@ the Wang

---
Wednesday, April 19th
Sloan
@ Brighton Music Hall

---
Thursday, April 20th
Black Flag
@ the Middle East Down

---
Thursday, April 20th
Jake McKelvie &
the Countertops
with Puppy Problems
and Slim Volume
@ Notch Brewing, Brighton

---
Friday, April 21st
Boyscott
Nova One
Lady Pills
@ the Lilypad

---
Friday, April 21st
The Feelies
@ the Sinclair

---
Friday, April 21st
Fruit Bats
@ the Royale

---
Saturday, April 22nd
Nora O'Connor
special intimate solo show
@ in Somerville

---
Saturday, April 22nd
Joywave
Elliot Lee
@ the Royale

---
Saturday, April 22nd
Unknown Mortal Orchestra
@ Roadrunner

---
Sunday, April 23rd
Skinny Puppy
@ House of Blues

---
Sunday, April 23rd
M83
@ Roadrunner

---
Monday, April 24th
Stay In Nothing
Wavier Wire
Indoor Friends
The Dream Today
@ the Silhouette Lounge

---
Tuesday & Wednesday
April 25th & 26th
Built to Spill
@ the Sinclair

---
Wednesday, April 26th
Andy Shauf
@ the Royale
---
Thursday, April 27th
Jake McKelvie &
the Countertops
with Andy Cohen (of
Silkworm & Bottomless Pit)
and Ezra Cohen &
the Big City Band
@ Notch Brewing, Brighton

---
Friday & Saturday
April 28th & 29th
The Town & the City Festival
with so many artists, including...
Buffalo Tom, Ted Leo, John Doe Trio,
Vapors of Morphine, Rhett Miller,
Pile, Dave Herlihy (O Positive),
Robin Lane, Justine & the Unclean,
and many, many more
@ lots of walkable Lowell, MA venues

---
Saturday, April 29th
Screaming Females
Iron Chic
@ Brighton Music Hall

---
Saturday, April 29th
Lucius
@ Roadrunner

---
Sunday, April 30th
John Vanderslice
intimate solo show
@ somewhere in Somerville

---
Sunday, April 30th
Placebo
Deap Vally
@ Roadrunner

---
Monday, May 1st
Mill Pond Falls
Norris The Terrible
Modern Day Idols
Jim Healey
@ the Silhouette

---
Monday, May 1st
Pedro The Lion
performing
"It's Hard To Find A Friend"
and "Control" in full
@ the Sinclair

---
Wednesday, May 3rd
The Natural Lines
(ex-Matt Pond PA)
@ Crystal Ballroom

---
Friday, May 5th
Fever Ray
@ Roadrunner

---
Saturday, May 6th
DARK SPRING BOSTON
@ the Middle East Down

---
Saturday, May 6th
Cathedral Ceilings
Hilken Mancini Band
Lupo Citta
@ the Midway

---
Saturday, May 6th
Muna
Nova Twins
@ Roadrunner

---
Saturday, May 6th
David Cross
Sean Patton
@ the Wilbur

---
Sunday, May 7th
Meg Baird
Damon & Naomi
@ Crystal Ballroom

---
Sunday, May 7th
Goth Babe
flipturn
Yoke Lore
@ Roadrunner

---
Sunday, May 7th
Pixies
Franz Ferdinand
Bully
@ MGM Music Hall

---
Wednesday, May 10th
Natalie Merchant
@ the Emerson Colonial

---
Thursday, May 11th
Chisel
Hilken Mancini Band
@ the Sinclair

---
Thursday, May 11th
Graham Nash
@ the Cabot, Beverly

---
Friday, May 12th
The Lemon Twigs
Josephine Network
@ the Sinclair

---
Saturday, May 13th
The Hold Steady
Dinosaur Jr.
Come
@ Roadrunner

---
Monday, May 15th
Radio Compass
@ Charlie's Kitchen

---
Monday, May 15th
The New Pornographers
Wild Pink
@ the Royale

---
Wednesday, May 17th
Feist
@ MGM Music Hall

---
Thursday, May 18th
The Pernice Brothers
perform "Overcome By Happiness"
(with a string section!)
@ the Crystal Ballroom

---
Friday, Saturday, & Sunday
May 19th, 20th, & 21st
Taylor Swift
Phoebe Bridgers
Gayle
@ Gillette Stadium

---
Sunday, May 21st
Blink 182
Turnstile
@ the Garden

---
Wednesday, May 24th
Beach Bunny
Pup
Pool Kids
@ Roadrunner

---
Monday, May 29th
An Attendant Ana
Adult Learners
Hands and Knees
@ O'Brien's

---
Tuesday, May 30th
Frank Turner
The Interrupters
Laura Jane Grace
@ MGM Music Hall

---
Tuesday, May 30th
Crowded House
@ the Wang

---
Wednesday, May 31th
Sisters of Mercy
@ Big Night Live

---
Wednesday, May 31th
Fenne Lily
Christian Lee Hutson
@ the Sinclair

---
Friday, June 2nd
The Album Leaf
@ the Somerville Armory

---
Friday, June 2nd
Bruce Cockburn
@ the Cabot, Beverly

---
Saturday, June 3rd
AJJ
Oceanator
Gladie
@ the Sinclair

---
Thursday, June 8th
Pixies
Franz Ferdinand
Bully
@ MGM Music Hall

---
Friday, June 9th
Tina Fey & Amy Poehler
"Restless Leg Tour"
@ MGM Music Hall

---
Saturday, June 10th
Bryan Adams
Joan Jett & the Blackhearts
@ TD Garden

---
Friday & Saturday
June 16th & 17th
Chris Smither
@ Club Passim

---
Friday, June 16th
Steve Lacy
James Blake
Toro y Moi
Fousheé
@ the Stage @ Suffolk Downs

---
Saturday, June 17th
LCD Soundsystem
Jamie xx
Idles
L'Rain
@ the Stage @ Suffolk Downs

---
Sunday, June 18th
boygenius
Clairo
Dijon
Bartees Strange
@ the Stage @ Suffolk Downs

---
Sunday, June 18th
The Cure
The Twilight Sad
@ Xfinity Center

---
Wednesday, June 21st
Wednesday
Tenci
@ the Sinclair

---
Thursday, June 22nd
Tiny Habits
@ the Sinclair

---
Saturday, June 24th
Teen Suicide
@ the Sinclair

---
Saturday, July 1st
Sparks
@ the Wilbur

---
Saturday, July 15th
Jenny Lewis
Cass McCombs
Hayden Pedigo
@ Roadrunner

---
Saturday, July 15th
Counting Crows
Dashboard Confessional
Frank Turner
@ the Pavilion

---
Saturday, July 15th
Noel Gallagher's
High Flying Birds
with Garbage
@ MGM Music Hall

---
Sunday, July 16th
Braid
"Frame & Canvas"
25th Anniversary Tour
with guests
@ the Sinclair

---
Sunday, July 16th
First Aid Kit
The Weather Station
@ Roadrunner

---
Tuesday, July 18th
Panda Bear & Sonic Boom
with Braxe + Falcon
@ the Paradise

---
Tuesday, July 18th
Cake
@ the Pavilion

---
Monday & Tuesday
July 24th & 25th
Le Tigre
@ the Royale

---
Tuesday & Wednesday
July 25th & 26th
Billy Strings
@ the Pavilion

---
Thursday, July 27th
Jason Isbell and
the 400 Unit
@ Roadrunner

---
Saturday, August 5th
Mellow Bravo
Cask Mouse
Hayley Thompson-King
@ the Sinclair

---
Saturday, August 5th
Foreigner
Loverboy
@ Xfinity Center

Friday, August 11th
Band of Horses
The Revivalists
@ the Pavilion

Friday, August 11th
Glen Hansard &
Marketa Irglova
(of the Swell Season)
@ the Wang

Saturday, August 19th
Sigur Ros
with an orchestra
@ the Wang

---
Saturday & Sunday
August 19th & 20th
In Between Days Festival
with
Modest Mouse, Lord Huron, Metric,
Trampled By Turtles, Sunny Day Real
Estate, Cautious Clay, Yoke Lore,
Blitzen Trapper, Allison Ponthier,
Illiterate Light, Slothrust,
Miko Marks, Weakened Friends,
shallow pools, Kat Wright,
Fantastic Cat, Dwight & Nicole,
Paper Tigers, Dutch Tulips,
Carissa Johnson, Mint Green,
Gypsy Moths, & Sweet Petunia
@ Veterans Memorial Stadium, Quincy

---
Thursday, August 24th
Jimmy Eat World
Manchester Orchestra
Middle Kids
@ MGM Music Hall

---
Thursday, August 24th
Bruce Springsteen
& the E Street Band
@ Gillette Stadium

---
Friday, August 25th
Alex G
Alvvays
@ the Pavilion

---
Sunday, September 3rd
The Offspring
A Simple Plan
Sum 41
@ the Xfinity Center

---
Tuesday, September 5th
Beck
Phoenix
Weyes Blood
Sir Chloe
@ MGM Music Hall

---
Wednesday, September 6th
Duran Duran
Nile Rodgers & Chic
Bastille
@ TD Garden

---
Tuesday & Wednesday September 12th & 13th
Death Cab For Cutie
The Postal Service
@ MGM Music Hall

---
Thursday, September 14th
Peter Gabriel
@ the Garden

---
Wednesday, September 20th
OSEES
@ the Royale

---
Wednesday, September 20th
Death Grips
@ House of Blues

---
Friday, September 22nd
Tegan & Sara
Carlie Hanson
@ Roadrunner

---
Friday, September 22nd
Lady Lamb
celebrates 10 years
of "Ripely Pine"
@ the Sinclair

---
Wednesday, October 11th
The Mission UK
The Chamelons
@ Brighton Music Hall

---
Monday, October 23rd
Pile
@ the Sinclair

---
Thursday, October 26th
Mudhoney
Hooveriii
@ Brighton Music Hall

---
Tuesday, October 31st
Depeche Mode
@ the Garden

---
Saturday, November 4th
Amyl and the Sniffers
Die Spitz
@ Roadrunner

---
Thursday, November 30th
Nation of Language
Miss Grit
@ the Sinclair