Posted on January 22, 2016 at 9:54 am | No Comments
Another evening spent in the corner of Somerville's wonderful Once Lounge, spinning new songs for friends & strangers, but this time… with tacos! And we all know everything is better with tacos. Yes, the once-a-monthly New Music Night has officially moved to Mondays, now teamed up with Once's ultra-tasty taco nights. Your next opportunity to partake? Monday, February 1st. Bring open ears and a healthy appetite.
In the meantime, have a look below at my playlist from the previous edition, nearly every song with a link to listen. Many can also be found in the monthly Nac Tracks streaming playlists I'm always adding to on Soundcloud. Check out November, December, and for a preview of next time, the ever-growing January collection. 59 cuts and climbing.
NEW MUSIC NIGHT III
Monday, December 21st, 2015
7:30 – whenever
@ The ONCE Lounge
in Somerville, MA
01. Doug Tuttle – "Falling To Believe"
new from the former MMOSS member
[ Stream it on Soundcloud ]
02. Quilt – "Eliot St."
from their upcoming "Plaza" LP, out next month
[ Stream the song on Soundcloud ]
03. The Magic Es – "Running Through"
from their debut EP, "We Are Magic"
[ Stream it on Soundcloud ]
04. The Friday Swaps – "Half Past"
from their WIAIWYA singles club 7-inch
[ Stream & buy on Bandcamp ]
05. Linton and Stewart – "Looking For A Stranger On The Shore"
collaboration between Amy (Aislers Set/Henrys Dress) & Stew (Boyracer)
[ Stream the track on Soundcloud ]
06. Cozy Catastrophes – "Go Steady With Me"
off their debut LP, "Have You Ever Heard Of…?"
[ Stream it on Soundcloud ]
07. Damien Jurado – "Exit 353"
first shared song from his next LP, "Visions of Us on the Land", out in March
[ Stream the song on Soundcloud ]
08. TW Walsh – "Young Rebels"
off his upcoming "Fruitless Research" LP, out 2/12
[ Stream it on Soundcloud ]
09. David Bazan – "Read My Mind" (The Killers cover)
from his Polyvinyl 4-track Single Series contribution
[ Stream the track on Soundcloud ]
10. Rob Crow's Gloomy Place – "Business Interruptus"
from the Pinback guy's upcoming full-length
[ Stream it on Soundcloud ]
11. Beverly – "Crooked Cop"
first single off their Spring-scheduled sophomore LP
[ Stream the song on Soundcloud ]
12. Halfsour – "Porch Sittin'"
from their imminent Jigsaw Records LP, out Jan. 29th
[ Stream it on Soundcloud ]
13. Dressy Bessy – "Lady Liberty"
latest single, featuring guest guitar from REM's Peter Buck
[ Stream the song on YouTube ]
14. Pete Astor – "Really Something"
off the upcoming solo LP from the Loft/Weather Prophets member
[ Stream the track on Soundcloud ]
15. Half Japanese – "Hold On"
from the 'Perfect' LP, out next week on Joyful Noise
[ Stream it on Soundcloud ]
16. The Muscadettes – "My Baby Boy"
from their recently-released "Side B" EP
[ Stream the song on Soundcloud ]
17. The Minders – "Needle Doll"
from their upcoming fan-funded LP, "Into The River"
[ Listen to the song on YouTube ]
18. Idaho – "Lumberjack"
from their just-released collection of pre-Idaho material
[ Stream it on Bandcamp ]
19. The Besnard Lakes – "The Plain Moon"
from their "A Complex Coliseum Museum" LP, out this week on Jagjaguwar
[ Stream the song on Soundcloud ]
20. Two Inch Astronaut – "Good Behavior"
from their "Personal Life" LP, out Feb. 5th on Exploding In Sound
[ Stream the track on Soundcloud ]
21. The I Don't Cares – "King of America"
2nd single from Paul Westerberg & Juliana Hatfield.
Their debut LP, "Wild Stab", is due out this week.
[ Grab the track on iTunes through Westerberg's site ]
22. Nada Surf – "Believe You're Mine"
from their upcoming "You Know Who You Are" LP, out 3/4 on Barsuk
[ Stream it on Soundcloud ]
23. Trashcan Sinatras – "Ain't That Something"
from their fan-funded "Wild Pendulum" LP, due out soon
[ Hear the track by joining the PledgeMusic campaign ]
24. Soft Science – "Breaking"
from their new split 7-inch with The Luxembourg Signal
[ Stream it on Soundcloud ]
25. Overlake – "Travelogue"
from their new 7-inch on Killing Horse Records
[ Stream the song on Soundcloud ]
26. Pinkshinyultrablast – "The Cherry Pit"
from their sophomore LP, "Grandfeathered", out 2/26 on Club AC30
[ Stream the track on Soundcloud ]
27. DIIV – "Under the Sun"
Off of "Is the Is Are", out 2/5 from Omnian Music Group
[ Stream the song on Soundcloud ]
28. School of Seven Bells – "Open Your Eyes"
from the upcoming "SVIIB" LP, out 2/26 on Vagrant
[ Stream it on Soundcloud ]
29. Wild Nothing – "TV Queen"
off their "Life of Pause" LP, out 2/18 via Captured Tracks
[ Stream the song on Soundcloud ]
30. jennylee – "Never"
from the Warpaint member's debut LP, "right on!" from Rough Trade
[ Watch the video on YouTube ]
31. Thee Oh Sees – "Fortress"
new single from Castle Face, next LP later this year
[ Stream the song on Soundcloud ]
32. Washer – "Pet Rock vs Healing Crystal"
off their debut LP, "Here Comes Washer", out this week on EIS
[ Stream the track on Soundcloud ]
33. Weekender – "Loving Hating"
off their new "Floaty Feeling, Blue" EP from Papercup
[ Stream it on Soundcloud ]
34. Big Ups – "Capitalized"
a teaser for the next album, perhaps?
[ Stream the song on Soundcloud ]
35. Beach Slang – "Like A Daydream" (Ride cover)
from their "I Made This For You" covers cassette
[ Stream their version on Bandcamp ]
36. Pink Frost – "Where Days Go"
from the newly remastered/remixed "Gargoyle Days" LP
[ Stream the song on Soundcloud ]
37. Coaches – "That Not This"
from the recently-released "Shush" EP
[ Stream it on Soundcloud ]
38. Ringtail – "Mask Of Bees"
their debut single, with an EP on the way
[ Stream the song on Soundcloud ]
39. Summer Camp – "I Don't Wanna Wait 'Til Christmas"
from their Christmas EP, available on iTunes
[ Watch the video on YouTube ]
40. Funeral Advantage & Catenine – "Last Christmas"
from the "A Very Allston Christmas Vol. 1" digital compilation
[ Stream the song on Bandcamp ]
41. Magic Magic – "Blue Christmas"
from the "A Very Allston Christmas Vol. 1" digital compilation
[ Stream their Christmas cover at Bandcamp ]
42. Elizabeth Morris – "The Season"
from the Allo Darlin' member's latest solo EP, "Athens"
[ Stream it on Bandcamp ]
43. Great Lake Swimmers – "They Don't Make Them Like That Anymore"
(with guest Julie Doiron of Eric's Trip)
from The Line Of Best Fit's free "Ho! Ho! Ho! Canada VII" compilation
[ Stream the track on Soundcloud ]
44. Southerly – "When I Go Deaf" (Low cover)
from their covers series
[ Stream their version on Soundcloud ]

Show up to the next New Music Night on Monday, February 1st, and in addition to the tasty tacos, you'll be served (world?) premieres of new songs from Magic Shoppe, New Dog, and Mr. TW Walsh. Honored to be able to do so. You can also enter to win pairs of tickets to a few upcoming Boston-area shows, and hopefully some merch if I can swing it. See you then, I'm hopin'…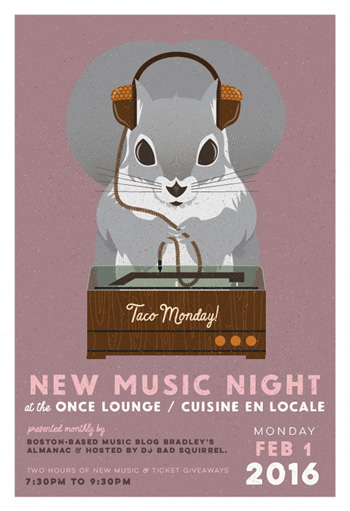 Comments