Posted on February 29, 2016 at 1:22 pm | No Comments
Another month, another New Music Night in the books at Somerville's ONCE Lounge (and, of course, pulling together this playlist post took a tad longer than I'd hoped).
Listen through, click the links for more info on each new release, and spend some cash on the artists you dig. Many, many special songs to be found below (I was especially psyched to premiere songs off new releases from locals TW Walsh, Magic Shoppe, and Bent Shapes), and a bunch of them sit on the just-finished, 57-track February 'Nac Tracks new music streaming playlist on Soundcloud. So hop over there for more, and keep an eye out for the March edition starting shortly.
Join me at the next New Music Night on Monday (taco!) night, April 11th at 7:30pm. Details over on Farcebook, where I'll eventually share up which ticket giveaways I'll be doing that evening.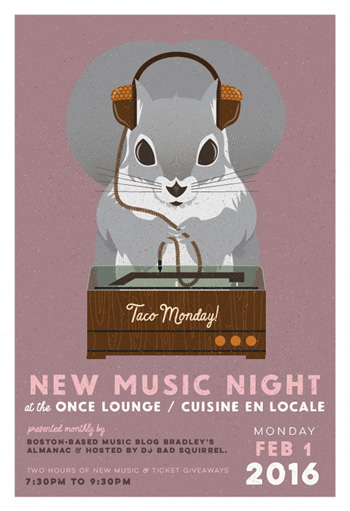 NEW MUSIC NIGHT
Monday, February 1st, 2016
7:30 – whenever
@ The ONCE Lounge
in Somerville, MA
01. Carter Tanton – "Twenty-nine Palms" (with Sharon Van Etten)
From his upcoming "Jettison The Valley" LP, arriving on March 4th
[ Stream it on Soundcloud ]
02. New Dog – "Joe Brainard's Idea"
from the "Teeth Marks" LP, due out March 4th
[ Stream it on Bandcamp ]
03. Robyn Hitchcock – "Raymond And The Wires"
Demo from his upcoming next LP
[ Stream it on Soundcloud ]
04. The Lowlifes – "In Winter"
New project from Matt Pond & Chris Hansen
[ Stream it on Soundcloud ]
05. Freakwater – "Number One With A Bullet"
From their recently-released "Scheherazade" LP
[ Stream it on Soundcloud ]
06. Laura Gibson – "The Cause"
From her upcoming "Empire Builder" LP, out in April
[ Stream it on Soundcloud ]
07. Mount Moriah – "Davis Square"
From their just-released "How To Dance" LP
[ Watch the "Baby Blue" video at Merge ]
08. Lost Film – "Temporary"
Title track from their new free-to-download EP
[ Stream the entire EP on Soundcloud ]
09. The Okay Win – "Give Em Hell"
From their new "Cannon Mouth" EP
[ Stream & buy it on Bandcamp ]
10. Linden – "Bones"
Their new Slumberland single, available via iTunes
[ Stream it on Soundcloud / Watch the video ]
11. Recreational Drugs – "A Song For Dogs"
From their recently-released self-titled debut EP
[ Stream the EP on Soundcloud ]
12. Eric Bachmann – "Mercy"
From his upcoming solo LP, due out 3/25 on Merge
[ Stream the track on Soundcloud ]
13. Field Music – "Disappointed"
From their just-released LP, "Commontime"
[ Stream the song on Soundcloud ]
14. Jennifer O'Connor – "Start Right Here"
From her "Surface Noise" LP, out this week on Kiam Records
[ Stream the track on Soundcloud ]
15. Martin Courtney (of Real Estate) – "Northern Highway"
From his latest LP, "Many Moons"
[ Stream it on Soundcloud ]
16. Shearwater – "Only Child"
From their "Jet Plane and Oxbow" LP
[ Stream it on Soundcloud ]
17. Courtney Barnett – "Three Packs A Day"
From the new Milk Records "Good For You" compilation
[ Stream the comp on Bandcamp ]
18. Wheat – "Walking Song"
Just-released new single
[ Stream the track on Soundcloud ]
19. Jennylee (of Warpaint) – "Offerings"
From her "Right On" LP
[ Watch the "Never" video on YouTube ]
20. The I Don't Cares – "Outta My System"
From Juliana Hatfield & Paul Westerberg's "Wild Stab" LP
[ Watch the song's video on YouTube ]
21. TW Walsh – "The Glow"
The closing track off his new LP, "Fruitless Research"
[ Stream the song on Bandcamp ]
22. Dressy Bessy – "What Is Life" (George Harrison cover)
B-Side off their "Lady Liberty" RSD 7-inch
[ Stream it on YouTube ]
23. Wussy – "Dropping Houses"
Off their "Forever Sounds" LP, out this week
[ Stream it on Soundcloud ]
24. All Dogs – "Sunday Morning"
From their latest LP, "Kicking Every Day"
[ Watch the new video on YouTube ]
25. Nada Surf – "I Love You All The Time" (EODM cover)
In solidarity with Bataclan terror attack victims & survivors
[ Stream & buy the cover at the Play It Forward site ]
26. PJ Harvey – "The Wheel"
Off her upcoming "Hope Six Demolition Project" LP
[ Watch the video on YouTube ]
27. DIIV – "Blue Boredom" (with Sky Ferreira)
From their new LP, "Is the Is Are"
[ Stream the track on YouTube ]
28. Beverly – "Victoria"
From their upcoming LP, "The Blue Swell", out in May
[ Stream the song on Soundcloud ]
29. Film School – "Give Up"
From their just-released "June" EP
[ Stream the EP on Soundcloud ]
30. Purling Hiss – "Fumble Tumble"
From the just-released "Something" EP
[ Stream the track on Soundcloud ]
31. Magic Shoppe – "Redhead"
Off their "Interstellar Car Crash" EP
[ Stream the track on Bandcamp ]
32. Tancred – "Sell My Head"
From the "Out Of The Garden" LP, due out 4/1
[ Stream the song on Soundcloud ]
33. Bleached – "Keep On Keepin' On"
From their "Welcome To The Worms" LP, out on 4/1
[ Watch the video on Soundcloud ]
34. Bent Shapes – "New Starts In Old Dominion"
From their upcoming Slumberland LP, "Wolves of Want"
[ Stream the song on Soundcloud ]
35. Halfsour – "Grump"
From their recently-released "Tuesday Night Live" LP
[ Stream the song on Bandcamp ]
36. The Thermals – "Hey You"
From their "We Disappear" LP, due out 3/25
[ Stream it on Soundcloud ]
37. Two Inch Astronaut – "At Risk Student"
From their just-released "Personal Life" LP
[ Stream the LP on Bandcamp ]
38. Dead Heavens – "Feel Low"
New 7-inch from Walter Schreifels latest project
[ Stream the track on Soundcloud ]
39. Yuck – "Cashout" (Fugazi cover)
Newly-released non-album cover song
[ Stream their version on YouTube ]
40. So So Glos – "A.D.D. Life"
From their upcoming "Kamikaze" LP, due out in May
[ Stream the song on Soundcloud ]
41. The Jonny Cohen Love Machine – "Surf Clam"
From the "A Quiet Reminder" LP, out now on Teenbeat
42. Explosions In The Sky – "Disintegration Anxiety"
From their upcoming LP, "The Wilderness", due out 4/1
[ Stream the song on Soundcloud ]
See you at Once in April, I hope…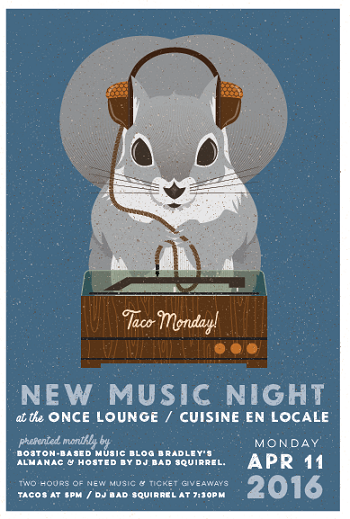 Comments