Posted on May 16, 2016 at 4:16 pm | 1 Comment
This evening brings this month's installment of New Music Night back to the Once Lounge in Somerville, MA, kicking off promptly at 7:30pm. For the uninitiated: A couple hours of nuthin' but carefully sequenced new songs spun for your listening pleasure as you inhale tasty tacos and/or get your drink on. Getting to hang there and provide your Monday evening soundtrack is one of the highlights of my month, so come take advantage of my music-nerd obsessiveness and the Once crew's first-rate cooking skills.
Plus: Ticket giveways! I'll be drawing winners for pairs of tix to see upcoming shows including Nothing at the Sinclair, A Giant Dog at O'Brien's, & Black Helicopter's EP release show next month at Great Scott.
The latest iteration of the NMN poster from Daykamp, in princely purple…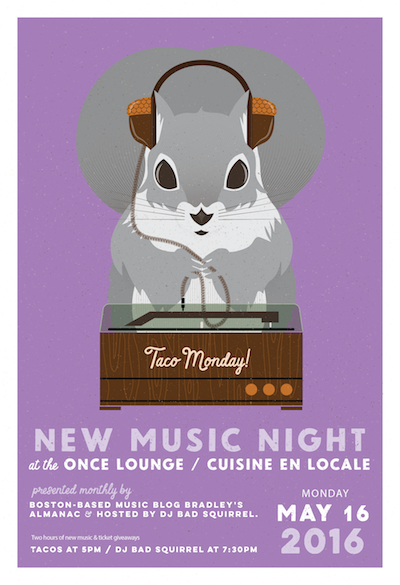 ---
And belatedly, here's the playlist from last month's edition. It went a little somethin' like this…
NEW MUSIC NIGHT
Monday, April 11th, 2016
@ The ONCE Lounge
in Somerville, MA
01. PJ Harvey – "The Orange Monkey"
02. Britta Phillips – "One Fine Summer Morning"
03. Andy Sadoway – "IOU"
04. Tangible Excitement – "Northland Food Court"
05. Lush – "Lost Boy"
06. Chris Cohen – "Torrey Pine"
07. Nada Surf – "Rushing"
08. David Bazan – "Trouble With Boys"
09. Systems Officer – "Xon"
10. Rob Crow's Gloomy Place – "Quit Being Dicks"
11. Sunflower Bean – "Easier Said"
12. Guillermo Sexo – "Eclipse"
13. Wussy – "Ceremony" (New Order cover)
14. Wire – "Nocturnal Koreans"
15. Young Elk – "Debts"
16. Undersea – "Winter Lungs"
17. Bleached – "Sour Candy"
18. Bent Shapes – "86'd In '03"
19. Matt Tong – "Christopher"
20. The James Rocket – "We Are Here For You"
21. Beverly – "Contact"
22. Ship Thieves – "Born Into This"
23. Christopher Leaf – "I'll Try For You"
24. Bob Mould – "The End of Things"
25. Robert Pollard – "I Can Illustrate"
26. Hallelujah The Hills – "The Girl With Electronics Inside"
27. So So Glos – "Missionary"
28. Savak – "Reaction"
29. A Giant Dog – "Sleep When Dead"
30. Pinkshinyultrablastv – "Molkky"
31. The Gotobeds – "New Dress (Debutante)"
32. Summer Cannibals – "Go Home"
33. Metz and John Reis – "Caught Up"
34. Into It Over It – "Vis Major"
35. White Lung – "Hungry"
36. Witching Waves – "Twister"
37. Eagulls – "Skipping"
38. Eric Bachmann – "Belong to You"
39. Mogwai – "Bitterness Centrifuge"
Many of the songs can be streamed through my monthly 'Nac Tracks playlists on Soundcloud. Keep an eye/ear on the in-progress May edition, and if you can't join us this evening, pencil the next NMN for Monday, June 13th.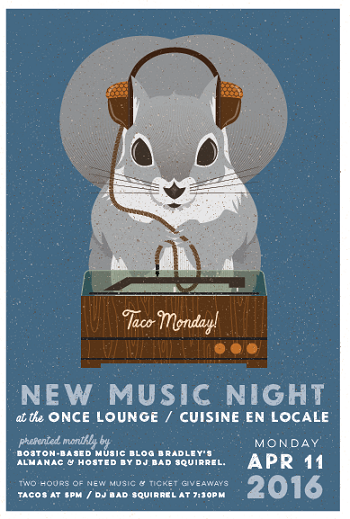 Comments