Posted on June 13, 2016 at 1:28 pm | No Comments
One Monday each month I host an evening of new music at the magical ONCE Lounge in Somerville, Massachusetts, and today happens to be one of those Mondays. So at 7:30pm I'll kick off another New Music Night while the Once staff serves up a selection of killer tacos. Given the weekend's lingering sadness & anger, I'm looking forward to this one more than usual.
Bonus: Ticket giveaways throughout the night to a bunch of much-recommended Boston-area shows. I'm particularly psyched about this month's freebies, which include upcoming local appearances by Pale Monsters, Sidewalk Driver, Guillermo Sexo, Pale Hands, Black Helicopter, Shatner, Vic Firecracker, Eldridge Rodriguez, Wye Oak, Modern Baseball, Joyce Manor, Thin Lips, Quilt, Widowspeak, David Bazan, Laura Gibson, Hallelujah the Hills, The Barbazons, the Thalia Zedek Band, Black Beach, and Marissa Nadler. Whew.
So come by, hang out, and test your ticket-winning luck while you fill your ears and heart with new songs. And your belly with fresh tacos.
Here's the latest iteration of the NMN poster from the wonderful Daykamp Creative, this time in soothing fountain blue…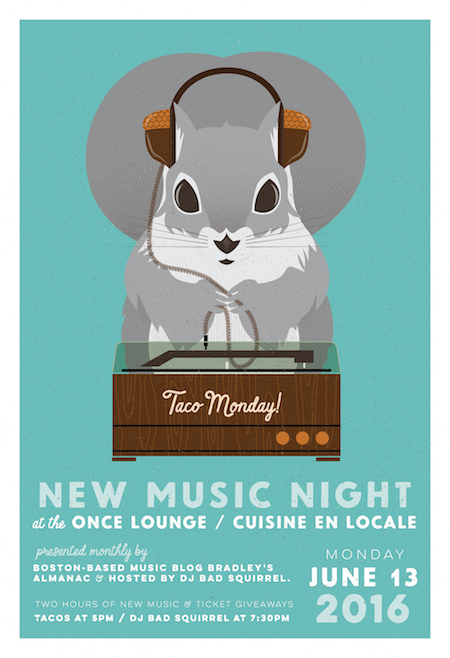 ---
And while I'm at it, here's the playlist from the previous installment of NMN in May, with a few embedded for your listening pleasure. You can hear more over on my monthly "Nac Tracks" streaming playlists. Dig in…
NEW MUSIC NIGHT
Monday, May 16th, 2016
@ The ONCE Lounge
in Somerville, MA
01. Andy Shauf – "The Worst In You"
02. New Dog – "Our Whole Life"
03. Marissa Nadler – "Katie I Know"
04. Chris Page – "Bakelite In The Moonlight"
05. Andy Sadoway – "Having Trouble Again"
06. Trashcan Sinatras – "Autumn"
07. David Bazan – "With You"
08. Womanizer – "Lie No 5"
09. Blessed Isles – "Round and Round"
10. Hotelier – "Doing the Unstuck" (Cure cover)
11. Idle Pilot – "Questionable Status"
12. Dowsing – "Red Legs Kicking"
13. Great Hare – "A Second Chance"
14. Modern Baseball – "Everyday"
15. Grave School – "Eugene OR"
16. A Giant Dog – "Not a Miracle"
17. Hurricane #1 – "I Wanna Kill You"
18. Jackal Onasis – "Runty Little Puppy"
19. The Rutabega – "Nosy Neighbors"
20. Yuck – "Bled White" (Elliott Smith cover)
21. Mo Troper – "Happy Birthday"
22. Nothing – "Vertigo Flowers"
23. Pink Milk – "Detroit"
24. Major Leagues – "Leave"
25. Augustines – "When Things Fall Apart"
26. Ghost Box Orchestra – "Days are Forever"
27. Tancred – "Bed Case"
28. Speedy Ortiz – "Death Note"
29. White Hot Moon – "A Satisfactory World For Reasonable People"
30. Black Helicopter – "Under The Gun"
31. Savak – "Alive In Shadows"
32. Psychic Teens – "Winter Grey"
33. Radiohead – "Ful Stop"
34. Low – "Not a Word" (with S Carey)
Mark your calendar for the next NMN on Monday, July 18th. Summahtime. At last.
Comments