Posted on July 18, 2016 at 8:58 am | No Comments
Another month, another Monday, another New Music Night at ONCE Somerville this evening. By now you may know the deal: A couple hours of new songs interspersed with ticket giveaways and taco-eating. Tonight's a bit different for me, though, as I'll be remembering the many hours spent up in the roost at beloved Cambridge bar River Gods, where Chris generously had me along for so many Tourfilter DJ Nights, and where Jay and I started the original editions of NMN. Hosted a bunch of new release listening-parties there, too. Not to mention all the non-DJ nights I ended up sitting at the bar while others spun sounds. When the sudden word of its closing hit, it hit pretty hard.
So many memories. So many people met, friends made, drinks downed, and fries dipped in that extra-awesome aioli.
In the absence of an official wake for our old home, and since I couldn't make the Chris Ewen-hosted RGs tribute at Zuzu last Thursday, maybe come hang out with us tonight at Once. Perhaps my old partners Chris & Jay will select a few songs? Wonder if I can convince JJ & company to do up a little aioli & fries combo, or maybe name a temporary menu item in RGs honor? Still can't believe it's gone. Just like that.

Here's the latest edition of the poster from Daykamp, followed by the playlist from last month's NMN. And keep an eye out for details on the upcoming August installment, 'cuz we've got something pretty special planned…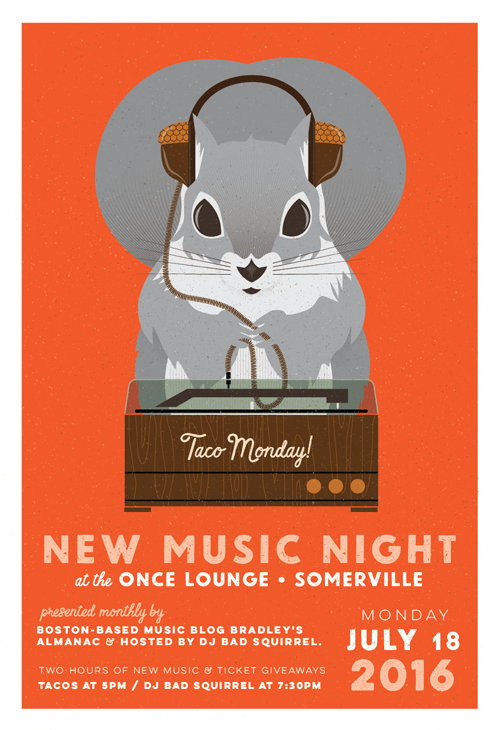 NEW MUSIC NIGHT
@ ONCE Somerville
Monday, June 13th, 2016
01. The Album Leaf – "Back To The Start"
02. Owen – "Lost"
03. Marissa Nadler – "All The Colors Of The Dark"
04. Secretary – "Words"
05. Steve Kilbey + Frank Kearns – "Black River"
06. Quilt – "Passersby"
07. Rob Sutherland – "Weep Willow"
08. Walter Schreifels – "Overjoyed"
09. Pale Monsters – "Fine"
10. Speedy Ortiz – "Emma O"
11. Wye Oak – "If You Should See"
12. Night School – "Last Disaster"
13. School 94 – "Common Sense"
14. Spook The Herd – "Slurpee Surf"
15. Spook School – "Gone Home"
16. Lady Pills – "Irrelevant"
17. Lost Cosmonauts – "Happy"
18. Field Mouse – "The Mirror"
19. Modern Baseball – "Apple Cider, I Don't Mind"
20. David Bazan – "Oblivion"
21. Laura Gibson – "Not Harmless"
22. Tall Tales & The Silver Lining – "Boulder To Birmingham" (Emmylou Harris)
23. Lydia Loveless – "Longer"
24. Factory Edge – "Lack Of"
25. Teenage Fanclub – "I'm In Love"
26. Gold Muse – "Trick of Time"
27. Bug Jar – "Space Visitor"
28. Cities and States – "Ambulance Racer"
29. Bruvs – "New Digs"
30. Black Helicopter – "Deadlines for Deadbeats"
31. Descendents – "Victim Of Me"
32. Diarrhea Planet – "Bob Dylan's Grandma"
33. Hallelujah The Hills – "Are We Failing?"
34. Stone Roses – "Beautiful Thing"
35. Mogwai – "Tzar"
Listen to many of the songs above on the oft-updated 'Nac Tracks streaming Soundcloud playlists.
Comments