Posted on August 22, 2016 at 2:31 pm | No Comments
New Music Night, the free monthly DJ event we host at the ONCE Lounge in Somerville, returns this evening with an extra something added: Along with the usual tacos, ticket giveaways, and playlist of new songs will be a special live performance from Anar Badalov, aka New Dog. It's a send-off of sorts, as the former Travels/Metal Hearts member starts a European tour in a couple of weeks. I've featured a few New Dog songs during past NMN sets (off his two most recent, and most excellent, full-lengths), so it's only fitting that Anar is the first live act to share one of the evenings.
My DJ set, and the accompanying ticket giveaways, start around 8pm, with New Dog around 9, and more new music after he finishes up. The giveaways? Only good stuff, including pairs of passes for upcoming shows by Jason Loewenstein (Sebadoh), Sam Coomes (Quasi/Heatmiser), & Saqqara Mastabas (Matthew Friedberger from Fiery Furnaces & Bob D'Amico from Sebadoh), the Thalia Zedek Band (album release show!), Minibeast, Black Helicopter, & Positive Negative Man, Rocky Votolato & Chris Staples, The Album Leaf & Sister Crayon, The Allah-Las & Tops, and LVL UP. Like I said, only good stuff.
The latest edition of the Daykamp-designed poster, followed by last night's New Music Night playlist. See you tonight?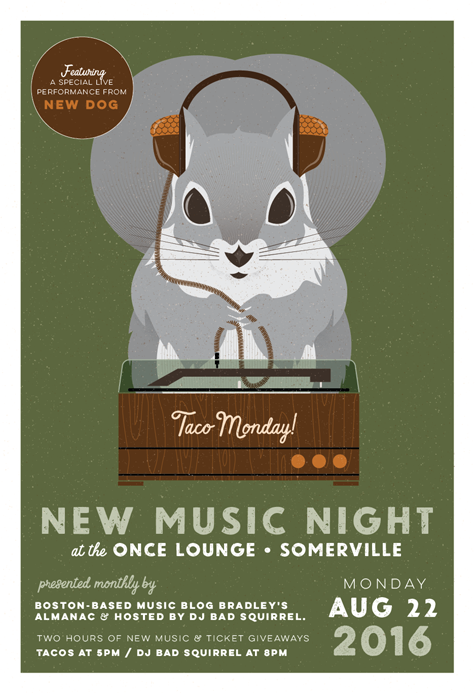 NEW MUSIC NIGHT VIII playlist
@ ONCE Somerville
from Monday, July 18th, 2016
01. Eric Bachmann & Jon Rauhouse – "Lilliwaup"
02. Adam Remnant – "When I Was A Boy"
03. New Dog – "Boy's Own"
04. Hiss Golden Messenger – "Biloxi"
05. Mill Pond Falls – "Four Roses"
06. The Handsome Family – "Gold"
07. Owen – "A Burning Soul"
08. PJ Harvey – "Guilty"
09. Morgan Delt – "I Don't Wanna See What's Happening Outside"
10. Wilco – "Locator"
11. The Sandwich Police (TSP) – "Love Yourself"
12. Flock Of Dimes – "Semaphore"
13. Thee Oh Sees – "The Axis"
14. Allah-Las – "Famous Phone Figure"
15. Stargazer Lilies – "When With You"
16. LVL UP – "Pain"
17. Amy Klein – "American City"
18. Weakened Friends – "Crushed"
19. Drowners – "Human Remains"
20. PowerSlut – "Girl Crush"
21. Year Of Glad – "Keeping The Peace"
22. Helms Alee – "Tit to Toe"
23. Less Win – "Rituals"
24. Fireworks – "Bury Me"
25. The Julie Ruin – "I Decide"
26. Joanna Gruesome – "Pretty Fucking Sick (Of It All)"
27. Pixies – "Um Chagga Lagga"
28. Beach Slang – "Punks In A Disco Bar"
29. Descendents – "Without Love"
30. Dinosaur Jr. – "Tiny"
31. Brendan Canning – "Book It To Fresno"
32. Doe – "Sincere"
33. Dumb Numbers – "Girl On The Screen"
34. Sharon Van Etten – "Do You Realize?" (Flaming Lips cover)
Stream many of the tracks found above, some I'll be playing tonight, and many other share-worthy songs, by checking out the 'Nac Tracks monthly playlists on Soundcloud.
Comments