Posted on October 7, 2016 at 8:58 am | No Comments
A 'nutshells' post, in which I share five new things rattling around my between my ears…

On November 11th, Kristin Hersh will deliver her long-awaited next album, "Wyatt At The Coyote Palace", in the U.S. (and in the U.K. 2 weeks earlier – lucky sods). It's her first solo LP since 2010's "Crooked", and continues her unique practice of combining her singular talent for songwriting with her more-recently explored knack for book-writing — by releasing it with an accompanying collection of essays.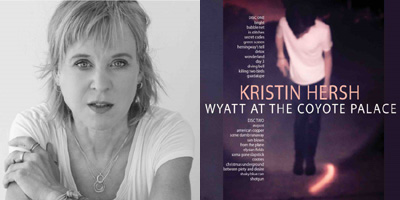 The Throwing Muses founder hasn't exactly been resting on her laurels in the six years since her last solo release – Two books (the acclaimed "Rat Girl" memoir and "Don't Suck, Don't Die", her moving reflection on her special relationship with the much-missed Vic Chesnutt – the KH-narrated audio version was just released), a double-length Muses LP ("Purgatory/Paradise"), two releases from her noise-rock trio, 50 Foot Wave, including this year's "Bath White" EP, and a new trio, Outros, with Chris Brady from (the real) Pond/Audio Learning Center & 50'~ drummer Rob Ahlers. All of this while sharing her creative process with a small army of devoted fans (dubbed "Strange Angels", who support her work through regular contributions) and suffering some personal upheavals that she's candidly discussed in recent interviews. There was a time she'd worried she'd lost her songwriting spark, so the announcement of this record came as welcome news indeed.
The first sonic taste of the 24-track (!), double-disc, hardcover book "Wyatt At The Coyote Palace" is "Soma Gone Slapstick", which also has a new Orrin Anderson-directed video to go along with it…
Pre-order WATCP through Kristin's website, and while you're there, check out what it takes to become one of her Strange Angels. Signing up not only gets you her releases, but free tickets to upcoming shows — she hits the road (and the airport) in November for a 6-week international tour that finishes up here in the Boston area at the Sinclair on Sunday, December 18th. Grab tickets for that one right here.

Speaking of the Muses, erstwhile TM co-founder Tanya Donelly is having one hell of an active year with both the return of her beloved 90s-era quartet Belly to live stages and the release of her collected "Swan Song Series" of solo work on American Laundromat records. She just played a couple dates in support of that triple-LP (!) with an ace backing band and a slew of guests at the Somerville show that included Bill Janovitz (Buffalo Tom/Needy Sons), Tom Gorman (Belly), Sam Davol (Magnetic Fields), and duo Damon & Naomi (Galaxie 500). Not long before that she shared the Brighton Music Hall stage with Janovitz and Mike Gent of (the Figgs/Needy Sons) as part of the Concert Across America. Boston is one lucky town that we get to see these kind of live collaborations so often.
Bill Janovitz, Tanya Donelly, & Mike Gent
at Brighton Music Hall on September 25th, 2016
Tanya's busy year includes a gorgeous contribution to American Laundromat's incredible "Say Yes! A Tribute to Elliott Smith" collection, which sees its official release next week. My pre-order package arrived a couple days ago, and it's a something special to behold and be heard, with striking design work from Daykamp Creative, and a ridiculously stacked lineup of artists that includes J. Mascis, Juliana Hatfield, Waxahatchee, Lou Barlow, Adam Franklin (of Swervedriver), Yuck, and more. Order yours over at ALR.
Here's Tanya Donelly's gorgeous take on Elliott Smith's "Between The Bars"…

Another lovingly-produced tribute to one of my all-time favorite songwriters was released just last week: The 21-track "Constant and True – A Tribute to the Songs of Rose Melberg" on February Records. The covers come from all throughout Rose's musical career, including songs from Go Sailor, Tiger Trap, the Softies, her solo releases, and more. Especially excited to see my pals in The Smittens contribute their version of Go Sailor's "Together Forever In Love". Have a listen to that track below, hear the rest of the songs at Bandcamp, and order your own copy (with proceeds benefiting Rose's chosen charity of the Multiple Sclerosis Society of Canada) right here.

After years of begging/demands/threats from the miscreants at the PedroTheLion.org forum, David Bazan is finally gathering together his long-out-of-print Christmas singles into a collection titled "Dark Sacred Night", which will be out on November 11th.
While he's released a total of 14 carols since the first 7-inch on Suicide Squeeze in 2002, the compilation gathers just 10 remixed/remastered tracks. Completists need not fear, though, as Amazon let slip the news that there will be a limited edition "Christmas Bonus" 12-inch with the other 4 remaining songs. Look for an official announcement on that companion EP soon, and in the meantime pre-order the "Dark Sacred Night" collection from Undertow or Suicide Squeeze, where you can snag one of the 2000 limited edition blue vinyl (with white snow flakes!) copies.
Here's one of the tracks, David Bazan's cover of Low's "Long Way Around The Sea"…

I've been a fan & follower of Geoff Farina's work since his days in Boston trio Karate and duo Secret Stars, have dug his solo work and frequent collaborations with Chris Brokaw, and always look forward to news of another full-band record on the way. November 25th will bring "Grant No Glory", the sophomore full-length from Exit Verse, Farina's trio with bassist Pete Croke (Brokeback, Tight Phantoms) and drummer Chris Dye (Speck Mountain, Chin Up Chin Up). The 9-track record follows their 2014 self-titled debut, which was also released by the Ernest Jenning Record Company. Pre-order "Grant No Glory" through Bandcamp while you stream lead-off track "Sleeping In Graceland"…
Comments