Posted on February 18, 2017 at 3:35 pm | No Comments
The first New Music Night of the #SCROTUS era happened last week at the ONCE Lounge in Somerville, Massachusetts, and it I'm going to guess that the lighter-than-usual attendance was due to a certain sporting event that took place the night before. Glad I had an industrious crew of politician-targeted-postcard-writers hanging out to keep me company while I played a couple hours of new songs for them and handed out some free Boston-area concert tickets.
Here's a rundown of the evening's playlist. Mark down Monday, March 13th on your calendar for the next one…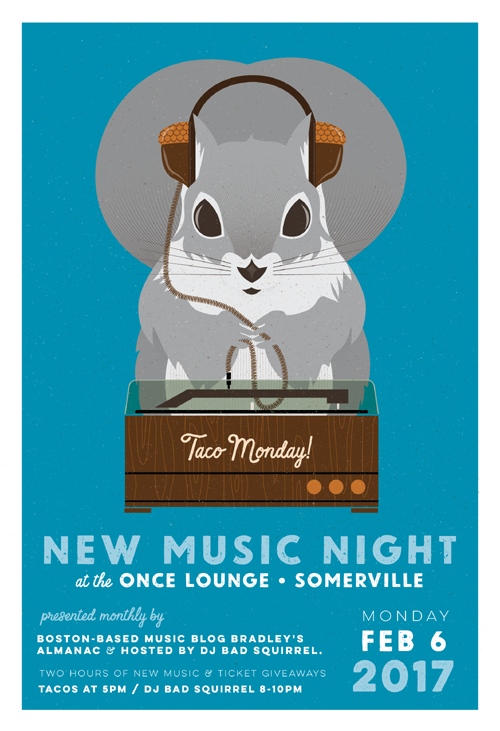 NEW MUSIC NIGHT playlist
at the ONCE Lounge, Somerville, MA
on Monday, February 6th, 2017
01. Peter Silberman – "Slips Away"
[ from the Antler's frontman's new solo LP ]
02. Hope Sandoval and the Warm Inventions – "A Wonderful Seed"
03. Julien Baker – "Funeral Pyre"
04. The Proper Ornaments – "Memories"
05. Father John Misty – "Ballad of the Dying Man"
06. Tennis – "Fields Of Blue"
07. Joel R.L. Phelps & The Downer Trio – "Blinding Light"
[ new EP of songs recorded during their last LP sessions ]
08. Real Estate – "Darling"
09. Transona Five – "Trucker Talk Ch. 3"
[ from their just-released 2xLP collection / stream it ]
10. Self Defense Family – "In Those Dark Satanic Mills"
11. Shadow Band – "Eagle Unseen"
12. Slowdive – "Star Roving"
13. Beach Slang – "Sometimes Always" (JAMC cover)
[ from their new covers EP ]
14. Mount Eerie – "Real Death"
15. The New Pornographers – "High Ticket Attractions"
[ from their upcoming "White Out Conditions" LP ]
16. Guided By Voices – "Hiking Skin"
17. Robyn Hitchcock – "I Want To Tell You About What I Want"
18. Monster Movie – "Shouldn't Stray from the Shadows"
[ from their upcoming "Keep the Voices Distant" LP ]
19. OUT – "Wound Up"
[ from their now-available debut LP, "Swim Buddies" ]
20. No Thank You – "Juicy J"
[ from their almost-out "Jump Ship" LP ]
21. The Night Cafe – "You Change With The Seasons"
22. Clap Your Hands Say Yeah! – "Down (Is Where I Want To Be)"
23. The Sun Lions – "Shitstorm"
24. Bleached – "Can You Deal"
25. British Sea Power – "Bad Bohemian"
[ from their upcoming "Let The Dancers Inherit The Party" LP]
26. BNQT – "Restart"
27. Funeral Advantage – "Please Help Me"
28. Japandroids – "Near To The Wild Heart Of Life"
29. Channels – "Airstrip One"
30. Pile – "Texas"
[ from their upcoming LP, "A Hairshirt of Purpose" ]
31. Chavez – "The Bully Boys"
32. Haunted Spurs – "Manhattan"
33. Scarce – "We'll Fall Down"
34. Allison Crutchfield – "I Don't Ever Wanna Leave California"
[ from her new Merge Records LP, "Tourist in This Town" ]
35. Family Scraps – "Mistakes"
36. Better Friends – "Graceland" (Paul Simon cover)
37. Toman – "They Storm In (No Knock)"
Remember, the next NMN happens on Monday, March 13th at the Once Lounge in Somerville. Check out the poster below, and RSVP at the Farcebook event page.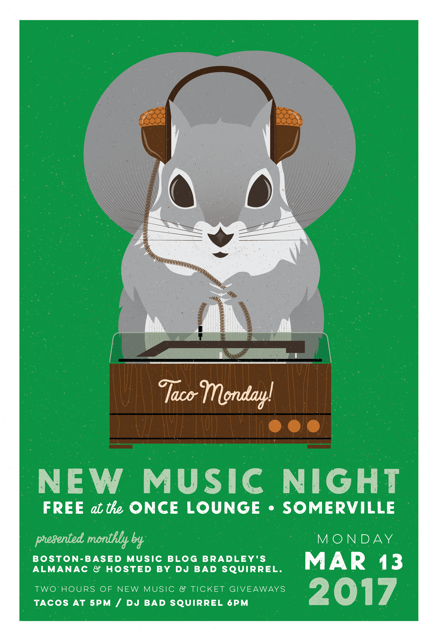 Comments