Posted on March 23, 2017 at 12:23 pm | No Comments
Did you skip New Music Night at ONCE in Somerville last week? No worries, I've got you covered. While you may have blown your chance to win one of several pairs of free show tickets I handed out during the two-hour DJ set, and missed out on some truly tasty tacos, at least you can check out the playlist here. Small consolation, I know. Some of the songs are streamable below, others you'll have to hunt down (maybe on my monthly playlists?), and a few include a little extra info.
Join us next month at ONCE on Monday, April 24th and avoid any potential lingering regret.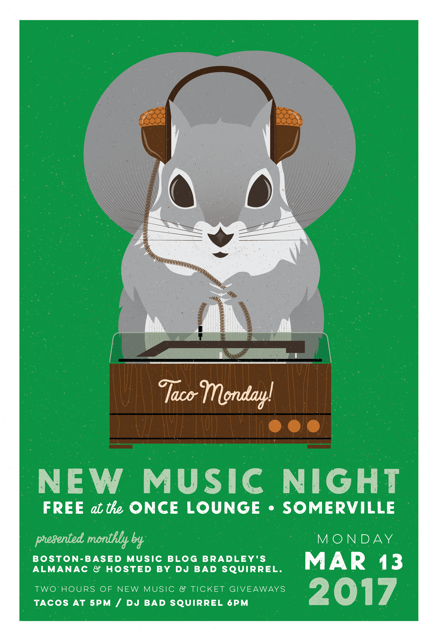 NEW MUSIC NIGHT playlist
at the ONCE Lounge, Somerville, MA
on Monday, March 13th, 2017
01. Will Johnson – "Childress (To Ogden)"
From his "Hatteras Night, A Good Luck Charm" LP, out this week. The former Centro-matic frontman plays the Sinclair in Cambridge on 6/8 with John Moreland.
02. David Bazan – "Make Music"
From the just-released "Care" LP.
03. The Shins – "Rubber Ballz"
04. Gregory and the Hawk – "She's An Angel" (TMBG cover)
An exclusive bonus recording for GatH Patreon supporters.
05. Lambchop – "Old Masters"
Playing Allston's Brighton Music Hall with Animal Hospital on March 28th.
06. Aimee Mann – "Goose Snow Cone"
From her almost-available "Mental Illness" LP.
07. Girlpool – "123"
Opening track from their upcoming LP, "Powerplant".
08. Real Estate – "Stained Glass"
From their just-released "In Mind" LP.
09. Terry Malts – "It's Not Me"
New single " target="_blank">on Slumberland Records. Tour hits O'Brien's in Boston on April 17th.
10. Anders Parker – "High Flying Bird"
From his upcoming LP, "The Man Who Fell From Earth". Tour with Son Volt hits the Paradise in Boston on April 6th.
11. Robyn Hitchcock – "Mad Shelley's Letterbox"
From his forthcoming self-titled record on Yep Roc.
12. The New Pornographers – "This Is the World of the Theater"
From their upcoming "Whiteout Conditions" LP.
13. The New Year – "Recent History"
First taste of their forthcoming "Snow" LP.
14. Mark Eitzel – "The Last Ten Years"
Off his latest Merge Records LP, "Hey Mr. Ferryman". He plays ONCE Somerville with Howe Gelb on April 11th.
15. Spiral Stairs – "The Unconditional"
Off the former Pavement member's upcoming solo LP, "Doris and the Daggers".
16. Sheer – "Shut It Off"
From their "Psychic Quarry" EP, due out April 28th on Native Sound.
17. Future Teens – "In Love Or Whatever"
Off their brand new "Bored and Alone" EP.
18. Field Nurse – "Summer Spacecraft Motorhome"
Title track from their just-released debut EP.
19. Lake Ruth – "Pictures from Home"
Latest single from this NYC-based band, who will make their Boston debut this weekend at ONCE with SAVAK & Gold Muse. See you there, I hope.
20. Bill Botting & the Two Drink Minimums – "Treating You Right"
Allo Darlin'bass player extraordinaire has a backing band & a brand new LP.
21. Filthy Friends – "Any Kind Of Crowd"
Members of Sleater-Kinney, REM, Young Fresh Fellows, & more formed a super-duper group. 7-inch coming out on Record Store Day. The Best Show previewed this track (at the 5-minute mark).
22. Funeral Advantage – "Shining"
From the Boston-based band's latest EP, "Please Help Me".
23. Angus – "I Don't Sleep"
One of two new songs from this Massachusetts-based band (digging their Bandcamp pricing model).
24. Juliana Hatfield – "Wonder Why"
From her upcoming "Pussycat" LP, out next month on ALR.
25. Monster Movie – "Going Backwards"
Long-running quartet featuring Slowdive guitarist Christian Savill returns with solid new stuff. LP out next week on Graveface.
26. No Thank You – "Serenity Song"
From the Philly trio's new record, "Jump Ship".
27. The Darling Buds – "Guess The Good Parts"
Yes, those Darling Buds. Their first recorded material over 2 decades, the "Evergreen" EP, arrives next month on Oddbox Records.
28. Charly Bliss – "Glitter"
This NYC quartet's debut record, "Guppy", is out on 4/21 via Barsuk.
29. Early Riser – "The Nevers"
First taste of their debut full-length, out later this year on Anchorless/A-F Records.
30. No Hope/No Harm – "Pony Boy"
Third song released from this Boston-based band (featuring Aaron Perrino of the Sheila Divine & Luke O'Neil of the internet).
31. Pile – "Leaning On A Wheel"
Another killer track off their upcoming LP, "A Hairshirt of Purpose", out next week on EiS.
32. Jason Loewenstein – "Machinery"
The return of solo-style Jakerock. Been way too long, but damn, this song was worth it. Grab the 7-inch. LP on the way.
33. OUT – "End Times"
Straight outta Kalamazoo, their debut full-length is out now on Comedy Minus One. And I'm listening to it as I write this. Hot damn.
34. Thurston Moore – "Cease Fire"
First shared song from his upcoming solo record, "Rock N Roll Consciousness", out next month on Caroline.
35. Beach Slang – "Roadrunner" (Modern Lovers cover)
From Vol. 2 of their "Here, I Made This For You" covers EPs.
36. Afghan Whigs – "Demon In Profile"
First single from their next record, "In Spades", out May 5th on Sub Pop.
37. Tobin Sprout – "When I Was A Boy"
The Guided By Voices co-conspirator has a new solo record, "The Universe and Me", on Burger Records. He plays Brighton Music Hall in Boston on 4/23 with DTCV.
38. Magnetic Fields – "Be True To Your Bar"
Stephin Merrit & co. have released another must-own epic. "50 Song Memoir" is out on Nonesuch.
For your calendar: Monday, April 24th at the ONCE Lounge in Somerville, MA: The next New Music Night. Note the special start time of 6:30pm, when I'll start spinning and handing out tickets…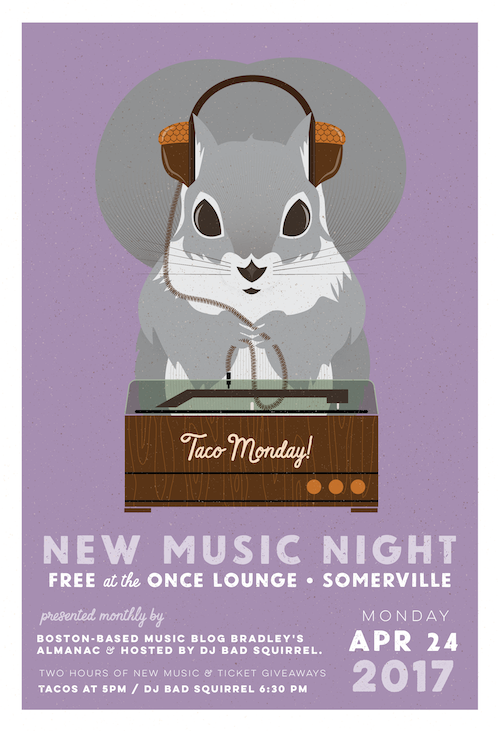 Comments