Posted on March 25, 2017 at 8:37 am | No Comments
Lend me yer eyes and ears, Boston-centric people, and allow me to tell you about a pretty special show happening tonight in Somerville: A three-band bill at the ONCE Lounge on Highland Avenue, featuring the return of a local fave, the first-ever area appearance by two excellent NYC-based combos, and a pre-and-between set soundtrack spun by a certain DJ Bad Squirrel. (uh, that would be me)
Headlining is Boston's own shoe-pop-dream-gaze quartet GOLD MUSE, who rose from the ashes of the much-beloved Soccer Mom in 2015, and haven't played out since last September. The foursome spent the winter months hibernating in their practice-cave, fine-tuning a slightly new lineup that now includes ex-Soccer Mom drummer Justin Kehoe (last seen playing in the touring config of New Dog). So, yes, that means Gold Muse is officially 3 parts Soccer Mom and 1 part Deb Warfield (Swirlies/Shenzou 5/Broken River Prophet). Great things await.
In the center spot: The mighty SAVAK, whose debut LP was one of my favorite records of last year, and are finally making the drive north from NYC to share their songs with us. I'll forego descriptors and give you their peerless pedigree: Ex-members of Obits, Holy Fuck, Nation of Ulysses, Edsel, and The Cops. If that ain't to get you there, just check out the video for "Alive In Shadows" and stream the track "Reaction" below. That should do it.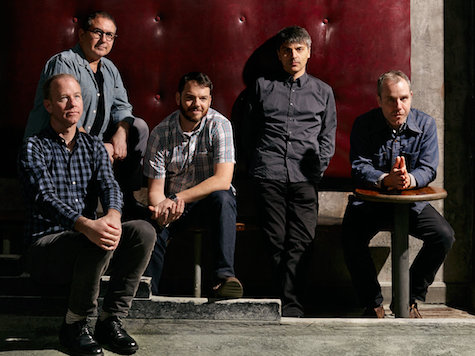 Easing us into the evening will be NYC's LAKE RUTH, also playing their first-ever Boston-area show. They made their recorded debut last year with a couple singles and June's "Actual Entity" full-length, and have already released two new songs this year: The lead-off track from The Blog That Celebrates Itself's latest dreampop compilation, and the Broadcast-esque single "Pictures From Home". Have a listen to both below…
I've been wanting to catch SAVAK on stage since I first heard 'em, so the fact that they're playing a tonight in ONCE's cozy upstairs lounge with one of Boston's best, and bringing another great NYC band with them, is a true treat. To be able to fill the before-and-between set hang time with some of my favorite songs will be my pleasure. Advance tickets here, doors (and DJing) at 8pm, bands on at 9. Join us tomorrow night, won't you?
Comments