Posted on May 15, 2017 at 9:12 am | No Comments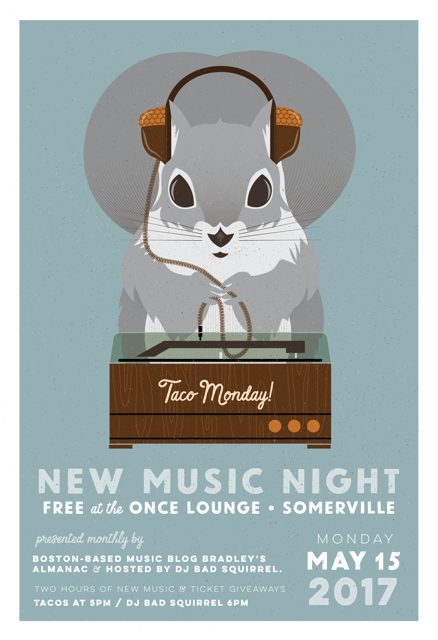 The May 2017 edition of NEW MUSIC NIGHT is going down this very evening at the wonderful ONCE Lounge in Somerville starting at 6pm. For the uninformed: Two hours of nuthin' but new songs spun between free ticket giveaways for a bunch of upcoming Boston-area shows, all while you chow down on some super-tasty tacos. It's a fine time indeed, a nice way to start the week, and I say that not just because I'm your sonic selector. I simply love hangin' at the place.
So what can ya win? How about pairs of tickets for imminent local appearances from Will Johnson (Centro-matic), John Moreland, Mary Timony (as Helium!), Land of Talk (!!!), Psychic Dog (album release!), When Particles Collide, PowerSlut, The Knock Ups, Charly Bliss, Yucky Duster, Lost Dog, Coco Hames (of the Ettes), and Little Bandit. Just show up, throw your entry in a Chinese take out container, and cross yer fingers that I call your name.
For the curious, below lies a look at last month's playlist, and if you want to dig deeper, check out my past & future 'Nac Tracks monthly streaming Soundcloud playlists of newly-discovered songs. If you can't make it tonight, shoot for next month's NMN on June 12th from 8-10pm.
NEW MUSIC NIGHT playlist
April 2017 Edition – 4/24/17
ONCE Lounge, Somerville, MA
01. Marissa Nadler – "Rosemary"
02. RRing – "100 Dollar Heat"
03. Tara Jane O'Neil – "Blow"
04. Thurston Moore – "Smoke Of Dreams"
05. Will Johnson – "Predator"
06. Doug Tuttle – "Can It Be"
07. Adopted Highways – "Up"
08. Eyelids – "Falling Eyes"
09. Waxahatchee – "Silver"
10. Big Thief – "Mythological Beauty"
11. Sheer – "To Love And Feel Alive"
12. Flock of Dimes – "Potential"
13. TW Walsh – "Terrible Freedom"
14. The Vacant Lots – "Night Nurse"
15. Beach Fossils – "This Year"
16. The Drums – "Blood Under My Bed"
17. Land Of Talk – "This Time"
18. Coco Hames – "Tiny Pieces"
19. Happyness – "Bigger Glass Less Full"
20. The Jesus and Mary Chain – "Always Sad"
21. The The – "Can't Stop What's Coming"
22. The Mountain Goats – "Andrew Eldritch is Moving Back to Leeds"
23. Future Teens – "Party Ethic"
24. Chain & the Gang – "Certain Kinds Of Trash"
25. Guided By Voices – "Dr. Feelgood Falls Off the Ocean"
26. Broken Social Scene – "Halfway Home"
27. Black Helicopter – "And I"
28. Angus – "I'm An Idiot"
29. Kestrels – "Thorn" (MBV cover)
30. The Van Pelt – "His Steppe Is My Prairie" (2017 remaster)
32. Helium – "Hole In The Ground" (2017 remaster)
33. The New Pornographers – "Whiteout Conditions"
34. Andrew Cohen & Light Coma – "Repack"
35. The New Year – "Myths"
36. Slowdive – "Sugar for the Pill"
37. Sharon Van Etten – "The End Of The World" (Skeeter Davis cover)
Comments