Posted on June 19, 2017 at 9:01 am | No Comments
Let the record show that the following list of carefully-compiled new selections were spun last Monday at the June 2017 edition of NEW MUSIC NIGHT at the ONCE Lounge in Somerville, Massachusetts. Two hours of new music, locavore tacos, & ticket giveaways (last week's winners got tix to see Ride, Land of Talk, Palehound, Now Now, & more).
Select songs are available to stream below, but for more new music, head to Soundcloud for my oft-updated monthly 'Nac tracks compilations.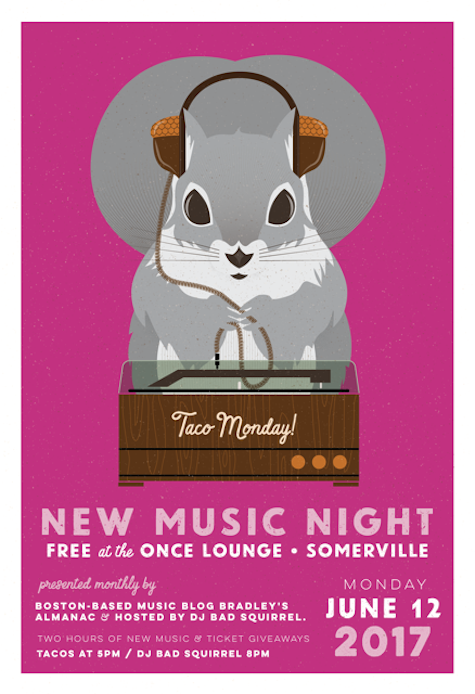 01. Iron & Wine – "Call It Dreaming"
from their upcoming "Beast Epic" LP, out in August on Sub Pop
02. Japanese Breakfast – "Boyish"
from "Soft Sounds From Another Planet", due out 7/14 via Dead Oceans
03. Luna – "One Together" (Fleetwood Mac cover)
off the forthcoming covers LP, "A Sentimental Education", out in September
04. Big Thief – "Shark Smile"
from their just-released new LP, "Capacity"
05. Stephen MacDonald (of the Okay Win) – "At Assembly"
from his solo LP, "Locale Divide", due out this week
06. Rob Crow – "Just Marking Time At This Point"
the Pinback co-captain's contribution to "Our First 100 Days"
07. People Like You – "Variations on an Aria"
first taste of their upcoming "Verse" LP, out 7/28 on Topshelf
08. The Drums – "Mirror"
from their just-released "Abysmal Thoughts" LP on Anti
09. Beach Fossils – "Tangerine"
featuring Rachel from Slowdive, from the new "Somersault" LP
10. The Pains of Being Pure at Heart – "When I Dance With You"
from "The Echo of Pleasure" LP, due out 7/14 via Painbow
11. Broken Social Scene – "Skyline"
from their upcoming "Hug of Thunder" LP, out 7/7 on Arts & Crafts
12. Courtney Barnett – "How to Boil an Egg"
from a new split singles 7-inch series
13. Swale – "Release Your Records!"
from their upcoming double LP "There's No One Here"
14. TW Walsh – "Dropout" (Alternate Version)
alternate take on a track from his recent "Terrible Freedom" LP
15. Palehound – "If You Met Her"
from their just-released "A Place I'll Always Go" LP
16. Waxahatchee – "Never Been Wrong"
from their "Out In The Storm" LP, out 7/14 on Merge Records
17. Alvvays – "In Undertow"
first single from their upcoming "Antisocialites" LP, out 9/8 via Polyvinyl
18. Tancred – "Birthday Candles"
a non-album track released as a new single
19. Now Now – "SGL"
new single to tide us over until their next record
20. Lake Ruth – "Dry Salt In Our Hair" (Le SuperHomard cover)
from a new EP of covers/remixes of this Le SuperHomard track
21. Land Of Talk – "Spiritual Intimidation"
from their just-released "Life After Youth" LP
22. Andrew Cohen & Light Coma – "Your Biography"
ex-Silkworm/Bottomless Pit member teams up with LC for the "Unreality" LP
23. No Hope / No Harm – "Roger Ailes Is Dead"
another Bandcamp-released single from this Boston-based band
24. Burglary Years – "Fake Flowers (Try Harder)"
their latest single, recorded at Converse Rubber Tracks Boston
25. Spiral Stairs – "Dundee Man"
from the former Pavement guy's latest record, "Doris & the Daggers"
26. David Barbe – "Portuguese Door"
from the former Sugar member's upcoming solo LP, "10th of Seas", out 8/18
27. Lo Tom – "Another Mistake"
D Bazan, T Many, TW Walsh, & J Martin made an LP, out 7/14 on Barsuk
28. Pet Symmetry – "Stare Collection"
from their recently-released "Vision" LP on Polyvinyl
29. Rainer Maria – "Lower Worlds"
first single from their self-titled comeback record, out 8/17 on Polyvinyl
30. Jason Loewenstein – "Hey Hey"
from his brand new solo LP, "Spooky Action", out now on Joyful Noise
31. Superchunk – "I Got Cut"
from their new 7-inch, released to benefit Planned Parenthood
32. Gogol Bordello – "Saboteur Blues"
first taste of upcoming "Seekers and Finders" LP, out 8/25 on Cooking Vinyl
33. Downtown Boys – "A Wall"
from their upcoming Sub Pop LP, "Cost of Living", out 8/11
34. Hot Water Music – "Never Going Back"
from their "Light It Up" LP, due out 9/15 on Rise Records
35. Dead Heavens – "Isn't Wrong"
from their just-released LP, "Whatever Witch You Are", out on Dine Alone
36. Camorra – "Roosevelt Champion"
off "Mourning, Resistance, Celebration" 10-inch EP, out 7/14 on Arctic Rodeo
37. Oh Sees – "The Static God"
They dropped the "Thee", and are releasing "Orc" on Castle Face on 8/25
38. Touts – "Political People"
off of "Sickening & Deplorable", newly-released on Hometown Records
39. Taiwan Housing Project – "Veblen Death Mask"
title track off their new Kill Rock Stars LP
40. A Giant Dog – "Photograph"
from their upcoming Merge Records LP, "Toy", due out 8/25
41. Able Baker Fox – "Drift"
from their long-awaited sophomore LP, "Visions", out 8/25 on No Sleep
42. The New Year – "The Party's Over"
from their new record, "Snow", available from Undertow
43. Ride – "Lannoy Point"
Lead-off track from their just-released "Weather Diaries" LP
Comments