Posted on April 27, 2022 at 11:32 am | Comments Off on [Music Docs] IFFBoston is back!
Tonight, it returns.
Among the many, many things that were canceled in the wake of the covid's arrival on U.S. shores in the Spring of 2020, one of the most personally painful was the almost-here 18th edition of the Independent Film Festival Boston. I've seen at least a couple films, and usually more, every single April since this incredible fest kicked off in 2003, including many that became fast favorites (and critical darlings), and I have countless memories of special post-screening appearances by various filmmakers & actors throughout the years.
It wasn't the loss of a chance to see their meticulously-selected lineup that truly hurt, though – it was knowing how much year-round work goes into the fest by their all-volunteer crew. Countless hours of venue coordination, staff communication, local promotion, plus all the pre-fest selection screenings, sponsor-wooing, and guest-wrangling. All just for the pure love of it. I'm such a fan of their core staff, and could only imaging how crushing it must have been to make that cancellation call two years ago.
After going all-online for last year's fest, I'm so very psyched that they're finally returning to our beloved Boston-area indie cinemas starting this evening, Wednesday, April 27th, with the opening night premiere of "Emily the Criminal" at the Somerville Theatre.
Back when the Almanac was a more active concern (and not just sporadic f*cebook posts & ever-present relaunch plans), I'd do a yearly IFFB preview, usually music-doc-centric. In honor of the fest's return, I thought I'd shine a brief but bright light on the four music-focused screenings this year, covering a ridiculously diverse list of artists: Courtney Barnett, James Cotton, Ronnie James Dio, & Mojo Nixon…

Anonymous Club
an intimate hang with Courtney Barnett
Screening on Saturday, April 30th at 4pm
at the Brattle Theater, Cambridge, MA / Tickets
From the SXSW film guide (where it made its premiere last month):
"With unprecedented, intimate access to the private life of Courtney Barnett, this innovative and stylised 16mm feature documentary follows a paradoxically introverted performer and anti-influencer, who, at the height of success, is ready to walk away. Long-time collaborator Danny Cohen's feature documentary reveals a woman who finds power in sharing her vulnerability. Recording her innermost thoughts on a Dictaphone over a period of three years, Courtney begins her slow acceptance of Danny Cohen's camera. This unique filming process mirrors Courtney's gradual search for purpose and emergence as an artist embracing her place in the world."

Bonnie Blue:
James Cotton's Life In The Blues
WORLD PREMIERE
Screening on Monday, May 2nd at 7:30pm
at the Somerville Theatre / Tickets
Director Bestor Cram and Executive Producers James Montgomery & Judith Laster are expected to be in attendance at the screening
From the IFFBoston website:
"Born in 1935 on Bonnie Blue plantation in Tunica, Mississippi, apprenticing with Sonny Boy Williamson II and Howlin' Wolf, and schooled by Muddy Waters, James "Super Harp" Cotton became a mentor to harp players around the globe as he brought the delta blues into mainstream rock 'n' roll. Orphaned at nine, Cotton's journey tracks America's history and his story is one of empowerment during a time when the weight of racial inequity made the journey seem impossible. BONNIE BLUE: JAMES COTTON'S LIFE IN THE BLUES is a unique portrait of an era and its impact today. Cotton's music made history; his musical voice was unique, and the blues were never the same.
After the world premiere of BONNIE BLUE: JAMES COTTON'S LIFE IN THE BLUES, stick around for great music featuring members of the James Montgomery Band, including Grammy-nominated singer and harpist James Montgomery, Guitarist George McCann, Bass player David Hull (Joe Perry Project), and drummer Marty Richards with special guests blues and funk master Willie J. Laws and one of the world's best blues duos Annie Raines and Paul Rishell."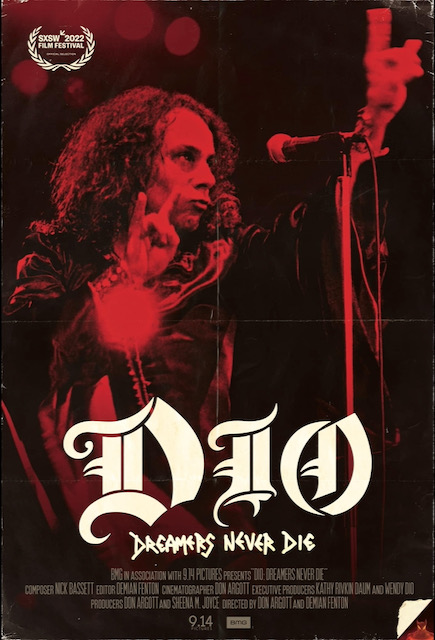 Screening on Friday, April 29th at 9:15pm
at the Somerville Theatre / Tickets
Director Don Argott expected to be in attendance at the screening
From the IFFBoston website:
"This career-spanning documentary on heavy metal legend Ronnie James Dio delves deep into his incredible rise from 50's doo-wop crooner, to his early classic rock days in Ritchie Blackmore's Rainbow, to replacing the iconic lead singer Ozzy Osborne in Black Sabbath, to finally cement his legend with DIO. Ronnie's biography is completely unique to the tired sex, drugs, and rock and roll cliches. The film is about perseverance, dreams, and the power to believe in yourself."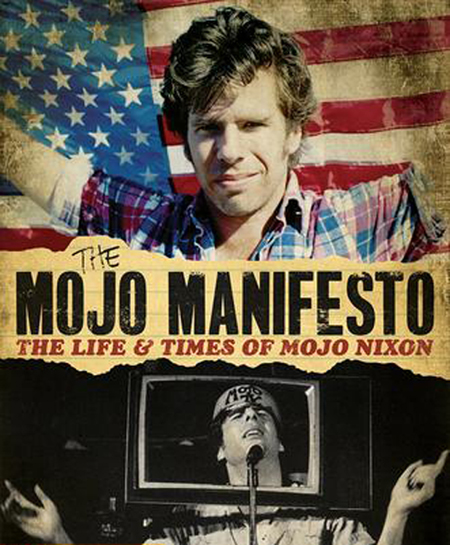 The Mojo Manifesto:
The Life & Times Of Mojo Nixon
Screening on Thursday, April 28th at 9:30pm
at the Somerville Theatre / Tickets
Director Matt Eskey and "co-star and manager-for-life" Bullethead are expected to be at the screening
From the IFFBoston website:
"Neill Kirby McMillan Jr. comes of age in Danville, VA, listening to records from his father's soul radio station and plotting his escape from the confines of conservative small town life. On a bicycle trip across the country, Kirby experiences The Mojo Revelation and becomes Mojo Nixon, a primitive blues-inspired musician. Mojo then teams up with the enigmatic Skid Roper to form an outrageous duo. Relentless touring, a record deal, college radio airplay, and MTV exposure lead to unexpected mainstream success. The song "Elvis Is Everywhere" is a cult phenomenon, but his next single is banned by MTV and Mojo makes a decision that could jeopardize his career."

For some non-music recommendations, check out these previews elsewhere: Film critic Ty Burr's "IFFBoston 2022: Ten Films to See" piece over on his Substack, the fest's own write-up of "Women Directed Films at IFFBoston 2022", a documentary run-down over at the Globe, and a list of "Seven must-see films at this year's festival" over at Vanyaland.
Welcome back, IFFBoston. See you in the seats.
Comments