Posted on September 12, 2005 at 8:29 am | No Comments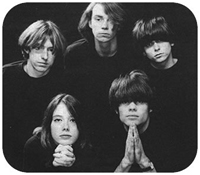 In keeping with that set of live Ride I offered up a couple weeks back, this week I'm going with what I often consider their 'sister band', Slowdive. One of the best shows of my life so far was in May of 1992, when they were on tour together and hit Seattle's now-defunct RKCNDY (Rockcandy).
I was on my first trip out west, flew into San Francisco and drove up the coast with my buddy Jim, pulling into Seattle on the same day as the concert. It was just a perfect night of pure bliss, both bands were right on, and the fanboy in me got to meet 'em as they kicked a soccer ball around the club parking lot. I've still got the autographed gig poster and one of Ride drummer Loz's shattered sticks to prove it. But this post isn't about Ride, it's about the brilliant band that opened for them that evening…
So here's Slowdive's set from that very night, transferred from cassette this past weekend…
Slowdive
live at RKCNDY, Seattle, WA
May 17th, 1992
1. Slowdive
2. Spanish Air
3. Bleed
4. Catch The Breeze
5. Joy
6. Morningrise
7. She Calls
8. Avalyn
Comments
Recent Posts
Recent Facebook Posts
On Saturday night, the one-n-only POND were inducted into the Oregon Music Hall of Fame, and played a killer six-song set for the Portland crowd…
The 'Nac on Twitter
Recent Comments
Almanac Archives
Search the 'Nac
Boston-Area Action
Friday, October 18th
Lynda Barry & Chris Ware
talk comics
@ the Brattle Theatre
---
Friday & Saturday
October 18th & 19th
The Town and the City Festival
returns to Lowell, MA!
---
Saturday & Sunday
October 19th & 20th
Cave In
Miltown
@ the Sinclair
---
Sunday, October 20th
Vivian Girls
@ ONCE Somerville
---
Sunday, October 20th
Stiff Little Fingers
The Avengers
@ Brighton Music Hall
---
Monday, October 21st
Cave In
@ Great Scott
---
Monday, October 21st
Nasalrod (with Spit from Fear)
The Darker Hues
Karate Steve
@ Charlie's
---
Tuesday, October 22nd
DIIV
Chastity
Storefront Church
@ the Paradise
---
Tuesday & Wednesday
October 22nd & 23rd
Against Me!
"2 nights, 4 records, 48 songs"
with Cursive & Dilly Dally
@ the Royale
---
Wednesday, October 23rd
Flipper (w/David Yow on vocals)
40th Anniversary Tour
@ the Middle East Downstairs
---
Wednesday, October 23rd
Helmet
@ the Paradise
---
Thursday, October 24th
Swervedriver
@ Sonia
---
Thursday, October 24th
The Ash Gray Proclamation presents…
The Astounds
Greed Island
Black Helicopter
Park Doing
@ O'Brien's
---
Thursday, October 24th
Titus Andronicus
Mal Blum
@ ONCE Somerville
---
Thursday, October 24th
The National
Marissa Nadler
@ Agganis Arena
---
Friday, October 25th
Jenny Lewis
The Watson Twins
@ the House of Blues
---
Friday, October 25th
Jukebox the Ghost
presents "Halloqueen"
with Zach Jones & the Tricky Bits
@ the Sinclair
---
Saturday, October 26th
Jay Som
Gia Margaret
Boy Scouts
@ the Sinclair
---
Friday & Saturday
October 25th & 26th
Steely Dan
@ the Orpheum
---
Saturday, October 26th
Glider
@ Once Somerville
---
Saturday, October 26th
Peter Hook & the Light
@ the Paradise
---
Sunday, October 27th
Hovvdy
Kevin Krauter
Caroline Says
@ Great Scott
---
Sunday, October 27th
Trashcan Sinatras
performing 'A Happy Pocket'
and 'Weightlifting' LPs acoustic
@ City Winery Boston
---
Sunday, October 27th
Cigarettes After Sex
@ the House of Blues Boston
---
Sunday, October 27th
The Wonder Years
Trash Boat
Future Teens
@ the Royale
---
Monday, October 28th
Fleetwood Mac
@ the Garden
---
Tuesday, October 29th
Sleater-Kinney
Joseph Keckler
@ the House of Blues Boston
---
Tuesday & Wednesday
October 29th, 30th, & November 1st
Steely Dan
@ the Orpheum
---
Wednesday, October 30th
Bradley's Almanac (that's me!) presents…
the New England Premiere of…
STRANGE NEGOTIATIONS
a David Bazan (Pedro the Lion) documentary
7pm @ the Brattle Theatre, Cambridge
with post-film remote director Q&A
---
Wednesday, October 30th
Devil's Night at OB's
Special Halloween Show with
Babes of Mutilation (Pixies)
Fury Things (Dinosaur Jr.)
The Knock Ups (as Hole)
Queers of the Stone Age
Corner Soul (as the Stooges)
@ O'Brien's in Allston
---
Wednesday, October 30th
Jónsi (Sigur Ros) & Alex Somers
"The Riceboy Sleeps" Tour
with the
Wordless Music Orchestra
@ the Wilbur
---
Wednesday, October 30th
King Princess
Girlpool
@ House of Blues
---
Wednesday, October 30th
The Milk Carton Kids
@ Brighton Music Hall
---
Thursday, October 31st
Marc Almond (Soft Cell)
Hercules & Love Affair
DJ Chris Ewen
@ the Paradise
---
Saturday, November 2nd
Richard Buckner
@ Atwood's
---
Saturday, November 2nd
White Reaper
The Nude Party
Wombo
@ the Sinclair
---
Sunday, November 3rd
Lost Film (record release!)
Pushflowers
Dee-Parts
@ O'Brien's
---
Monday, November 4th
The New Pornographers
Lady Lamb
@ the Royale
---
Wednesday, November 6th
Fruit Bats
@ the Sinclair
---
Wednesday, November 6th
SUPERCHUNK AF
"Acoustic Foolish"
@ Somerville Theatre
---
Friday, November 8th
The Veldt
New Aura
Mint Green
@ Dorchester Art Project
---
Saturday, November 9th
Lisa Prank
@ O'Brien's
---
Sunday, November 10th
The Last Waltz Tour
a tribute to the Band
with Warren Haynes, Jamey Johnson,
Lukas Nelson, and more
@ the Orpheum
---
Sunday, November 10th
The World Is A Terrible Place
And I Am Not Afraid To Die
with Harmony Woods
@ Great Scott
---
Monday, November 11th
Samiam
Moving Targets
F.U.'s
Far Above The Ground
Rockin' Bob's Punk Band
@ ONCE Somerville
---
Tuesday, November 12th
Ra Ra Riot
@ the Sinclair
---
Tuesday, November 12th
Chastity Belt
Strange Ranger
DJ Carbo
@ Brighton Music Hall
---
Thursday, November 14th
Tool
Killing Joke
@ TD Garden
---
Thursday, November 14th
Circa Waves
Parks
@ Great Scott
---
Thursday, November 14th
Robert Forster (Go-Betweens)
@ City Winery Boston
---
Friday, November 15th
Hiss Golden Messenger
@ the Sinclair
---
Friday, November 15th
White Denim
@ the Paradise
---
Saturday, November 16th
Caspian with the
Losander Chamber Orchestra
@ the Cabot in Beverly
---
Sunday, November 17th
(Sandy) Alex G
Tomberlin
Indigo de Souza
@ the Royale
---
Tuesday, November 19th
FKA twigs
@ the House of Blues
---
Tuesday, November 19th
Mikal Cronin
@ Great Scott
---
Tuesday, November 19th
Angel Olsen
Vagabon
@ the Royale
---
Wednesday, November 20th
Beach Bunny
Another Michael
@ Great Scott
---
Thursday, November 21st
Robert Gordon
Chris Spedding
Diablogato
@ ONCE Ballroom
---
Friday, November 22nd
Matt & Kim
@ House of Blues
---
Friday & Saturday
November 22nd & 23rd
Letters to Cleo
Speedy Ortiz
@ the Paradise
---
Sunday, November 24nd
Robyn Hitchcock
@ City Winery
---
Tuesday, December 3rd
The Joy Formidable
Twen
Bryde
@ Brighton Music Hall
---
Wednesday, December 4th
Lucy Dacus
Haley Heynderickx (solo)
@ the Royale
---
Wednesday, December 4th
Thurston Moore Group
@ ONCE Somerville
---
Thursday, December 5th
Twin Peaks
with Ohmme (afternoon show)
and Lala Lala (night show)
@ the Sinclair
---
Saturday, December 7th
J. Robbins (Jawbox/Burning Airlines)
full band show
@ Great Scott
---
Sunday, December 8th
The Fixx
Royston Langdon
@ Big Night Live
---
Sunday, December 8th
Cher
with Nile Rogers & Chic
@ the Garden
---
Monday, December 9th
Stove
@ ONCE Ballroom
---
Tuesday, December 10th
Pile
@ the Sinclair
---
Tuesday, December 10th
Turnover
Men I Trust
Renata Zeiguer
@ the Royale
---
Wednesday, December 11th
Pixies
Kristin Hersh Trio
@ Big Night Live
(new venue near TD Garden)
---
Wednesday, December 11th
Turnover
Men I Trust
Renata Zeiguer
@ the Sinclair
---
Wednesday, December 11th
Battles
@ Brighton Music Hall
---
Friday, December 13th
Mount Eerie
& Julie Doiron
@ the Somerville Armory
---
Friday, December 13th
Ween
@ the House of Blues
---
Friday, December 13th
Kevin Devine
& the Goddamn Band
An Horse
@ Brighton Music Hall
---
Saturday, December 14th
The Cult
"A Sonic Temple" Tour
with Spirit Animal
@ the House of Blues
---
Thursday, Friday, & Saturday
December 19th, 20th, & 21st
Lucero
@ the Sinclair
---
Saturday, December 21st
Piebald
@ Great Scott
---
Saturday, December 21st
Daughters
Health
Show Me The Body
@ the Paradise
---
Saturday, December 28th
The Push Stars
@ the Paradise
---
Thursday, January 2nd, 2020
The Felice Brothers
@ the Sinclair
---
Monday, January 6th
Motion City Soundtrack
@ the House of Blue Boston
---
Saturday, January 11th
Book of Love
DJ Chris Ewen
@ Brighton Music Hall
---
Thursday, January 16th
Camper Van Beethoven
@ the Middle East Downstairs
---
Sunday, February 1st
Nada Surf
Aaron Lee Tasjan
@ the Sinclair
---
Sunday, February 1st
Cold War Kids
@ the House of Blues
---
Thursday, February 13th
Tim and Eric
2020 Mandatory Attendance World Tour
@ the Orpheum
---
Wednesday, February 19th
Sloan play "Navy Blues"
@ Brighton Music Hall
---
Saturday & Sunday
February 22nd & 23rd
Hot Water Music
@ the Sinclair
---
Saturday, March 14th
Lower Dens
:3ION
@ Brighton Music Hall
---
Friday & Saturday
March 20th & 21st
Dashboard Confessional
The Get Up Kids
@ the Paradise
---
Sunday, March 22nd
Dashboard Confessional
@ the Paradise
---
Tuesday, March 24nd
Caribou
@ the House of Blues
---
Wednesday, March 25th
Keane
@ the Orpheum
---
Thursday, April 2nd
Sofi Tukker
"RIP Shame World" Tour
@ the House of Blues
---
Tuesday, April 14th
Patrick Watson
@ the Sinclair
---
Friday, April 24th
Dead Can Dance
Agnes Obel
@ the Wang