Posted on August 29, 2005 at 1:33 pm | 6 Comments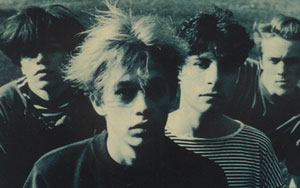 In March of 1993, Ride returned to the stage after a four month break to play a couple of gigs with the Charlatans that were dubbed the 'Daytripper' shows. Along with a warm up show, these nights marked their first appearances since the end of their banner year of 1992, and the first time they'd be playing new songs written during the downtime.
A few months later, I took my first-ever trip to London for 4AD's week-long 13 Year Itch series of shows, and was pretty overwhelmed by the number of bootleg cassettes available at the massive outdoor Camden Market. Not only did I grab a few Wedding Present tapes, but I found a recording of Ride's March 12th Daytripper gig, which had taken place at the Centre in Brighton.
For an obsessive Ride fan who'd read so much about the show in the imported NME and Melody Maker magazines, finding a recording of it was pretty damn exciting. Nearly wore the thing out in my walkman as I wandered solo around London.
But it survived the many repeated plays, and this past weekend I finally digitized and equalized the songs for sharing. Sixteen of 'em, including that new* stuff and a cover of The Who's "The Kids Are Alright". Here's the full set…
Ride
Live at the Centre, Brighton, UK
March 12th, 1993

01. Mouse Trap
02. Walk On Water *
03. Taste
04. Not Fazed
05. Sennen
06. Like a Daydream
07. Crown of Creation *
08. Time of Her Time
09. Since Then (aka Don't Let It Die) *
10. Twisterella
11. Drive Blind
12. Vapour Trail
13. Birdman *
14. Leave Them All Behind
15. The Kids Are Alright (The Who)
16. Seagull
Only two of those four new ones, 'Crown of Creation' and 'Birdman' (which was named 'Bad Man' on the bootleg) ended up appearing on their next album, 'Carnival of Light'. 'Since Then' would be reworked, retitled 'Don't Let It Die', and released on the 'Birdman EP' that preceeded the record, while 'Walk On Water' was saved for their final album, 'Tarantula'.
Enjoy the tracks, they'll be up for a couple weeks…
Comments