Posted on October 10, 2012 at 7:41 pm | 4 Comments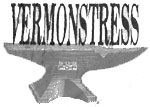 Back in 2008, on the occasion of
Sub Pop
's 20th anniversary,
I wrote about the 1992 Vermonstress Festival
, a 15-band, 2-day party the label threw in my hometown of Burlington, Vermont. Well, here we are in 2012, and I realized that today's date, October 10th, marks exactly two decades since that life-altering/affirming event went down. My first thought? I'm old. My second thought? I should re-share (almost all of) the ridiculously good full-set soundboard recordings from that very special weekend.
The positively stacked line-up:
Codeine, Velocity Girl, Come, Drop Nineteens, Beat Happening, Buffalo Tom, Six Finger Satellite, Eric's Trip, Barbara Manning, Giant Sand, Sloan, Green Magnet School
, (the real)
Pond, Crow, Chris Harford, HP Zinker
and home-state invitees
The World According To Steve
.

129 live MP3s, and this time I've saved you some effort: Here they are in one gigantic .zip file.
(As I mentioned when I first offered this up, the old Maxell XLII-90 cassette with Buffalo Tom and The World According to Steve's sets sadly disappeared ages ago. I think I've finally given up hope that it would find its way back to me one day. Apologies, fellow BT fans. And if anyone knows the missing titles of the HP Zinker tracks, speak up.)
Enjoy…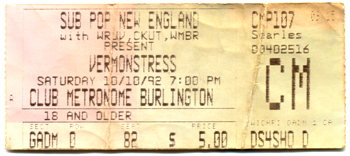 Vermonstress – Day 1
Saturday, October 10th, 1992
Codeine
01. Realize
02. Jr.
03. Barely Real
04. Cave-In
05. Hard to Find
06. D
07. Broken-Hearted Wine

Come
01. Dead Molly
02. William
03. Submerge
04. Last Mistake
05. Fast Piss Blues
06. Bell
07. Car
08. S.V.K.

Drop Nineteens
01. Delaware
02. Mayfield
03. Winona
04. Astral
05. Happen
06. My Aquarium
07. Reberrymemberer
08. Angel (Madonna cover)

Velocity Girl
01. Doesn't Matter
02. 57 Waltz
03. Copacetic
04. Pretty Sister
05. Stupid Thing
06. Warm/Crawl
07. My Forgotten Favorite
08. Creepy
09. Crazy Town

Crow
01. Eyes are Bruised
02. Railhead
03. Light
04. Prisoner
05. The Charley Horses
06. God-Fearing Shareholders of the World
07. EJ

Pond
01. Grinned
02. Young Splendor
03. Perfect Four
04. Wheel
05. Pretty Thing (Bo Diddley cover)
06. Spots
07. Agatha / Filler

Beat Happening
01. Tiger Trap
02. Teenage Caveman
03. Sleepyhead
04. Dreamy
05. banter
06. Red Head Walkin'
07. Other Side
08. Revolution Come and Gone
09. Nancy Sin
10. Noise
11. Godsend
12. Cry For A Shadow
13. Me Untamed
14. You Turn Me On
15. Crashing Through
---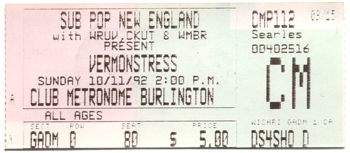 Vermonstress – Day 2
Sunday, October 11th, 1992

Six Finger Satellite
01. Sex Transistor
02. Niponese National Anthem
03. Laughing Larry
04. Polish the Shine (Satchmo)
05. Home for the Holy Day
06. Crippled Monster Bearing Malice

Green Magnet School
01. Sonic Exterminator
02. Noxin
03. Barmecide Room
04. Don't Cry (Neil Young)
05. Singed
06. 12 Guage
07. Penance

Sloan
01. Sleepover
02. Lucky For Me
03. Shame Shame
04. Ill-Placed Trust
05. Underwhelmed
06. Take It In
07. Marcus Said
08. Pretty Voice

Giant Sand
01. Neon Filler
02. Song 02
03. Sage Advice
04. Wearing the Robes of Bible Black
05. Solomon's Ride / Stuck
06. Unwed and Well Sped

Barbara Manning
01. Never Park
02. Breathe Lies
03. Someone Wants You Dead
04. Don't Rewind
05. Winter Song
06. On On and One
07. Smoking Her Wings (Bats cover)
08. Lock Yer Room (up tight)
09. Scissors

Eric's Trip
01. Kiss Me Baby / Smother
02. Listen
03. Haze
04. Belong
05. Happens All The Time
06. Float
07. Belly
08. My Chest Is Empty (part 2)
09. Blinded
10. Bring Down the Rain
11. Easier Last Time
12. Open Your Heart (Madonna cover)

Chris Harford
and the First Rays of the New Rising Sun
01. Swinging Bridge
02. Raise the Roof
03. Looking For Light
04. Road With You
05. If You Forget Me
06. Pop Life (Prince cover)
07. You Brains
08. The Living End
09. Gather Round / Sing, Breathe, and Be Merry

HP Zinker
01. Song 1
02. Song 2
03. Song 3
04. Trapped
05. Song 5
06. Song 6
07. Song 7
08. Song 8
09. Song 9
10. Warzone City
11. Song 11
---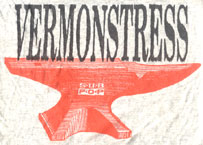 The Vermonstress t-shirt (click to enlarge)
Comments