Posted on October 5, 2023 at 5:20 pm | No Comments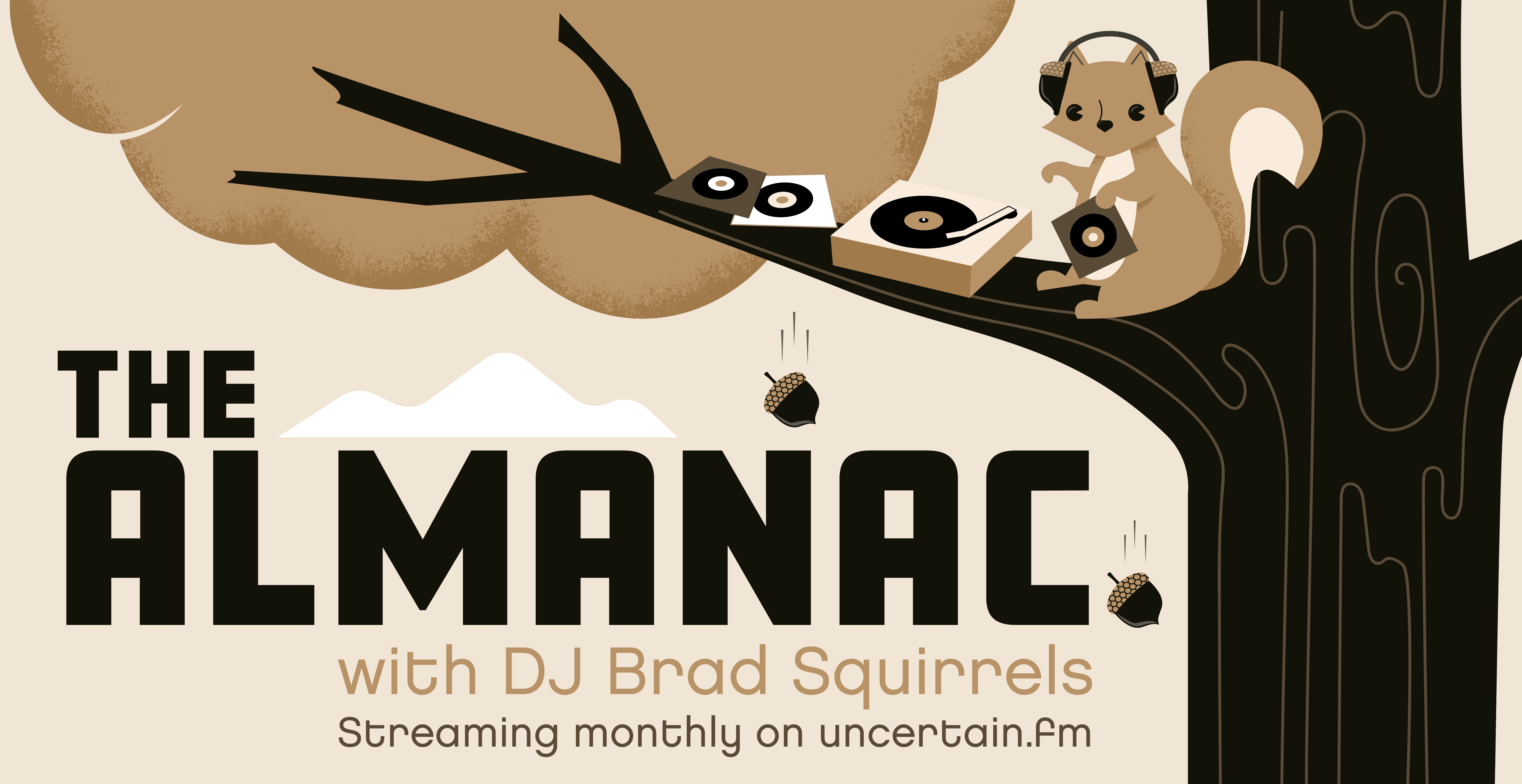 Wednesday, October 4th brought the debut episode of a new streaming radio show I'm hosting over at Uncertain.FM called, surprisingly enough, "The Almanac". On the first Wednesday of every month at 8pm EST (and repeating the next day at 4pm EST) I'll spin a 2-hour set of mostly new songs, many from bands I've recently seen or will be catching soon, with the occasional older fave or selected spotlight. Once the Thursday repeat airs I'll share the track list here, with brief track details and upcoming shows that I mentioned during the episode. If you missed this one, check out the next new episode on Wednesday night, November 1st.
So here it is, a rundown of episode 1 of The Almanac…
The Almanac – Episode 1

on
Uncertain.FM
Wednesday, October 4th, 2023
from 8 – 10pm Eastern time
1. Madelines – "Bradley's Almanac"
From a 1994 self-titled cassette, kinda had to kick off the first show with this one. More info on the band and this song right here.
2. Starflyer 59 – "Young In My Head"
The title track from Jason Martin's excellent and criminally underheard 2019 record. "Now I'm just young in my head, Where do I go to feel like I'm there again?". Apparently my answer to this question is 'lots of rock shows'.
3. Hey I'm Outside – "Racecar"
New Bandcamp single from Hey I'm Outside, the latest project from former I Wish I Could Skateboard members Patrick & Hannah. I adored their old band, so was very happy when they started playing out. I've seen them a couple times as a duo, and they've recently recruited a live drummer, so I'm looking forward to seeing the trio at Idle Hands in Malden, MA on November 10th with Talking Kind & Ezra Cohen.
4. Drop Nineteens – "Scapa Flow"
Their first new song in 30 years, from an LP titled "Hard Light" that's out on November 3rd on Wharf Cat. They had to delay a string of reunion tourdates from this month until next April, but I am a patient boy.
5. Squirrel Flower – "Full Time Job"
From the out-next-week "Tomorrow's Fire" LP. Ella Williams & company will play Boston on October 24th at Brighton Music Hall with Truth Club and Merce Lemon.
6. DIIV – "When You Sleep" (My Bloody Valentine cover)
DIIV covered this MBV song back in 2017 during a stripped-down set and released it last year on the "Live at The Murmrr Theatre" LP. Zachary Cole Smith & his band recently started a tour with Depeche Mode, and they'll hit a cozy little venue called the TD Garden in Boston on Halloween night.
7. The Garment District – "The Island of Stability"
From the "Flowers Telegraphed to All Parts of the World" LP, which was recently released on Happy Happy Birthday to Me Records. Jennifer Baron (from The Ladybug Transistor, Saturnine, & more) is behind this new-ish project, and she brought along some friends & family to contribute to the debut record. Speaking of Ladybug, they've got some rare tourdates coming up in November, including shows in New York, Pittsburgh, Cincinnati, Kalamazoo, & Chicago, and I'm trying to figure out how the hell I can get myself to one of those.
8. Evelyn Pope – "Surround Yourself In Sound"
An new Bandcamp single from the former half of electronic/pop duo Ashby and current member of Boston-area band Rosecomb.
9. Land of Talk – "Your Beautiful Self"
The first shared song from Elizabeth Powell's next LP, "Performances" which arrives next week on Saddle Creek.
10. Justine and the Unclean – "Fourth Love"
A song from "The Signal Light", what is now sadly the last album from Justine Covault's band, as she tragically passed away in June, far too young. Obviously a devastating loss for her friends & family, but also a tremendous one for the Boston-area music community, where she was a singular force, putting on shows and putting out records on her Red on Red record label. To mark the loss and celebrate her life, there's a tribute night happening tomorrow, Friday, October 6th, at the Crystal Ballroom in Somerville.
11. John P. Strohm – "Ready For Nothing"
The lead off track from the former Blake Babies/Antenna/Lemonheads member's first new record in 15 years, "Something To Look Forward To", which was just released on Propeller Sound Recordings.
12. Kristin Hersh – "Thank You, Corner Blight"
From the Throwing Muses/50 Foot Wave frontwoman's new solo record, "Clear Pond Road". I'm a proud Strange Angel, which is the name for a collective of fans who pitch in to help her create and record her new music, so if you're into something like that, go right here.
13. Belly – "Sweet Ride"
My favorite Belly song? Sometimes! Originally from their 1992 "Gepetto" EP, it was most recently included on their "Bees" rarities collection. The band has returned to live action this week and is playing some east coast shows, including last night and tonight, October 4th & 5th, here in Boston at the Paradise. In a couple weeks they'll hit the west coast for a few dates with the Breeders (and I sooo wish I could make it out to one of those :-/).
14. Hallelujah the Hills – "Samantha, You're the Only Mistake I Know How to Make" (early rough mix)
An early rough mix for their Patreon subscribers, to be eventually be heard in its final form on their insane, in-progress 4-album project titled DECKS. A 13-track album for each suit, 52 songs in all, this one will eventually be found on the Diamonds LP.
15. Lost Film – "Stay"
From the Easthampton band's new record "Keep It Together". Lost Film's set at the Rockwell in Somerville back in August was one of my personal highlights of last summer's Nice, A Fest.
16. Film School – "Baby"
Off the LA band's recently-released full length, "Field", on Felte Records.
17. Speedy Ortiz – "Ranch vs. Ranch"
From their new "Rabbit Rabbit" LP. They recently played the Armory in Somerville, MA near the beginning of a simply massive North American tour, which winds up in Detroit around Thanksgiving.
18. Palehound – "Clutch"
Off their latest record, "Eye On The Bat". As a longtime Palehound fan I was psyched to see them score an opening slot for a couple of recent Boygenius dates, but I was definitely not psyched to get shut out on first-round tickets. Resale prices were nuts so I skipped it, but thankfully they announced a headlining show at the Sinclair in Cambridge on Wednesday, October 18th, and I am very, very there.
19. The Reds, Pinks & Purples – "Build Love"
The title track off a brand new RP&Ps Bandcamp EP. I love that Glenn Donaldson shares random surprise tracks and cool covers over there. But I do not love that his band has yet to play the Boston area. :-/
20. Will Johnson – "The Conductor Calls"
A track from the Centro-matic frontman's ace new solo LP, "No Ordinary Crown". Will has been touring as part of Jason Isbell's band for awhile now (and was on TV earlier this week!), which means no solo tours in support of the new record, but I'm hopeful that'll happen down the road.
21. Sparklehorse – "Chaos of the Universe"
From the recently released posthumous record. It's been over 13 years since Mark Linkous left us, and his close family & friends spent some of that time digging through all his nearly-finished songs so they could gift us with the "Bird Machine" LP, which arrived last month.
22. Free Range – "Want To Know"
I skipped the pre-show research and went in cold for Free Range's opening slot with Ratboys last week, and was very pleasantly surprised. Enough to stop by the merch table and grab their debut LP, "Practice", which starts off with this song that closed out their live set.
23. Pilot to Gunner – "Ship Jumpers"
My favorite song from PtG's latest LP on Arctic Rodeo, "Hail Hallucinator". The NYC quartet was supposed to play Friday night at the Middle East with Garrison, Orange Island, Sinaloa, and Not Bad Not Well, but had to bail, unfortunately. The rest of the bands are still playing, including headliner…
24. Garrison – "Stand Up, State Your Name"
A new/old track, this was originally released on a split 7-inch with Orange Island back in 2003, and has been remastered for a new edition that officially comes out tomorrow (Friday, 10/6), when both bands are playing the Middle East together. If you ordered it direct, like I did, then it should already be in your hands and on your turntable.
25. Stars Like Ours – "What's Going Wrong"
The lead-off track from their "Better Every Day" EP, which arrives this Friday courtesy of area label Rum Bar Records.
26. Superchunk – "February Punk"
Another old-slash-new song that was a b-side to a limited edition 7-inch back in 2010, and can now be more easily found on their upcoming Misfits & Mistakes compilation that gathers together singles, b-sides, and other rare tracks. It's out on October 27th courtesy of Merge, of course.
27. Tsunami – "Old City"
What better after an old/new Superchunk song than an old/new Tsunami track? This one's a 1997 b-side that was just digitally reissued by the Numero Group, hopefully the first of many that will, fingers crossed, lead up to a massive Tsunami box set.
28. Lightheaded – "Love Is Overrated"
The closing track from this New Jersey combo's "Good Good Great!" EP, which comes out on October 13th from the esteemed Slumberland Record label.
29. Connie Lovatt – "Heart"
A song from her first-ever solo record, "Coconut Mirror", which was just released on the Enchanté record label, which is run by the crew behind the wonderful long-running magazine Chickfactor magazine. Connie played in the Pacific Ocean, and was one half of duo Containe with Fontaine Toups from Versus, she's got a ridiculous list of guest collaborators on the LP: James McNew from Yo La Tengo, Jim White form the Dirty Three, Bill Callahan (who Containe used to play with in Smog), James Baluyut from Versus & Plus Minus, the list goes on. Head over to Enchanté on Bandcamp to grab it.
30. Milly – "Grab The Wheel"
A brand new single from LA band Milly, who are currently on tour and will play O'Brien's in Allston, MA on Sunday, October 22nd with Rocket & Crescent Ridge. Cannot wait to see them play that room.
Upcoming October Boston-area shows mentioned in this episode…
Wednesday & Thursday
October 4th & 5th
Belly & The Parkington Sisters
@ the Paradise
Friday, October 6th
"A Night for Justine: Tribute Concert For Justine Covault"
@ the Crystal Ballroom
Friday, October 6th
Garrison / Orange Island / Sinaloa / Not Bad Not Well
@ the Middle East Downstairs
Wednesday, October 18th
Palehound & Empath
@ the Sinclair
Sunday, October 22nd
Milly / Rocket / Crescent Ridge
@ O'Brien's
Tuesday, October 24th
Squirrel Flower / Truth Club / Knifeplay
@ Brighton Music Hall
Tuesday, October 31st
Depeche Mode & DIIV
@ the Garden
So there you go, episode one is officially in the books. As I said, if you missed the first airing or the replay, tune in next new episode on Wednesday night, November 1st, at 8pm EST over at Uncertain.fm.
Comments