Posted on November 8, 2023 at 10:54 am | No Comments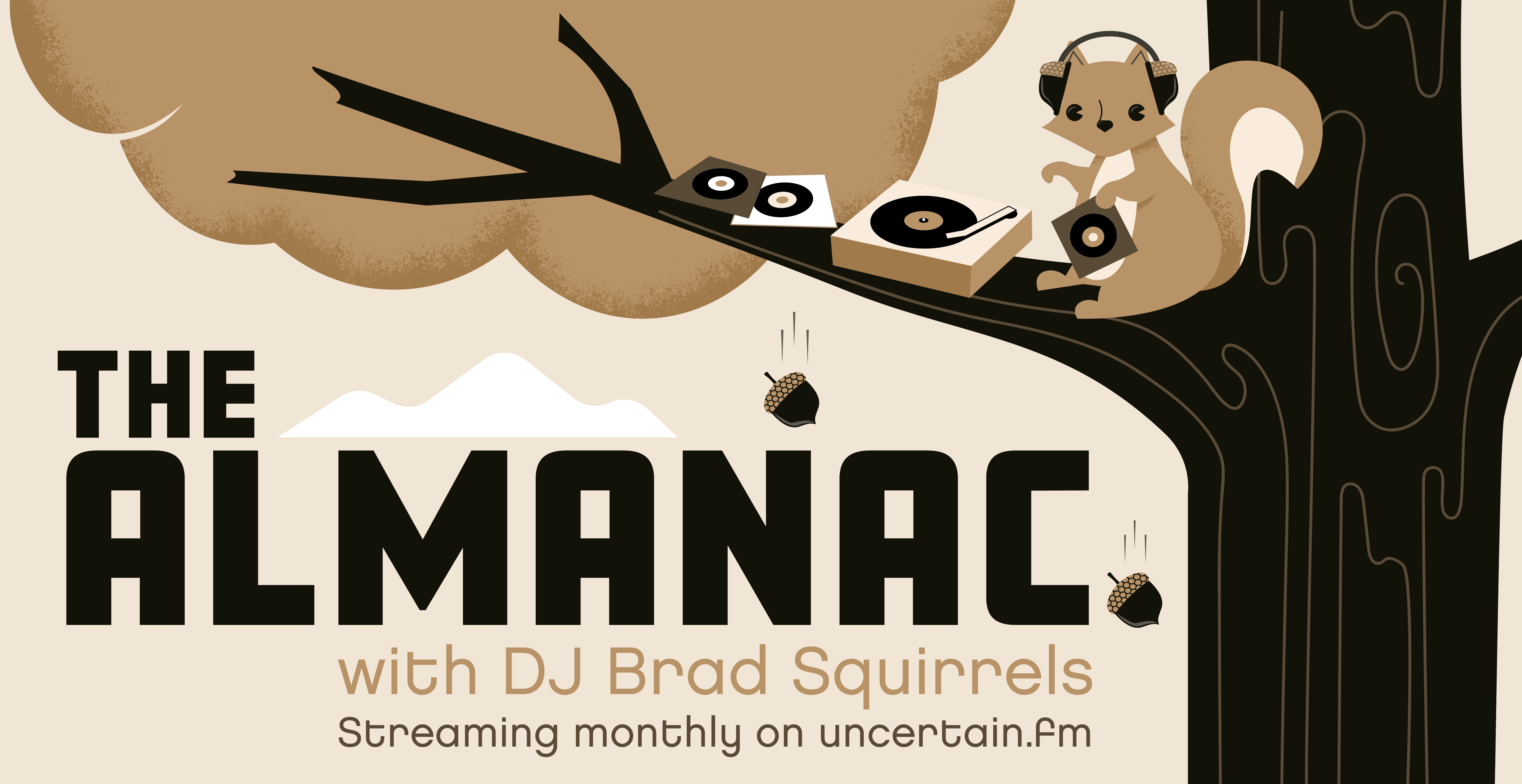 Episode two! I guess that means this is a regular thing now? The November edition of "The Almanac" aired on Wednesday the 1st at 8pm Eastern over on Uncertain.FM, and got a replay the following day at 4pm. This thing'll happen on the first Wednesday of every month until I burn out (which may be sooner than you think). What's in it? A couple hours of mostly new songs, a bunch from bands I've recently seen or plan to see, with the occasional random fave thrown in. This month even brought the public debut of a new track (see #12 below), which I hope to have happen every once in awhile. Each month I'll share the track-by-track rundown here. Miss this month's? Set a reminder for Wednesday, December 6th at 8pm EST (or 12/7 at 4pm) to catch episode numero three.
Here 'tis, the rundown for episode 2 of The Almanac…

The Almanac – Episode 2
on Uncertain.FM
Wednesday, November 1st, 2023
from 8-10pm EST
1. The Wedding Present – "Happy Birthday" (Altered Images cover)
From their May 24th, 1988 Peel Session, which can be found on their Complete Peel Sessions compilation. Played because, well, it was my birthday.
2. The Umbrellas – "Three Cheers!"
The lead-off track from their forthcoming second album "Fairweather Friend", out January 26th, 2024 on Slumberland Records & Tough Love Records.
3. Ducks Ltd. – "The Main Thing"
New single out on Carpark Records, featuring Ratboys' Julia Steiner, Dehd's Jason Balla, and Moontype's Margaret McCarthy on backing vocals.
4. Guided By Voices – "The Race Is On, The King Is Dead"
The first song from the upcoming "Nowhere To Go But Up" LP, due out November 24th. For those keeping score at home, it's their 3rd record this year, and 39th full length ever. Ridiculous. Happy birthday to frontman Robert Pollard, who turned 66 on Halloween.
5. Circus Devils – "Strawberry Limousine"
Another Pollard-fronted-project, this one with the Tobias Brothers, and this track's from their upcoming "Squeeze The Needle" LP. A delayed request from Allison for last month's episode, so I'm happy to finally honor that ask.
6. Dowsing – "It Was Easy"
From the Chicago band's upcoming fifth LP, out on December 1st from Storm Chasers LTD and Asian Man Records. Video here.
7. Car Colors – "I'll Bear"
The first new music from former Wrens member Charles Bissell in ages, a long-awaited, 3-track EP titled "Old Death", out on November 17th. It's a per-cursor to an upcoming full-length, and its release marks the welcome resurrection of Absolutely Kosher records.
8. The American Analog Set – "The Quiet Dark"
I'll admit I've been listening to pretty much nothing but the new American Analog Set record, "For Forever", since it arrived on my doorstep a couple weeks ago. I can't believe it exists. Out of nowhere, one of my favorite bands of all time announces a new record and less than a month later it's in my hands. And it's incredible. Filled with gratitude over here.
9. DIIV – "Housejam"
A new stand-alone single from DIIV, who have been opening up for Depeche Mode on their current tour. The song is currently only available to stream through this slightly strange website over at soul-net.co
10. Drop Nineteens – "The Price Was High"
Off their comeback record, "Hard Light", which just arrived on Friday.
11. Landing – "Awake"
From the Connecticut quartet's brand new digital single, available via Bandcamp.
12. Ezra Cares – "Heavy Things" (premiere)
The premiere of an upcoming digital single (out on November 24th) from Ezra Walsh, aka Ezra Cares. The song features his dad TW (Lo Tom/The Soft Drugs/Pedro the Lion) on drums and his brother Noah on bass, and it's his first new music since a 2020 solo album, which is available on Bandcamp. You'll be able to grab "Heavy Things" there in a few weeks.
13. Say Sue Me – "4am"
The Buson, South Korea quartet's From the Lush co-founder's first-ever solo LP, "Pearlies", which came out on October 20th on Sonic Cathedral
15. Trash Sun – "Get Me Through"
The lead off track from their new "Purgatory Road" LP, due out on November 11th. They've got a bunch of November East Coast tourdates booked, including the 12th at the Cantab in Cambridge and the 20th at O'Brien's in Allston.
16. Idles – "Dancer"
The first shared song from their next LP, "Tangk", out in February.
17. Bar Italia – "Worlds Greatest Emoter"
From "The Twits" LP, which just came out last Friday courtesy of Matador in the US.
18. Night Court – "Little Darkness"
An epic that clocks in at 20 seconds, shorter than the intros for most others. This comes off their new "Frater Set" EP on Dromedary Records, which you can grab on a lathe cut 7-inch.
19. Ian Sweet – "Smoking Again"
From the just-released "Sucker" LP on Polyvinyl.
20. The Reds, Pinks & Purples – "Creature Hero"
Off the recently-released 5-track "Murder, Oral Sex & Cigarettes" digital EP.
21. Letters To Cleo – "Bad Man"
From a 7-inch that will be sold at their shows this month celebrating the 30th anniversary of their "Aurora Gory Alice" album. They hit the Paradise in Boston on November 17th & 18th with the Gigolo Aunts.
22. Laughing Chimes – "A Promise To Keep"
Off their new digital Slumberland single, on which they also cover the Ocean Blue's "Ballerina Out Of Control".
23. Joe Wong – "Into Nothing"
A new song (with guests Mary Timony & Matt Cameron) from the Trap Set podcast host's "Mere Survival" LP, due out on February 2nd. Other collaborators include Nate Mendel, Jim Keltner, Money Mark, Anna Waronker, Craig Wedren, & Joey Waronker.
24. Grandaddy – "Watercooler"
Jason Lytle returns in February with an LP titled "Blue Wav" on Dangerbird, and this is the first taste.
25. J. Robbins – "Everything Is Right" (Velvet Monkeys cover)
J. offered up an excellent 3-song digital EP a couple weeks back ahead of Halloween titled "Three Masks" that includes covers of Einstürzende Neubauten, Government Issue, and this one, his take on Velvet Monkey's "Everything Is Right".
26. Superdown – "Away"
Off their new "Return to Sender" LP, which came out a couple weeks back on Count Your Lucky Stars.
27. Saturdays At Your Place – "Pourover"
From a new No Sleep Records digital compilation called "That's What Friends Are For", which also features songs Summerbruise and Shoplifter, and arrives on November 17th.
28. The Beths with Pickle Darling – "Brand New Colony" (Postal Service cover)
A cover of the Postal Service song from a split 7-inch that also includes Car Seat Headrest doing Death Cab For Cutie's "We Looked Like Giants".
29. The New Pornographers – "Firework in the Falling Snow" (acoustic w/Aimee Mann)
A newly-recorded stripped-down version of a song from their most recent LP, "Continue as a Guest", with guest vocals from Aimee Mann.
30. Liam Lynch – "Before"
The first single from an upcoming album entitled "What The Moths Say".
31. Gregory and the Hawk – "Some White Mountain"
From the "Quarantunes" LP, just out last Friday on Bandcamp. I'm a proud contributor to Meredith Godreau's Patreon page, where she's been sharing these songs as in-progress demos with performance videos & the occasional live stream. A true comfort during lockdown and beyond, and I'm glad that the songs have all been compiled, mastered, and released so that more people can hear 'em.
32. Jolie Laide – "Why I Drink"
A new collaboration from Nina Nastasia & Jeff MacLeod, their self-titled debut is out on November 17th from Oscar Street Records.
33. Idaho – "Just Might Run"
A song from the repressed and newly-remastered edition of "The Lone Gunman" LP, which just came out on Halloween. Keep an eye out for the "Traces of Glory: The Musical Journey of Idaho" documentary, which I was fortunately enough to see recently. Deeply moving and well worth a watch for fans & future fans alike.
34. Oneida – "Halloween" (Siouxsie & the Banshees cover)
A newly-shared Siouxsie & The Banshees cover from Oneida with guest vocals from Katie Eastburn (aka KATIEE).
35. Matt Pond PA – "Halloween Two"
A duet with Alexa Rose now available on Bandcamp, and a sequel of sorts to the song "Halloween" on the 2005 "Several Arrows Later" LP. They'll be releasing a collaborative EP sometime soon.
36. Lou Barlow – "Haunted House" (Raw Impressions version)
From the Oct. 16th mini-music Monday episode of the indispensable Raw Impressions podcast that Lou hosts with his wife Adele. If you don't regularly stream that podcast, I highly recommend it. Those two are a goddamn delight together.
Tune in next new episode on Wednesday night, December 6th at 8pm EST, or the replay on Thursday the 7th at 4pm, over at Uncertain.fm.
Comments