Posted on October 31, 2011 at 7:48 am | No Comments
Wait, was this really over two weeks ago? Well, that was a blur. While I won't deny I got my usual kick out of playing new songs for sociable patrons at my favorite Cambridge bar, the preparation and follow-through were just plain rough. Jetlag + influenza do not a fun equation make.
I was freshly back from drumming on the (flat-out amazing) 10-day Let's Whisper UK tour, which ended with a 7-hour drive, a 7-hour flight, a few hours sleep, a crazy workday, a 4-hour drive, and a homecoming show. Followed closely by a full-body collapse. And yes, just as I started getting over some fairly debilitating jetlag, and began plotting my NMNIII playlist, the first flu symptoms arose. I came so very close to bailing out on my co-DJ (Mr. Jay Clicky Clicky), but I hung in there – hoping that the songs, and a hot tottie, would heal me. While that combo (mostly) got me through the night, it merely delayed the inevitable… a string of long days in bed. Took me over a week afterwards to feel even remotely like myself.
But enough of the whining. I'm healthy and over it. Let's get to what was played a couple Thursdays back at River Gods. First, go read Jay's list of new songs he played that night. You'll note that he posted his playlist precisely at 1:00am on October 14th. Exactly when his set ended. Holy hell, he's on the ball. Puts me to shame, he does. Even if I wasn't sick, or jetlagged, or generally out of my mind, I still wouldn't have been able to beat that. I mean, daaaaaaayum.
My NMNIII selections were as follows. Listen/buy info included if available, and click on the MP3 links to download the artist-approved tracks directly.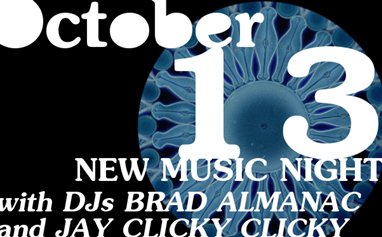 NEW MUSIC NIGHT vol. III
Thursday, October 13th, 2011
at River Gods in Cambridge, MA
co-hosted by DJs Brad Almanac & Jay Clicky Clicky
[ download the 7 guilt-free MP3s shared below in a 43 MB .zip file ]
[ * = Boston-area artist ]
Set One / 9pm-10pm
Brad Almanac
01. Dan Mangan – "About As Helpful As You Can Be Without Being Any Help At All"
[ Lead-off track from his new LP, "Oh Fortune" / Buy it / Stream song @ KCRW ]
02. Tommy Stinson – "One Man Mutiny"
[ Title cut from his new solo record / Buy it / Download MP3 @ Topspin ]
03. Loney Dear – "Will You Still Love Me Tomorrow" (Shirelles cover)
[ Live on Sverig Radio 8/31/11 / Buy new "Hall Music" LP / Stream LP / Live MP3 ]
04. Standard Fare – "Darth Vader"
[ From their forthcoming (brilliant!) second LP, "Out Of Sight, Out Of Town" ]
05. Crooked Fingers – "The Counterfeiter"
[ My fave track from the new "Breaks In The Armor" LP / Buy LP / Stream LP ]
06. We Are Augustines – "New Drink For The Old Drunk" (Crooked Fingers cover)
[ From their debut LP, "Rise Ye Sunken Ships" / Buy on iTunes / Soundcloud / Stream LP ]
07. Fanfarlo – "Deconstruction"
[ First single from forthcoming "Rooms Filled With Light" LP / Stream two songs ]
08. M83 – "Raconte-Moi Une Histoire"
[ From the new "Hurry Up, We're Dreaming" LP / Buy it / Soundcloud stream ]
09. The Drums – "Days"
[ From their new "Portamento" LP / Buy it / KCRW live video ]
10. Kathryn Calder – "Who Are You?"
[ From her just-released "Bright and Vivid" LP / Buy on iTunes / MP3 ]
11. Rob Crow – "Scalped"
[ From the new LP, "He Thinks He's People" / Buy it / MP3 of "Sophistructure" ]
12. Hospitality – "Friends of Friends"
[ First song from new Merge Records band / Pre-order album / MP3 ]
13. Model Village – "Bouncers"
[ From their self-titled EP / Buy or stream at Bandcamp ]
14. Sulk – "Wishes"
[ Debut single / Video / Download the B-side ]
15. For Abel – "Yorkshire"
[ Latest single from new full-length / Stream at Soundcloud ]
16. * Reports – "Sub Toucher"
[ Off the new "Dinamo Cambridge" LP / Name your price at Bandcamp / Stream song ]
17. * Slowdim – "Wishing Well" (Reverb Mix)
[ Alternate version from "Spirals" EP / Buy at Bandcamp / Download MP3 at OTD ]
[ Visit Clicky Clicky for Jay's 10-11pm playlist ]
Set Three / 11pm-12pm
Brad Almanac, until I succumbed to the plague, then Jay
18. Tennis – "Tell Her No" (Zombies cover)
[ Free non-album cover version / Stream or download at their website ]
19. Speed The Plough – "Inbetween Dreams"
[ From their new LP, "Shine" / Buy it from Dromedary / MP3 ]
20. The Mommyheads – "Another Crowded House"
[ From "Delicate Friction", their first new LP in a looong time / Buy it on Dromedary / MP3 ]
21. * TW Walsh – "Make It Rhyme"
[ From the new "Songs of Pain and Leisure" LP / Buy via Bandcamp or Graveface / Stream song ]
22. * Wheat – "House Of Kiss"
[ From a new 2-song single (1st of 3 in a series) / Buy at their webstore / ]
23. The Long Afternoon – "The Chamelionaires"
[ From their 3rd album, "An Index of Maladjustments" / Buy from the band / Video ]
24. Tokyo Police Club – "All My Friends" (LCD Soundsystem cover)
[ From their "10 Covers 10 Days 10 Years" project / Buy at iTunes / Stream at Soundcloud ]
25. * Age Rings – "Bounty Hunter"
[ From the upcoming Midriff release, "Black Honey" / Stream some songs on Soundcloud ]
26. Wild Flag – "Electric Band"
[ From the self-titled Merge debut / Buy LP / Stream LP / Video ]
27. Standard Fare – "051107"
[ From their forthcoming second LP, "Out Of Sight, Out Of Town" ]
28. * Travels – "Lucky"
[ From their upcoming limited 7-inch & digital EP / Stream & pre-order at Soundcloud ]
29. * The Hush Now – "Rooftops"
[ From their new LP, "Memos" / Buy on Bandcamp / Stream song ]
30. Ume – "Rubicons"
[ From their debut full-length, "Phantoms" / Buy from Modern Outsider / Stream on Soundcloud ]
31. Camp Radio – "Turn Up The Radio"
[ From their new "Campista Socialista" LP / Buy via Bandcamp / MP3 ]
32. * Dan Wholey – "Tiny Coals"
[ From his new eponymous EP / Buy at Bandcamp / Stream song ]
33. Seaweed – "The Weight"
[ From their new 7-inch on No Idea / Buy from No Idea ]
34. * Soccer Mom – "Celebrity Unrest"
[ Off their new 10-inch, "You Are Not Going To Heaven" / Buy via 100m / Stream song ]
35. Signal Hill – "Van Gogh Sky"
[ From a new split 7-inch with All India Radio / Buy it / Stream track ]
[ Visit Clicky Clicky for Jay's 12-1am playlist ]
We'll be returning to the booth in November, I think. I'll share the date here, and given my severe slackness, I'd should probably start working on that next playlist immediately…
Comments