Posted on September 19, 2011 at 10:07 am | No Comments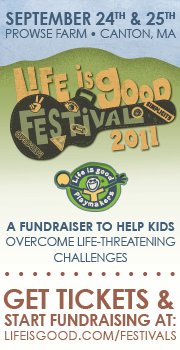 Looking at the lineup alone, this year's second-ever Life Is Good Festival (taking place this coming weekend in Canton, MA) isn't exactly in my musical wheelhouse. Sure, I like to pretend I have pretty diverse listening habits, but let's be honest… it's not too often that I break out of the so-called indie rock/pop box I hang out in. So on the face of it, the roots/folk/rock-centric 2-day gathering doesn't scream "Must! Go!" at me.
Fortunately, the Life Is Good Fest is about much more than an objectively well-curated list of 22 accomplished acts – it's about a wide-open, welcoming vibe, a meticulous attention to environmentally-friendly detail, and foremost, it's about collecting a ton of money for kids. It's a fundraiser first of all.
My family and I had a blast hanging out just south of Boston at Prowse Farm for last year's initial installment, despite a lineup that was low on personal faves. In the end, that didn't matter at all – in fact, I relished the chance to step outside my regular rotation and soak in so many varied performances. Mavis Staples was unsurprisingly amazing, Will Dailey & the Rivals rocked, Eli "Paperboy" Reed and his band impressed. And yeah, of course I loved seeing They Might Be Giants in the completely packed kids tent. Maybe even more than my then-3-year-old son did.
And that's another reason this fest stands above the rest – it really couldn't be more kid-friendly. The children's tent is surrounded by games and activities, so as dad to a little one, that's pretty key. If he gets tired of watching a band, it's back to the ball toss. If things get a little too loud, it's over to the parachute. Made bringing our boy that much more enjoyable, for sure. Plus, out of nowhere… Jim Rice sitting and signing at a table. Bonus!

Ok, so about this year's lineup: While light on the ol' indie rock (The Hold Steady plugs that hole, though I'm not a fan), there's no lack of genre-crossing heavy hitters. The legendary Levon Helm rambles over from his place in upstate NY for a Sunday evening set that will feature an assist from members of the Boston Pops (they'll play earlier Sunday with Brandi Carlile as well). There's no way that won't be great. Other notables from the full list include The Avett Brothers, Ingrid Michaelson, Michael Franti, and Martin Sexton on Saturday, and Sunday brings Raphael Saadig and Maceo Parker before Ray LaMontagne closes things out. Representing Boston locals on Sunday afternoon (aside from former Harvard Square busker Sexton on Saturday) are Jenny Dee and the Deelinquents, and that'll actually be Jenny's second time up on that stage, after a surprise appearance last year alongside Will Dailey for a killer take on the Stones' "Gimme Shelter".
Headlining the kids stage this year are Disney Junior TV faves Imagination Movers (our kid is so psyched), along with the Laurie Berkner Band, Keller Williams, and Ben Rudnick & friends. All four acts will play sets on both days starting at 11:45am.
Wanna go? Well, thanks to the Life Is Good crew, I have a pair of Sunday tickets to hand out. That's mighty generous of them, given the cost, and the winner has my permission not to feel guilty about getting into a charity event for free. Just buy some merch or drop a little in a donation box when you're there, we'll call it even. Do it for the kids, man.
To enter, send an email to giveaways [at] bradleysalmanac [dot] com, make sure it hits my inbox before this Thursday morning (9/22) at 9am, and put "Life is good because…" in the subject line. Continue that thought in the body of the email, and tell me one reason that, well, life is good. If you can't come up with a single reason, well, then you maybe have more important things to worry about than winning a ticket giveaway. Or perhaps that would help. So make something up if you have to. I'll pick a random email from the batch on Thursday morning and let the winner know straight away.
To grab your own tickets to the 2011 Life Is Good Festival, go here. To find out how to contribute more to the cause than just your ticket price, check this out. For the full lineup, including links to bios and streamable songs, here you go. And for some tips about attending, check out my live-from-the-fest post from last year.
Comments