Posted on April 24, 2011 at 11:01 pm | 4 Comments
Here's a giveaway that's been very long in the posting… since Autumn, in fact, when Kristin Hersh's debut memoir, "Rat Girl" was published in the U.S. and I started putting together this little contest to mark the occasion. Life got in the way, Kristin kept planning more cool stuff I thought I'd wait for, and I kept saying "next week". Well, next week is now – time to get this very special package in the mail to one of you. Read on (and on) for details on what you could win and how to enter, as I recall my reaction to reading K's book over a few long-since-passed Fall days…
---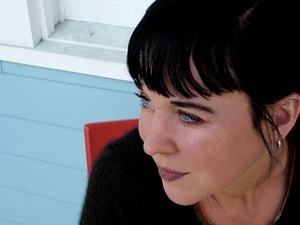 Sitting here on a barstool trying to write, but I've got
Kristin Hersh
's very first book, a recollection of her tumultuous 18th year on Earth entitled
"Rat Girl"
, sitting on the bar next to me. So I'm torn. Torn because I need to come up with words to accompany this giveaway, but I mostly just want to finish this mind-sparking book. I'm almost finished with it, and it's the very definition of a "painful-to-put-down" read; not because it's a suspenseful action-thriller, or course (although there is action – and thrills!) but because you want to know the next thoughts and bits of life-history that will tumble out of her once-upon-a-brain. Pages full of striking words, perfectly-insightful little mineral deposits that start as small piles and build towards major claims. Infinitely rewarding when you cash in.
Anyone who knows me in real life, or knows me from the over-sharing I've done on this site, knows of my deep appreciation for the songwriter, guitarist, and human being that is Kristin Hersh. I could gush, though I've done plenty of that. I could share stories of how she has both directly and indirectly impacted my own lifestory, but I'll refrain. Simply said, she means an awful lot to me, and so does the art she's been sending into the world for the last 25-or-so years. I've been listening to what she has to say, mostly in lyrics backed by exceptional music, for a couple decades now, half of my own life. Her words rarely fail to reach me, even when near-indecipherable or too obtuse to decode. Even her between-song-banter at live shows strikes a chord in me, revealing someone with a remarkable ability to toss thought-provoking gems into a crowd.
It's much more recently that I've felt the power of those words when they stand on their own, through her own blog posts or when guesting on other sites around the web. I always thought she might have one hell of a good book inside of her, and whaddya know, she damn well did. It exists in "Rat Girl", and for example, here's one of my favorite parts so far, about Betty Hutton, a one-time bonafide Hollywood Movie Star ™, who Kristin befriended in college…
"Betty grew up in the golden age of Hollywood, back when movies were Broadway on film, so her idea of music is 'singing as entertainment,' and you can't call what I do singing or entertainment. I hiss and yell and wail. Sometimes I make seagull noises, unfortunately. Music is something I have almost no control over. Like well-rehearsed Tourette's.

When Betty sings, she sits at a piano and says lovely things about hope and broken hearts. I often sing phonetically, as if I don't speak English. The words climb out of my throat and into my mouth. Then I have to spit them out.

Betty sings about starlight and champagne. I sing about dead rabbits and blow jobs. When I say playing music is owning violence, she says it's owning love; when I say it's math, she says it's tap dancing; when I say it's my gun, she says it's her dance card.

I've also noticed that she sings notes that go with the chords in her songs. I have yet to do that. It sounds pretty when Betty does it; it sounds boring and goofy when I do it. So I make up new notes, ones that don't belong anywhere near the chords I'm playing, and I sing those. People must think, It's so nice of them to let that deaf girl sing."
Kristin's relationship with Betty is perhaps the heart of the book, and it's got a very strong beat. Betty comes and goes during that long year, but mostly she stays, with Kristin and with you, and with me long after the you're done reading. It's a life-altering connection between to very different souls, and it speaks fiercely. There's so much simply beauty in it to be found…
Betty: "Aren't movies wonderful? Beautiful people living beautiful lives."

Kristin: "For seven bucks? They're just pretending. I'd rather watching real people living real lives for free."
That's what this book gives you. Real Lives. And for longtime fans of Kristin's first band, Throwing Muses, there are little easter eggs – not-so-hidden surprises that pop-up during Kristin's story – that will no doubt make you smile. Within the memoir's very first paragraph, she writes about a cross hanging the wall of an apartment she used to crash in, and a Jesus nailed to it with fish-like scales. A song will come into your head…
"I have a fish nailed to a cross on my apartment wall."
For Muses fans, that's a seminal line, from the band's "Fish". It immediately reveals that Kristin lyrics, as unearthly as they often felt, were very much grounded in her own very surreal world.
Later in the book, a sidewalk talk with a mohawk-sporting, tie-wearing, pamphlet-wielding kid on a Providence street corner. As their conversation, and Kristin's recounting of it, starts to include phrases like "smack freak" and "blame society" and "the holocaust", you're suddenly inside the beautiful genesis of a major piece of Muses history – the birthplace of the disturbingly anthemic "Hate My Way". Reading that page gave me chills.
It's not just the Throwing Muses ephemera that connects, though. If you're not yet a fan, but a fan of music, there's much more to be found. Little pearls of wisdom within…
"I don't listen to much music. The more you love music, the less music you love, 'cause you get picky — we take our religion seriously. Bad music is angrifying and good music is so painfully intense."
---
Last July, I
wrote about
Kristin's wonderful art-book/album combo,
"Crooked"
, previewed the arrival of "Rat Girl", and mentioned a bunch of other recorded projects she had in the works. I also said something to the effect of "2010 is a great year to be a Kristin Hersh fan", not knowing that 2011 would be equally rewarding, maybe moreso.
And so, in honor of the remarkably productive phase that Kristin finds herself in, I'm pulled together a bundle of greatness to pass along to one reader…
What you see above is a copy of the "Crooked" album/book, along with copy of "Rat Girl" that Kristin signed, the debut disc from her rock trio 50 Foot Wave, and a limited-edition (and long-since unavailable) t-shirt commemorating Kristin's 2007 live appearance at the Brattle Theatre with her longtime bandmate, step-sister, solo artist, and former Belly frontwoman, Tanya Donelly.
If you want a shot at having all that merch in your mailbox, send an message to giveaways [at] bradleysalmanac [dot] com with "KH" in the subject line. Include your full name and city of residence (North American residents only, unfortunately), and get it to my inbox before next Monday evening, May 2nd, at 5pm. That's when I'll pick the winner and contact them for a mailing address. Simple as that.
For more on Kristin, "Rat Girl", and her ongoing musical output, here's a wealth of links…
Alright, get with the emailing – this present needs a happy home.
Comments