Posted on April 13, 2011 at 12:50 pm | 6 Comments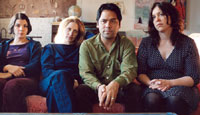 Despite the fact that my posting frequency here on the 'Nac has taken a relative nosedive over the past couple years, I've still been doing a fair share of show-organizing on the side. Nothing crazy, no huge shindigs that might label me a 'promoter' or whatever, but more the kinds of random music-related events that pop up and need a host or a helping hand. There was that Pains of Being Pure At Heart album release party a couple weeks ago, David Bazan playing in my living room last weekend, my imminent return to the DJ booth at River Gods, and the sure-to-be-great New England debut of the Austin-based Karaoke Underground at TT's in May.
But nothing I've had a hand in setting up excites me more than what's happening this weekend: Ida is back, and they're playing at the Brattle Theatre in Harvard Square this Saturday.
In my all-time top 10, Ida sits high. Their early Simple Machines 7-inches, striking full-length records, transcendent live shows – over the past 15-ish years they've affected me deeply. In particular, the album "I Know About You", which arrived during a pretty rough time in my life and helped me make it through. The emotional connection I made to the band during that period guaranteed a fan for life, or at least until they stopped making music… and I'm infinitely grateful that time has yet to come.
The core of the band has almost always been Elizabeth Mitchell, Dan Littleton, and Karla Schickele, with a small and very talented supporting cast of drummers (Dan's brother Miggy in the early years, and most recently Ruth Keating) and string players (including artist Ida Pearle and current member Jean Cook). Over the past five years or so, Karla's involvement has been a bit less frequent, while married couple Dan & Liz continue on with random and all-too-rare Ida appearances between what has become a fast-growing concern: Liz's career, with Dan's involvement, as a truly wonderful childrens musician. As their own daughter Storey has grown, Liz and Dan have have brought the sincerity and soulfulness of what they are as Ida to kids everywhere, easily steering clear of the all-too-common cheesiness and condescension that such artists often frequent in. As the dad of an almost-4-year-old, their presence on my son's life-starting-soundtrack is a gift.
Making a short story short: After Liz, Dan, Storey, & friends brought their kid's music set to a sold-out Club Passim last November, we got to talking with them about larger, more suitable places they could play next. Amie suggested the Brattle, Liz's reply was "Let's do it!", so I put them in touch with the theatre's Ned Hinkle, and lo and behold, there's another kid's show happening: This Saturday, April 16th, at 11am, Elizabeth Mitchell and the band she calls You Are My Flower (the title of her very first children's album from 1998) will bring their very special songs to a crowd of parents and little ones, including us and our Brendan.
The fact that Liz, Dan, & co. will then return to the Brattle stage later that day to play a (hopefully lengthy) set of Ida songs is, well, a minor miracle. It was on a wishful-thinking whim that I wrote to Liz, while getting her in touch with Ned, that "Hey, y'know, maybe you could play an Ida show while you're in town"… never thinking that would actually happen. Well, it is happening, and not only that – they're bringing the absolutely amazing Tara Jane ONeil (Rodan, Retsin, The Sonora Pine) along with them, and have invited Boston's own Drew O'Doherty to open as well. We're getting an honest-to-goodness present this weekend, and Mr. Hinkle had better prepare himself for a bear-hug.
From a 1997 7-inch, here's the original version of "Maybelle", which was rerecorded for the "Will You Find Me" full-length…
Parents, pick up your tickets to the Saturday morning kids show featuring Elizabeth Mitchell and You Are My Flower with local opener Barbara Brousal online right here.
Everyone else (or parents who have secured a sitter like we have), make sure you get tickets of your own to see Ida on Saturday night over here. And get this: The band is taking setlist requests at their Facebook page. I just put in my vote for "Maybelle". Couldn't resist.
Comments