Posted on March 22, 2011 at 3:36 pm | No Comments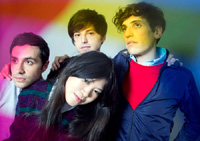 This Saturday, March 26th, I'm very happy to be co-hosting the Boston-area release party for The Pains Of Being Pure At Heart's new album, "Belong", which popped up today on iTunes and officially hits record stores next Tuesday. Starting at 10pm at The Independent in Somerville's Union Square, I'll be spinning the record along with a slew of other fine Slumberland Records-released songs. And thanks to that ridiculously-great label, we've got some cool merch to give out during the party, including Pains posters, limited-edition white vinyl copies of "Belong", and 7-inches of the album's first single, "Heart In Your Heartbreak".
Two lucky attendees will also each get a pair of tickets to see the band play at the Paradise on Tuesday, May 3rd with tourmates Twin Shadow and locals Cuffs (grab tickets here). Speaking of Cuffs, guitarist Martin graciously helped me set this night up, and he'll also be hosting/spinning along with his Reports bandmate Joe. We'll also probably get a guest-DJ appearance (and more Slumberland hits) from Cuffs singer/guitarist Andrew who, of course, fronted the wonderful Slumberland trio Pants Yell!. If you didn't get all that straight, don't worry, you won't be graded.
So, in short: You. Us. The Independent. 10pm. Come Saturday. RSVP, if you please.
By the way, the band appears tonight on David Letterman. Think they'll play the album's title track? Here it is for your streaming pleasure…
The Pains of Being Pure At Heart – Belong by Slumberland Records
Comments