Posted on July 9, 2019 at 8:16 am | 1 Comment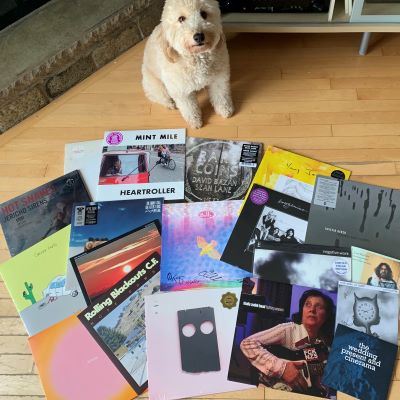 Well, someone's gotta be the caboose, right? My total inability to share my annual musical-faves list in a timely manner has resulted in a single goal: To just finish it sooner than I did the year before. (*looks at
last year's post
*) April 2nd. Big sigh. Not even
close
! But hey, at least today is closer to last year than next year. Wait, no, I passed that last week. Bigger sigh. Next year, I swear.
At last (literally), here's my alphabetical run down of favorite long-players, and a few shorter-players, released in the long-gone calendar year of 2018. Things I loved, and still love, and will continue to love despite the constant churn of the new. I have no idea how anyone keeps up anymore, unless finding special new songs is your paid full-time gig. And if that's the case, well, I wish you good fortune and steady health insurance.
I've included label links where I can, and at least one embedded song from each release, along with a streaming playlist that I spent waaaaay too much time sequencing. For the love of aural arts, don't just listen to the streams, though… buy the stuff that strikes you as direct as you can from the artists and their labels below.
I've been doin' these yearly posts for awhile, so long that stopping entirely would be both sad and silly, and here's the proof in the form of those previous lists: 2017, 2016 & 2015, 2014, 2013, 2012, 2011, 2010, 2009, 2008, 2007, 2005, 2004, 2003, 2002, & 2001. Check 'em out if you're up for cruising my own little music-memory lane.
And if you're still in a list-loving mood, check out these top-notch run-downs from a few far more punctual pals & peers: Kumar's Blizznog, Sebastian's New Artillery, the Ash Gray Proclamation, Allston Pudding, and Ben's Noise Floor.
---
'Nac Faves of 2018 – Spotify playlist

My Favorite LPs of 2018
---
Eric Bachmann
"No Recover"
[ on Merge Records ]
[ Stream the LP at Bandcamp / Buy direct from Merge ]
---
Courtney Barnett
"Tell Me How You Really Feel"
[ on Mom + Pop Music ]
[ Stream at Soundcloud / Buy direct from Mom + Pop ]
---
Belly
"Dove"
[ self-funded via PledgeMusic ]
A very, very welcome recorded return from Tanya, Gail, Tom, & Chris with an LP that can sit comfortably alongside their pre-reunion discography. We here in the northeast U.S. have been spoiled with multiple live Belly shows since they got back together in 2016, and each one has been no less than a joyous event, filled with familiar songs, new gems, and good friends wearing smiling faces. I can't imagine the special vibes they conjured not resulting in more to come, but for now I remain grateful for what we've had.
[ Buy it wherever you can ]
---
The Beths
"Future Me Hates Me"
[ on Carpark Records ]
One of last year's new discoveries for me, and I fell for these New Zealanders very, very hard. Irresistible hooks and harmonies for days. I don't rank my yearly faves, but if I did this one is an easy top spot contender.
[ Stream the LP on Soundcloud / Buy from Carpark ]
---
The Bevis Frond
"We're Your Friends, Man"
[ on Fire Records ]
[ Stream the LP on Bandcamp / Buy direct from Fire ]
---
The Breeders
"All Nerve"
[ on 4AD Records ]
Just the Breeders doing what they do so perfectly, making an album only they could make. It's an often-off-kilter record, in the best way – more Podish than Last Splashy, with songs maybe not as immediately catchy as their quote-unquote hits, but the oddness burrows deep. Kim finally ditching that other band has reaped some major rewards.
[ Buy the album direct from 4AD ]
---
Buffalo Tom
"Quiet and Peace"
[ on Banquet Records ]
[ Buy it straight from Banquet ]
---
Camp Cope
"How to Socialise & Make Friends"
[ on Run For Cover Records ]
[ Buy direct from Run For Cover ]
---
Neko Case
"Hell-On"
[ on Anti Records ]
I mean, it's a Neko Case record. No paragraph required, right? Just click the play button on this song…
[ Buy direct from Anti ]
---
Clever Girls
"Luck"
[ self-released via Bandcamp ]
I felt a strong instant connection to Clever Girls, based purely on geography. Any band that comes outta my ol' hometown, that writes songs and practices for shows in the same Burlington, Vermont environs I once did, gets extra attention when they pop up on my radar. And CGs have the songs to stay there. They even did me the kindness of playing about a block from my place last year, with an O'Brien's set that easily measured up to the promise of the record.
[ Stream & buy direct at Bandcamp ]
---
E
"Negative Work"
[ on Thrill Jockey ]
The second record from this intense, angular Boston-based trio gives Thalia Zedek two appearances on my faves list: The TZ Band LP below, and this sophomore team-up with Jason Sanford (Neptune) and Gavin McCarthy (Karate). As much as I dig their recordings, E's power best comes through in a live setting, and we're lucky to get them fairly regularly here in town. If you get a chance to see 'em, take advantage.
[ Buy direct from Thrill Jockey ]
---
The Essex Green
"Hardly Electronic"
[ on Merge Records ]
I was hyper-aware of the 12-year gap between this and the previous Essex Green LP (2006 stand-out "Cannibal Sea"), both as a fan and a friend, so the wait felt extra-long. I resisted pestering them with too many questions ("How's the recording going?! How many songs? Is Merge putting it out again?!"), and savored every little update from our Vermont-centric circle. Sure, there were times I wondered if it'd ever come out at all, until suddenly, word of a final mix… then a release date… a shared new song…and at last… a Merge package in the mail. Many joy-filled live shows have followed, proving that long wait was damn well worth it. Here's to shorter waits ahead.
[ Buy direct from Merge ]
---
Field Music
"Open Here"
[ on Memphis Industries ]
[ Buy direct from Memphis Industries ]
---
Film School
"Bright To Death"
[ on Cobraside Records ]
[ Buy direct from Cobraside ]
---
Happy Accidents
"Everything But The Here And Now"
[ on Alcopop! Records ]
There were so many reasons I treasured the rare opportunity to travel to the UK to take part in the marvelous Indietracks Fest, and high among them were the bands I discovered sharing the lineup. London trio Happy Accidents were a standout, and I've been singing their praises (and their songs, um, in my car) ever since. I assumed it'd be a long while before I'd get to catch them again, if ever, so I was thrilled to see a Boston-area stop on their first-ever U.S. tour earlier this year. They were just as great in front of a small Monday-night Charlie's crowd a mile from my house as they were in front of hundreds of fest-goers three thousand miles away.
[ Buy direct from Alcopop! ]
---
Kristin Hersh
"Possible Dust Clouds"
[ on Fire Records ]
[ Buy direct from Fire Records ]
---
Hop Along
"Bark Your Head Off, Dog"
[ on Saddle Creek Records ]
Frances Quinlan and her band keep hitting the high bar of their debut, writing songs that shiver, stretch, and swerve in remarkable ways while making it sound effortless. Parts that shouldn't fit together just do, songs go places you don't expect, and this time I was even more blown away by Mark Quinlan's sharp, innovative drumming. So, so good.
[ Buy direct from Saddle Creek ]
---
Hot Snakes
"Jericho Sirens"
[ on Sub Pop Records ]
Still cranking out propulsive rock songs and pummeling live audiences like gentlemen half their ages. You'll rarely see so much sweat on a stage. Long may they tour.
[ Buy direct from Sub Pop ]
---
Low
"Double Negative"
[ on Sub Pop Records ]
[ Buy direct from Sub Pop ]
---
Mogwai
"KIN" Original Soundtrack
[ on Temporary Residence Records ]
I haven't see this film, but I sure do love its soundtrack. Mogwai used this scoring opportunity to stretch a bit in a couple different directions, both poppier (the song shared below) and more spacey. Shame that this may have been overlooked by fans waiting for a 'proper' Mogwai LP, because to me it sure sounds like one.
[ Buy direct from Temporary Residence ]
---
Tony Molina
"Kill The Lights"
[ on Slumberland Records ]
[ Buy direct from Slumberland ]
---
New Dog
"Curve of the Earth"
[ self-released via Bandcamp ]
Anar Badalov (formerly of Metal Hearts & Travels) continues to quietly release gorgeous albums as New Dog, with "Curve of the Earth" being the fourth in the six years since he started doing the solo thing. This one's a little more muscular, but doesn't sacrifice any of the disquieting delicacy he conjures so effortlessly. I can't imagine any fan of Sparklehorse or the Album Leaf not finding something to love here. I'd go so far as to say this is his best record yet, but I'm sure I've said that about the last couple, too. And will probably say it about the next.
[ Buy direct through Bandcamp ]
---
Poster Children
"Grand Bargain"
[ on Lotuspool Records / funded via PledgeMusic ]
[ Buy direct from the band ]
---
Rolling Blackouts Coastal Fever
"Hope Downs"
[ on Sub Pop Records ]
[ Buy direct from Sub Pop ]
---
Ruler
"Winning Star Champion"
[ on Barsuk Records ]
[ Buy direct from Barsuk ]
---
Savak
"Beg Your Pardon"
[ on the Ernest Jenning Record Co. ]
[Buy direct from Ernest Jenning ]
---
Smokescreens
"Used To Yesterday"
[ on Slumberland Records ]
Their second full-length, but first for Slumberland, which is why this record got my ear (trust in Papa Slumber). It was their fuzzy kiwi-pop-inspired songs kept them in there. I've listened to this one a ton and still haven't tired of it.
[ Buy direct from Slumberland ]
---
Snail Mail
"Lush"
[ on Matador Records ]
After a couple of solid EPs, Lindsey Jordan's first full-length as Snail Mail arrived courtesy of Matador last summer and ticked all the requisite boxes for something I'd love. On its surface, sure, it's ye olde three-piece indie rock, but it's delivered with both delicacy and weight that belies Jordan's (relatively) young age. Her gorgeous vocals, plaintive lyrics, standout guitar playing, and often off-kilter song structures combine to set her far above the standard singer-songwriter set. Here's hoping she's in it for the long haul.
[ Buy direct from Matador Records ]
---
Soccer Mommy
"Clean"
[ on Fat Possum Records ]
[ Buy direct from Fat Possum ]
---
Speedy Ortiz
"Twerp Verse"
[ on Carpark Records ]
Speedy's third LP in five years, all released on Carpark, and I'm still going to say they're "doing Boston proud" despite their now-tenuous local grounding. I'm loving watching this band mature, both on stage and on record. They've been getting a little weirder in the best way, tweaking their formula to keep things interesting, writing songs that are a bit more complex without sacrificing catchiness. I'm in for all of it.
[ Buy direct from Carpark ]
---
The Spook School
"Could It Be Different?"
[ on Slumberland Records ]
Sigh. Farewell and thank you to my beloved Spook School, who are in the process of singing and dancing into the musical sunset at this very moment. Saying they're leaving us on a high note is a big ol' understatement, as this final (*sniff*) record is my favorite, and the last time I saw them was a total blast. They'll play their so-long shows in September, and if I was in the UK I'd be in the front row with a giant, wistful grin on my face.
[ Buy direct from Slumberland ]
---
Stove
"'s Favorite Friend"
[ on Exploding In Sound Records ]
This record was a revelation. I've been into Steve Hartlett's Stove for awhile now, as well as his excellent other project, the on-again-off-again-on-again rock band Ovlov, but for some reason none of his other output has floored me like this LP did. What ostensibly started years ago as a solo project has transformed into an incredibly cohesive band, and this album is the incontrovertible evidence. Lots of great ingredients in the sonic stew here, but the first influence that jumped to mind is maybe a moderately more melodic Swirlies. I love this thing first note to last, and it's hard to say that about many full-lengthers these days.
[ Buy direct from Exploding In Sound ]
---
Superchunk
"What A Time To Be Alive"
[ on Merge Records ]
[ Buy direct from Merge ]
---
Thalia Zedek Band
"Fighting Season"
[ on Thrill Jockey Records ]
[ Buy direct from Thrill Jockey ]
---
Willard Grant Conspiracy
"Untethered"
[ on Loose Music ]
This nearly-finished record was lovingly completed by Robert Fisher's close collaborators in the aftermath of his passing in early 2017, and released by his longtime UK label Loose Music last year. It stands as beautiful memorial to a man who impacted all who knew him, either personally or musically. If you're a WGC fan, you're probably not a passive one… when you heard Robert's remarkable voice and way around a song, you were likely all in. It took a village of musicians to help him bring his work to the world over the years, and the loss of their leader is a loss for all.
[ Buy direct from Loose Music ]
---
Wussy
"What Heaven Is Like"
[ on Damnably Records ]
Another excellent addition to the Wussy discography, with the unmistakable voices & songwriting styles of Lisa Walker & Chuck Cleaver combining in all the best ways. "Gloria" is a an absolute stunner, and my anticipation to see it played live has only grown after the band put post-album shows on hold in the wake of some health issues. They're back this summer as a (drummerless) touring trio, and coming through town again soon. Cannot wait. I volunteer as tribute! I mean, as drummer. For a song or two? I'm kidding. Kinda.
[ Buy direct from Damnably ]
---
Wye Oak
"The Louder I Call The Faster It Runs"
[ on Merge Records ]
[ Buy direct from Merge ]
---
Yo La Tengo
"There's A Riot Going On"
[ on Matador Records ]
Not exactly Yo La Tengo's most cohesive record, but I'm not sure it was meant to be. Album-release interviews spoke of new music cobbled together from practice space tape ideas, of soundtrack-ish snippets repurposed to create full songs. YLT usually covers many stylistic bases on their records, but there's nothing I'd call a straight-up rock n' roll song here, and it's completely free of any patented Ira Kaplan guitar-freakouts. The Jersey trio ended up with one of their most laid-back, most beautiful LPs this time around, and it hit me just right.
[ Buy direct from Matador ]
---
Young Jesus
"The Whole Thing Is Just There"
[ on Saddle Creek ]

[ Buy direct from Saddle Creek ]
---

A few favorite singles, short-players,
& web-only releases of 2018
---
Lou Barlow
"Love Intervene" single
[ on Joyful Noise Recordings ]
[ Buy direct from Joyful Noise ]
---
David Bazan & Sean Lane
"Rare Coins" EP
[ on 15 Passenger Records ]
[ Buy direct from 15 Passenger ]
---
boygenius
"Stay Down" EP
[ on Matador Records ]
Phoebe Bridgers, Julien Baker, & Lucy Dacus. A magical team up, a remarkable debut EP, and one of the best shows I saw in 2018.
[ Buy direct from Matador ]
---
Cinerama / The Wedding Present
"White Riot / "The Name of the Game" single
[ on WIAIWYA Records ]
[ Buy direct from WIAIWYA ]
---
Mike Gent
"Last Friday of the Month" singles series
[ self-released via Bandcamp ]
Mike Gent (of the Figgs/Gentlemen/Needy Sons) cranked out solid monthly singles all year long over on Bandcamp. Head on over there, and catch him solo or with the Figgs when and if you get the chance.
[ Buy direct over on Bandcamp ]
---
Girl Ray
"The Way We Came Back" single
[ on Moshi Moshi Music ]
My other favorite discovery at last year's Indietracks Fest, the truly wonderful Girl Ray. I fully absorbed their 2017 debut LP, "Earl Grey", and absolutely cannot wait to hear its full-length follow-up.
[ Buy direct through Bandcamp ]
---
Gregory and the Hawk
"Texan Collection" song series
[ via Patreon ]
Meredith Godreau follows up her Patreon-funded "On the Orange Mountain" series of songs with another chapter titled "Texan Collection". It's more sporadic, but I'll take whatever I can get, so long as she keeps it coming.
---
Mint Mile
"Heartroller" EP
[ on Comedy Minus One Records ]
[ Buy direct from Comedy Minus One ]
---
Soft Skies, Inc.
quarterly song releases
[ via Bandcamp ]
[ Listen & buy digitally on Bandcamp ]
---
Superchunk
"Our Work Is Done" charity 7-inch
[ on Merge Records ]
My favorite in Superchunk's series of limited charity singles, with some artwork variants auctioned off for worthy causes. These things sell out pretty fast, but you can still listen to and buy the digital versions.
[ Sold out, but listen at Merge ]
And that's a wrap. I am now officially unblocked and unburdened. I'll leave you with this…
When the final runner crossed the finish line at this year's Boston Marathon, she was quoted as saying:
"The time will never matter. It's the fact that I finished."
Comments